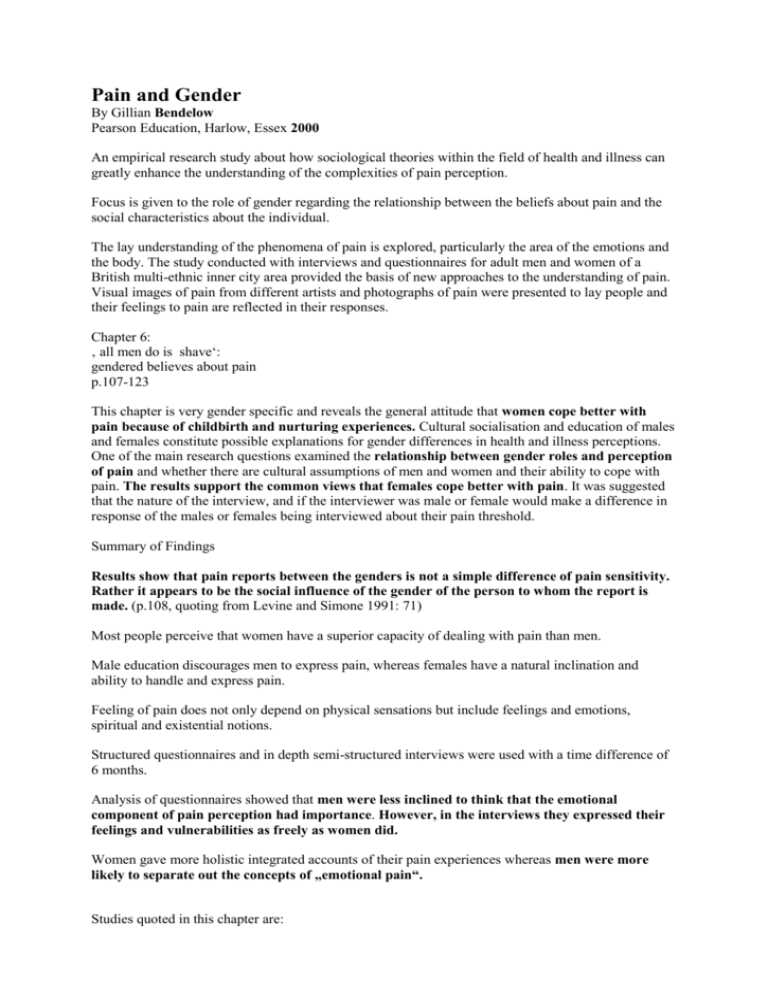 Pain and Gender
By Gillian Bendelow
Pearson Education, Harlow, Essex 2000
An empirical research study about how sociological theories within the field of health and illness can
greatly enhance the understanding of the complexities of pain perception.
Focus is given to the role of gender regarding the relationship between the beliefs about pain and the
social characteristics about the individual.
The lay understanding of the phenomena of pain is explored, particularly the area of the emotions and
the body. The study conducted with interviews and questionnaires for adult men and women of a
British multi-ethnic inner city area provided the basis of new approaches to the understanding of pain.
Visual images of pain from different artists and photographs of pain were presented to lay people and
their feelings to pain are reflected in their responses.
Chapter 6:
' all men do is shave':
gendered believes about pain
p.107-123
This chapter is very gender specific and reveals the general attitude that women cope better with
pain because of childbirth and nurturing experiences. Cultural socialisation and education of males
and females constitute possible explanations for gender differences in health and illness perceptions.
One of the main research questions examined the relationship between gender roles and perception
of pain and whether there are cultural assumptions of men and women and their ability to cope with
pain. The results support the common views that females cope better with pain. It was suggested
that the nature of the interview, and if the interviewer was male or female would make a difference in
response of the males or females being interviewed about their pain threshold.
Summary of Findings
Results show that pain reports between the genders is not a simple difference of pain sensitivity.
Rather it appears to be the social influence of the gender of the person to whom the report is
made. (p.108, quoting from Levine and Simone 1991: 71)
Most people perceive that women have a superior capacity of dealing with pain than men.
Male education discourages men to express pain, whereas females have a natural inclination and
ability to handle and express pain.
Feeling of pain does not only depend on physical sensations but include feelings and emotions,
spiritual and existential notions.
Structured questionnaires and in depth semi-structured interviews were used with a time difference of
6 months.
Analysis of questionnaires showed that men were less inclined to think that the emotional
component of pain perception had importance. However, in the interviews they expressed their
feelings and vulnerabilities as freely as women did.
Women gave more holistic integrated accounts of their pain experiences whereas men were more
likely to separate out the concepts of "emotional pain".
Studies quoted in this chapter are:
Oakley, Rajan and Robertson 1990: 'A comparison of different sources of information about
pregnancy and childbirth' Journal of Biosocial Science, 22:477-87: Topic: questionnaires and
interviews yield different responses.
Martin 1987: The Woman in the Body, Milton Keynes: Open University Press. Topic: women are
intrinsically linked with the family.
Conclusion
Perceptions of pain-coping abilities are strongly gendered. Based on socio-cultural themes of roles
and socialisation, women are perceived to have stronger pain-coping capabilities. Women are said
to have natural capabilities to bear pain because of their hormonal cycles and experiences of
childbirth. The capability can also lead women to ignore pain. Similar notions are also expressed in
terms of race, class and age, social minority groups etc. This seems to suggest that belonging to a
disadvantaged social status in a society would have implications on the ability to cope with pain.