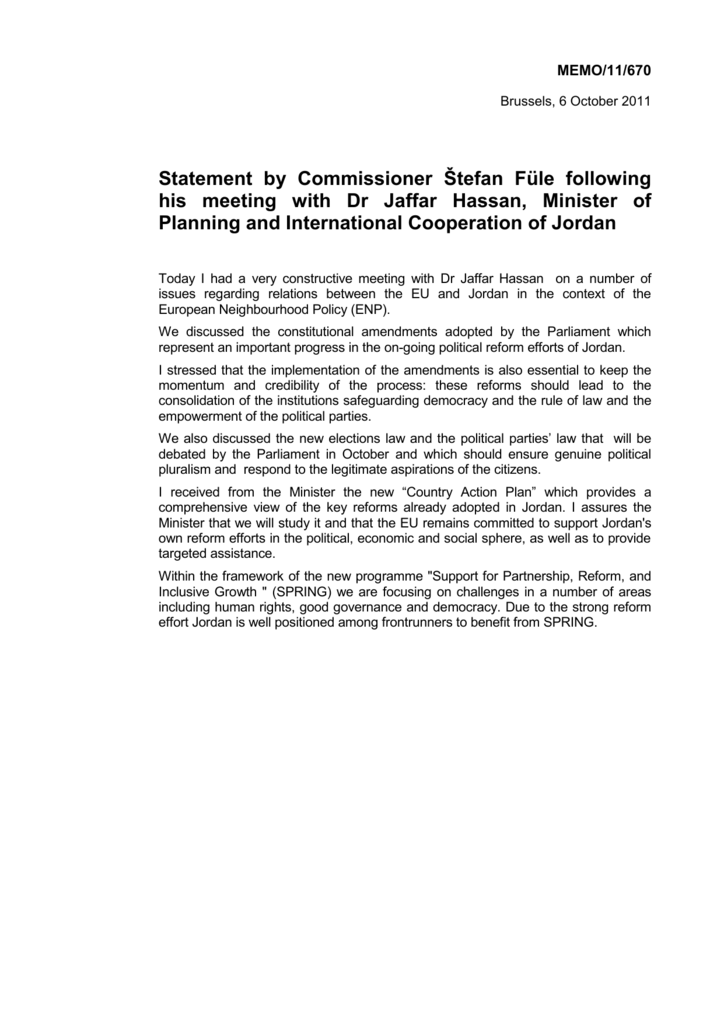 MEMO/11/670
Brussels, 6 October 2011
Statement by Commissioner Štefan Füle following
his meeting with Dr Jaffar Hassan, Minister of
Planning and International Cooperation of Jordan
Today I had a very constructive meeting with Dr Jaffar Hassan on a number of
issues regarding relations between the EU and Jordan in the context of the
European Neighbourhood Policy (ENP).
We discussed the constitutional amendments adopted by the Parliament which
represent an important progress in the on-going political reform efforts of Jordan.
I stressed that the implementation of the amendments is also essential to keep the
momentum and credibility of the process: these reforms should lead to the
consolidation of the institutions safeguarding democracy and the rule of law and the
empowerment of the political parties.
We also discussed the new elections law and the political parties' law that will be
debated by the Parliament in October and which should ensure genuine political
pluralism and respond to the legitimate aspirations of the citizens.
I received from the Minister the new "Country Action Plan" which provides a
comprehensive view of the key reforms already adopted in Jordan. I assures the
Minister that we will study it and that the EU remains committed to support Jordan's
own reform efforts in the political, economic and social sphere, as well as to provide
targeted assistance.
Within the framework of the new programme "Support for Partnership, Reform, and
Inclusive Growth " (SPRING) we are focusing on challenges in a number of areas
including human rights, good governance and democracy. Due to the strong reform
effort Jordan is well positioned among frontrunners to benefit from SPRING.