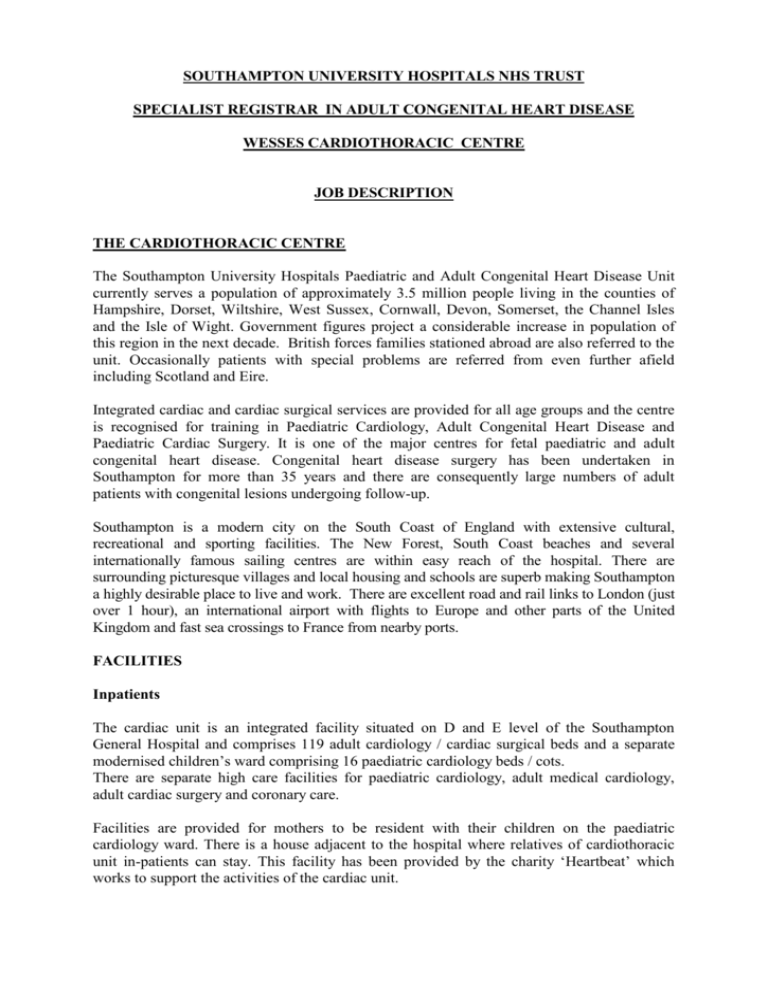 SOUTHAMPTON UNIVERSITY HOSPITALS NHS TRUST
SPECIALIST REGISTRAR IN ADULT CONGENITAL HEART DISEASE
WESSES CARDIOTHORACIC CENTRE
JOB DESCRIPTION
THE CARDIOTHORACIC CENTRE
The Southampton University Hospitals Paediatric and Adult Congenital Heart Disease Unit
currently serves a population of approximately 3.5 million people living in the counties of
Hampshire, Dorset, Wiltshire, West Sussex, Cornwall, Devon, Somerset, the Channel Isles
and the Isle of Wight. Government figures project a considerable increase in population of
this region in the next decade. British forces families stationed abroad are also referred to the
unit. Occasionally patients with special problems are referred from even further afield
including Scotland and Eire.
Integrated cardiac and cardiac surgical services are provided for all age groups and the centre
is recognised for training in Paediatric Cardiology, Adult Congenital Heart Disease and
Paediatric Cardiac Surgery. It is one of the major centres for fetal paediatric and adult
congenital heart disease. Congenital heart disease surgery has been undertaken in
Southampton for more than 35 years and there are consequently large numbers of adult
patients with congenital lesions undergoing follow-up.
Southampton is a modern city on the South Coast of England with extensive cultural,
recreational and sporting facilities. The New Forest, South Coast beaches and several
internationally famous sailing centres are within easy reach of the hospital. There are
surrounding picturesque villages and local housing and schools are superb making Southampton
a highly desirable place to live and work. There are excellent road and rail links to London (just
over 1 hour), an international airport with flights to Europe and other parts of the United
Kingdom and fast sea crossings to France from nearby ports.
FACILITIES
Inpatients
The cardiac unit is an integrated facility situated on D and E level of the Southampton
General Hospital and comprises 119 adult cardiology / cardiac surgical beds and a separate
modernised children's ward comprising 16 paediatric cardiology beds / cots.
There are separate high care facilities for paediatric cardiology, adult medical cardiology,
adult cardiac surgery and coronary care.
Facilities are provided for mothers to be resident with their children on the paediatric
cardiology ward. There is a house adjacent to the hospital where relatives of cardiothoracic
unit in-patients can stay. This facility has been provided by the charity 'Heartbeat' which
works to support the activities of the cardiac unit.
Currently ACHD patients are admitted to ward E2, where a number of the nursing staff have
developed a special interest in CHD. It is planned to establish a new young adult area
adjacent to the paediatric cardiac unit. Heartbeat has agreed support this development. This
will result in patients of all ages with congenital and acquired heart disease being in adjacent
areas further developing our theme of 'integrated care' within the unit.
Investigations
There is a new purpose built non-invasive cardiac unit just completed in 2007 with
transthoracic and transoesophageal echo, exercise testing, ambulatory ECG and blood
pressure monitoring, transtelephonic ECG, tilt testing, pacemaker and implantable
defibrillator programming facilities. The congenital heart disease service has 5 modern
cardiac ultrasound machines. Two of these have tissue Doppler and 3D echo facilities. There
are two dedicated echocardiography room on the children's cardiology ward.
There are four modern, fully equipped, digital Cardiac Catheterisation rooms, one with
biplane imaging, with quantitative angiography, intravascular ultrasound and Doppler
pressure and flow wire facilities. One lab is equipped for electrophysiology and ablation
procedures. All rooms have computerised haemodynamic measurement equipment.
The department of cardiothoracic radiology, staffed by 3 consultant cardiothoracic
radiologists, is located in close proximity to the non-invasive facilities and to the catheter
laboratories. The department provides a 24 hour service for the whole range of cardiac
radiological imaging including magnetic resonance imaging and helical CT.
The department of nuclear medicine is adjacent to the paediatric intensive care unit and
provides the full range of nuclear cardiology.
Intensive Care
Children: There is a 16 bedded dedicated adult cardiothoracic intensive care unit. The
paediatric cardiac patients are cared for in a purpose–built 16 bedded 'level 3' paediatric
intensive care unit. 12 beds are currently funded and the paediatric intensive care beds are
utilised flexibly. On average four of these are used for paediatric cardiology and cardiac
surgery but this number can be increased according to demand. The Paediatric Intensive
Care, Adult General Intensive Care, Cardiac Intensive Care, Cardiac Surgical High Care,
Cardiology High Care and Coronary Care lie in close proximity to each other.
Adults: The adult cardiothoracic intensive care has X beds and has dedicated cardiac
intensivists available for the management of complex congenital cardiac patients. The high
care and coronary care unit are available for the congenital patients when required.
Operating Theatres
There are four cardiothoracic operating theatres.
Out patients
There is a dedicated Adult Cardiac Outpatients Department with onsite technician-supported
echocardiographic facilities. The adult CHD clinics take place in this area . One of these is a
double clinic supported by 2 consultants. We are currently doing approximately 4 ACHD
clinics per week. The ACHD surgical clinics are held in the same suite.
The paediatric cardiology and paediatric cardiac surgical clinics are held in the adjacent
dedicated Children's Outpatients department.
Transition clinics are being arranged.
Support Specialties
Southampton general hospital is a fully functional Regional/Supra-regional University centre
for both paediatric and adult medicine. There are subspecialty services in respiratory
medicine, genetics, obstetric care, GI, cancer medicine and the surgical specialties. There is
close liaison with adult cardiology, cardiac surgery, paediatrics (including the numerous
regional specialist paediatric services) and with the general medical sub-specialities. Regular
joint educational meetings are held with the paediatricians as well as with the adult
cardiologists and cardiac surgeons.
Fetal medicine with fetal cardiology, obstetrics and gynaecology, genetics and neonatology
are located in the adjacent Princess Anne Hospital immediately opposite SGH.
There is the full range of adult medical and surgical specialties in this major university
teaching hospital.
Nursing support and liaison
We have 2 Adult Congenital Heart Disease Liaison Nurses (1.4 WTE) and 2 Paediatric
Cardiac Nurse Specialists (1.6 WTE). We also have an EP Specialist Nurse who is involved
with the children and adult congenital patients with arrhythmias. The liaison team therefore
comprises 5 senior nurses.
Research
The cardiothoracic unit encourages and promotes research activity within the department.
Increasingly members of the Directorate are forming links with the Research Divisions of the
Southampton University School of Medicine. Over 100 publications in peer reviewed
international journals have been published by members of the cardiothoracic unit in the last 2
years. A copy of the Cardiothoracic Centre Research Portfolio is available for inspection.
On the Southampton University Hospital site, there is an extensive range of research facilities
including the Medical Research Council and Wellcome Research Units. Of particular note are
the research departments of the fetal origins of cardiac disease under Professor Mark Hanson
(BHF professor of cardiovascular science) and Professor David Barker and the genetic
research laboratory headed by Professor David Wilson who has special interest in the genetics
of congenital heart disease. Professor Saul Faust heads the Welcome Clinical Research
Facility that has in patient beds and outpatient facilities for clinical research.
It is hoped that, with the continuing expansion of the Southampton University School of
Medicine, there will be an opportunity in the future to make full-time academic appointments
to support the unit's clinical and basic science interests.
Activity of the Unit
Clinics:
Paediatric Congenital Heart Disease Clinics (Southampton)
Paediatric Congenital Heart Disease (13 Peripheral hospitals) clinics
Adult Congenital Heart Disease Clinics (Southampton)
Adult Congenital Heart Disease Clinics (Peripheral hospitals)
Total attendances at SGH clinics
5000
Peripheral Clinic attendances
1600
300
165
150
6
Non-Invasive Investigations - congenital heart disease
(excludes outlying clinic work)
Echocardiograms
Transthoracic
Transoesophageal
Fetal
7000
300
400
Exercise Tests
Tilt Tests
400
10
Cardiac Catheterisation
Total procedures
Interventional
300
200
Cardiac Surgery:
About 1800 open-heart operations are performed each year, with around 300 for patients with
congenital heart disease including approximately 80 neonates. Between 60-100 adults with
congenital heart disease undergo surgery in the department. One of the strengths of this unit
is the availability of carefully audited surgical results that compare favourably with anywhere
in the world. These are available for inspection.
STAFF
Congenital Heart Disease
Dr A P Salmon
Dr J P Gnanapragasam
Dr J J Vettukattil
Dr G R Veldtman
Dr K S Roman
Dr A J Carroll
-
Consultant Paediatric & Adult Congenital Cardiologist
Consultant Paediatric Cardiologist
Consultant Paediatric Cardiologist
Consultant Paediatric & Adult Congenital Cardiologist
Consultant Paediatric Cardiologist
Consultant Adult Congenital Cardiologist
Cardiology
Specialty interest
Dr H H Gray
Dr I A Simpson
Dr J M Morgan
Dr A L Calver
Dr P Roberts
Dr N Curzon
Dr P Cowburn
Dr A Yue
Dr D Rhakit
Dr S Corbett
- Consultant Cardiologist
- Consultant Cardiologist
- Consultant Cardiologist
- Consultant Cardiologist
- Consultant Cardiologist
- Consultant Cardiologist
- Consultant Cardiologist
- Consultant Cardiologist
- Consultant Cardiologist
- Consultant Cardiologist
(Intervention)
(Intervention)
(EP)
(Intervention)
(EP)
(Intervention)
(Heart Failure)
(EP)
(Imaging)
(Intervention)
Congenital Cardiac Surgery
Mr M Haw
Mr M Kaarne
- Consultant Cardiac Surgeon (Congenital and acquired disease)
- Consultant Cardiac Surgeon (Congenital and acquired disease)
Cardiac Radiology
Dr I W Brown
Dr C R Peebles
Dr S Harden
-
Consultant Cardiothoracic Radiologist
Consultant Cardiothoracic Radiologist
Consultant Cardiothoracic Radiologist
MIDDLE GRADE AND JUNIOR STAFF
Congenital Heart Disease
1 Specialist Registrar in Adult Congenital Heart Disease
1 Senior House Officers in Adult Congenital Heart Disease
3
2
3
4
Specialist Registrars in Paediatric Cardiology.
Rotating Specialist Registrars in Paediatrics.
Trust Fellows in Paediatric Cardiology
Senior House Officers in Paediatric Cardiology
DUTIES OF THE POST
The Specialist Registrar will work in Adult and Paediatric Congenital Heart Disease under
the supervision of Dr GR Veldtman, Dr A P Salmon, Dr A J Carroll, Dr J J Vettukattil, Dr K
S Roman and Dr J P Gnanapragasam. The Congenital heart disease team assist in the post
operative care of the congenital heart disease surgical patients and the Adult Congenital
Specialist Registrar will also work under the supervision of the Cardiac Surgical Consultants
and of the Intensivists.
Depending on their background training (i.e. paediatric or adult cardiology), he or she will be
given the required training in paediatric, adolescent and adult patients undergoing cardiac
investigation and treatment including surgery.
Duties will include out-patient clinic work in Southampton and the peripheral clinic
programme.
Ward duties will include assessment of day cases and ward attenders, in addition to the care
of in-patients on the wards, the adult cardiothoracic intensive care units and some patients on
the medical, obstetric and surgical wards. The Specialist Registrar will also be expected to
participate in research related to adult congenital heart disease.
The Specialist Registrar will be required to undertake transthoracic and transoesophageal
echocardiography and Doppler studies. He/she will supervise stress testing, tilt testing and
ambulatory monitoring. Training will be given in cardiac catheterisation, pacemaker and
arrhythmia management and electrophysiology. For those trainees with a paediatric
background, pure adult cardiology may an important part of their training. There is a regular
teaching programme consisting of case presentations, topic discussions, journal club and echo
review meetings.
Excellent opportunities are available for training in all aspects of
Congenital heart disease.
The trainee will be required to maintain a training record which will be countersigned by the
educational supervisor to confirm the satisfactory fulfilment of the required experience, and
the acquisition of the competencies enumerated in the specialty curriculum. The training
programme will last a 2 year period.
He/she will be involved in both undergraduate (3rd year, 4th year elective and 5th year
students) and postgraduate teaching.
Contribution to the clinical audit programme and research activities will be expected.
Entry Requirements
Before embarking on the training programme in adult congenital cardiology, the trainee
should have obtained the MRCP or equivalent qualification in paediatrics or in medicine, and
additionally have obtained at least a 3 year experience in adult or paediatric cardiology.