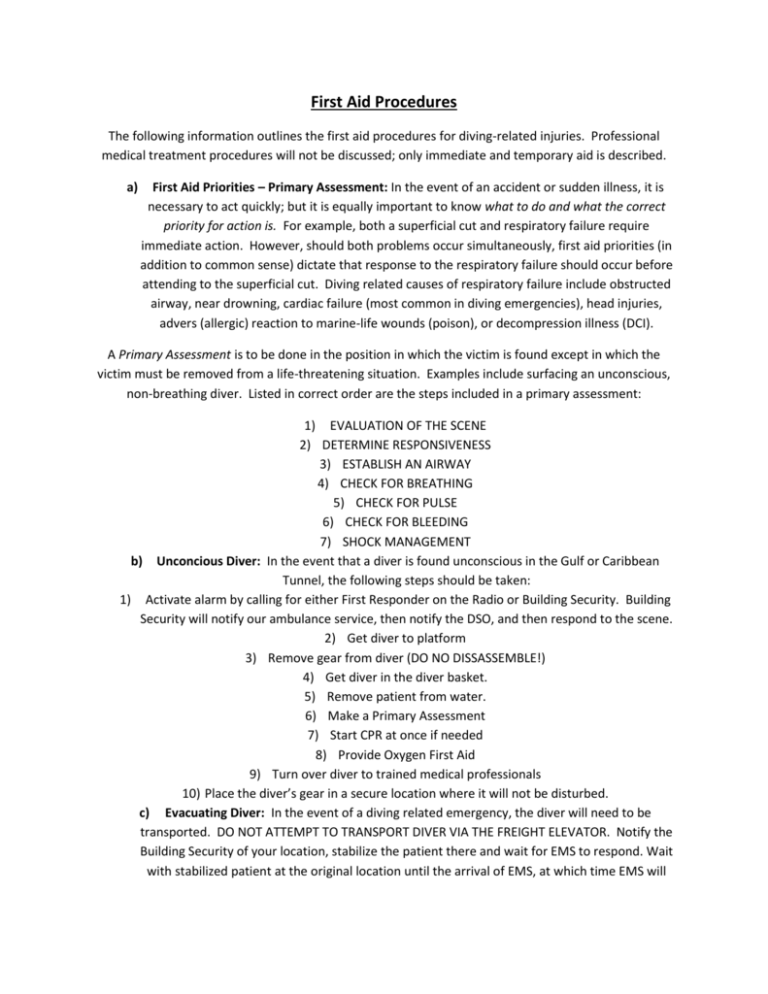 First Aid Procedures
The following information outlines the first aid procedures for diving-related injuries. Professional
medical treatment procedures will not be discussed; only immediate and temporary aid is described.
a)
First Aid Priorities – Primary Assessment: In the event of an accident or sudden illness, it is
necessary to act quickly; but it is equally important to know what to do and what the correct
priority for action is. For example, both a superficial cut and respiratory failure require
immediate action. However, should both problems occur simultaneously, first aid priorities (in
addition to common sense) dictate that response to the respiratory failure should occur before
attending to the superficial cut. Diving related causes of respiratory failure include obstructed
airway, near drowning, cardiac failure (most common in diving emergencies), head injuries,
advers (allergic) reaction to marine-life wounds (poison), or decompression illness (DCI).
A Primary Assessment is to be done in the position in which the victim is found except in which the
victim must be removed from a life-threatening situation. Examples include surfacing an unconscious,
non-breathing diver. Listed in correct order are the steps included in a primary assessment:
1) EVALUATION OF THE SCENE
2) DETERMINE RESPONSIVENESS
3) ESTABLISH AN AIRWAY
4) CHECK FOR BREATHING
5) CHECK FOR PULSE
6) CHECK FOR BLEEDING
7) SHOCK MANAGEMENT
b) Unconcious Diver: In the event that a diver is found unconscious in the Gulf or Caribbean
Tunnel, the following steps should be taken:
1) Activate alarm by calling for either First Responder on the Radio or Building Security. Building
Security will notify our ambulance service, then notify the DSO, and then respond to the scene.
2) Get diver to platform
3) Remove gear from diver (DO NO DISSASSEMBLE!)
4) Get diver in the diver basket.
5) Remove patient from water.
6) Make a Primary Assessment
7) Start CPR at once if needed
8) Provide Oxygen First Aid
9) Turn over diver to trained medical professionals
10) Place the diver's gear in a secure location where it will not be disturbed.
c) Evacuating Diver: In the event of a diving related emergency, the diver will need to be
transported. DO NOT ATTEMPT TO TRANSPORT DIVER VIA THE FREIGHT ELEVATOR. Notify the
Building Security of your location, stabilize the patient there and wait for EMS to respond. Wait
with stabilized patient at the original location until the arrival of EMS, at which time EMS will
transport patient down the elevator Once the Building Security has activated EMS, they will
dispatch an individual to position Freight Elevator.
d) Basic Life Support: A primary assessment of a patient may indicate the need for Basic Life
Support.
BLS includes those emergency lifesaving procedures designed to treat failure of the respiratory or
cardiovascular system. Diving-related causes of respiratory failure include obstructed airway, dear
drowning, cardiac failure, head injury, and sever reaction to marine-life wounds or poisoning.
When a patient is not responsive, place him in a horizontal position; face up, and on a firm surface.
Quickly remove restrictive equipment and loosen the wet suit.
When an individual is in a life-threatening position, the following steps should be taken:
1)
Activate alarm by calling on the radio for Building Security/First Responder.
2) The Building Security will notify DSO and husbandry staff.
3) Begin CPR if needed. Once CPR is started, continue until spontaneous breathing and heartbeat
occur or until patient is turned over to another equally trained person.
4) Patient will be turned over to EMS and Building Security/First Responder personnel will assist
EMS with evacuating patient.
Diver Related Emergencies
1) ILLNESS: It is each diver's responsibility to abort a dive immediately upon onset of illness.
2) SURFACE EMERGENCY: In the case of an injury, the surface safety should always be prepared to
enter the water to confirm that the diver's positive buoyancy is established and assist the injured diver.
Immediately call the first responder if needed.
3) UNDERWATER EMERGENCY: The surface safety should have ready access to mask and fins. The first
responsibility is to bring the diver to the surface immediately. Once positive buoyancy is established,
the safety diver should stay with the diver. The only exception to staying with the injured diver would
be in the unlikely event that no one else is available to call for the first responder.
4) UNDERWATER DIVE ABORT: Any diver wishing to abort a dive should signal the tunnel safety. The
tunnel safety will then notify the surface safety, via radio, to be on alert, should an emergency exist.