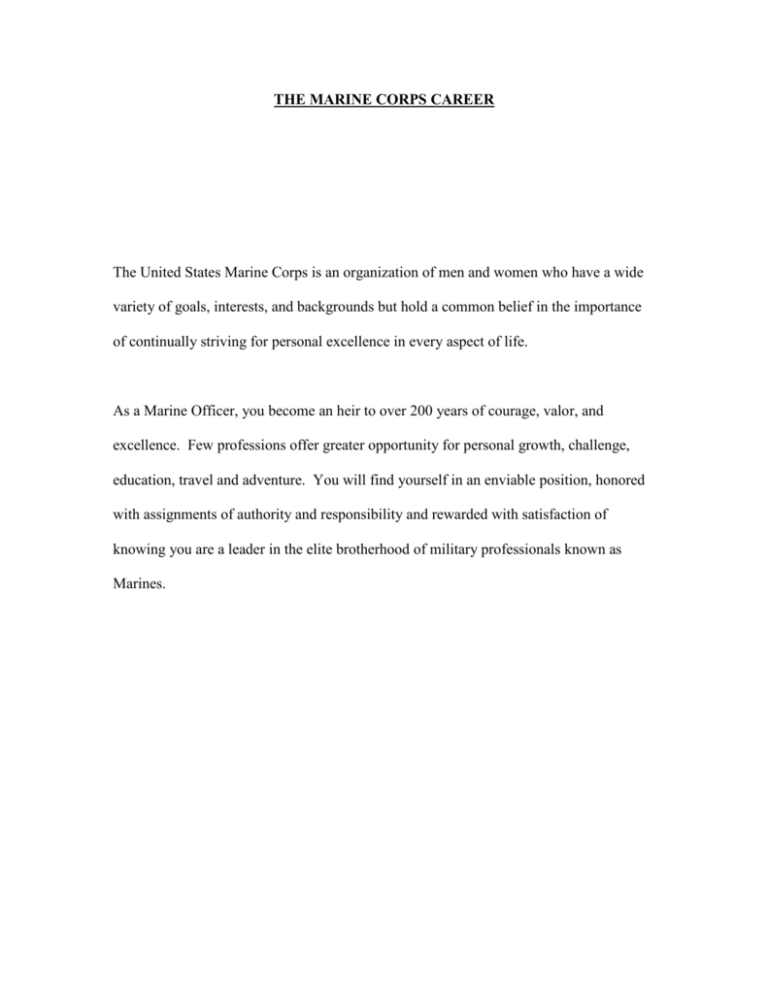 THE MARINE CORPS CAREER
The United States Marine Corps is an organization of men and women who have a wide
variety of goals, interests, and backgrounds but hold a common belief in the importance
of continually striving for personal excellence in every aspect of life.
As a Marine Officer, you become an heir to over 200 years of courage, valor, and
excellence. Few professions offer greater opportunity for personal growth, challenge,
education, travel and adventure. You will find yourself in an enviable position, honored
with assignments of authority and responsibility and rewarded with satisfaction of
knowing you are a leader in the elite brotherhood of military professionals known as
Marines.
THE MARINE OFFICERS OATH OF ALLEGIANCE
"I DO SOLEMNLY SWEAR"
In taking this oath I make a covenant between myself and the Supreme Being in
which I believe.
"THAT I WILL SUPPORT OR DEFEND THE CONSTITUTION OF THE UNITED
STATES"
The Constitution forms the basic foundation under which our Government
operates. To preserve this nation I will uphold and defend its provisions against
danger or attack.
"AGAINST ALL ENEMIES FOREIGN OR DOMESTIC"
I will do so in opposition to those who are hostile to its provisions and seek its
change by threat or revolution, whether they be citizens not in accord with our
system or aliens from other lands.
"THAT I WILL BEAR TRUE FAITH AND ALLEGIANCE TO THE SAME"
In word and deed I will continue to express my devotion and loyalty to our
Constitution and the Government which operates under it.
"THAT I TAKE THIS OBLIGATION FREELY, WITHOUT ANY MENTAL
RESERVATION OR PURPOSE OF EVASION"
I commit myself to this course of action voluntarily and because it is my desire. I
do not seek to elude any of my responsibilities to myself, society or to my
country.
"THAT I WILL WELL AND FAITHFULLY DISCHARGE THE DUTIES OF THE
OFFICE ON WHICH I AM ABOUT TO ENTER"
To the utmost of my ability I will endeavor to carry out the tasks and
responsibilities placed upon me. I will do all in my power to fulfill the
obligations of the office offered me.
"SO HELP ME GOD"
Through my belief in the Supreme Being I hereby make this covenant with that
Being and invoke his assistance in carrying out this oath.
WHERE DOES IT BEGIN
The process by which a Marine Officer becomes a Marine Aviator sometimes begins as
early as his/her freshman year in college. Through the Platoon Leaders Class Program,
an undergraduate below senior standing may be commissioned upon college graduation.
The student attends Officer Candidate School in Quantico, Virginia during the summer
months between his college terms. Upon college graduation, he/she is commissioned a
Second Lieutenant and receives orders to The Basic School, also in Quantico, Virginia.
For college graduates the path is similar, with the graduate completing a ten-week Officer
Candidate School at Quantico then receiving his commission. The OCS graduate joins
the PLC graduate at The Basic School for a six-month officer finishing course. Here the
Officer learns the skills necessary to command Marines effectively. After the Basic
School, the future Marine aviator reports to the Naval Aviation Schools Command at the
Naval Air Station, Pensacola, Florida. There he begins training for his designation as a
Marine pilot.
MARINE AVIATION
ANOTHER EDUCATION AND MARKETABLE SKILL
What is your education and training as an aviation Officer worth to you? Look at it like
this: Six years are going to help you get ahead of the pack regardless of your future
plans.
Approximately three-quarters of the airline pilots are ex-military pilots. The figures are
even higher for Federal Aviation Administration and other federally employed pilots.
Basic requirements for airline hiring are:
a) commercial and instrument rating
b) 2000 hours flying
c) maximum age of 35-38
A professional pilot course at a leading aeronautical university would cost you
approximately $18,000.00 a year.
Such a course would qualify you as a commercial instrument pilot but only provide 250
flight hours. The other 1750 hours required to attract an airline contract would
conservatively cost approximately $80,000.00
The Marine Corps will have invested close to one million dollars in your training. The
acquired skill is without price, but in commercial terms in worth a minimum of
$500,000.00
MARINE AVIATION TRAINING SUPPORT GROUP
NAS, PENSACOLA, FLORIDA
FLIGHT TRAINING OVERVIEW
On arrival at Naval Air Station, Pensacola, Florida the flight student will check in at the
Marine Air Training Support Group (MATSG) Student Control. At this time the student
will be given a schedule for his first week of training.
MATSG is the major Marine Command at the Naval Air Station, Pensacola. MATSG
deals directly with Headquarters, Marine Corps, Washington, D.C. and has the
responsibility for all Marine administrative matters; assures that the required input into
schools command for Marine Student Naval Aviators is adhered to; transfers Student
Naval Aviators on permanent change of duty orders throughout the training command
(NAS Whiting, Meridian, Kingsville and Corpus Christi); monitors the output of Marine
Naval Aviators; and handles those Marine Officers attrited from Flight Training.
MATSG maintains Marine Representatives usually of the rank of Major in schools
command and the training wings. Each training squadron also has a Senior Marine
usually of the rank of Major and a number of Marine Instructors assigned.
On Tuesday morning, one week prior to starting Aviation Indoctrination (AI), the
prospective aviator reports for his Flight Physical.
On Wednesday morning, the AI Class staring date, the new students muster at MATSG
for their Welcome Aboard Presentation. The students are then transferred to Naval
Aviation Schools Command for four weeks of aviation indoctrination.
Academics is one of the major instructional areas of AI. Most of the material is
presented to the student through the use of lectures and a comprehensive text. During the
first through third weeks the areas of study include:
AVIATION INDOCTRINATION
CONTINUED
(A) AERODYNAMICS: Including the basic principles of flight
(B) ENGINES: Describes the systems and functions of jet engines
(C) NAVIGATION: A new course added to the curriculum on the basic
principles of dead reckoning (DR) navigation
(D) AVIATION PHYSIOLOGY: Describes the effects of flight on the human
body which includes pressure chamber and night vision effects demonstrator
In all academic areas, the text and lectures are supplemented with in-class and outsidethe-classroom self-paced audiovisual aids. Each student is ranked in his class according
to academic performance.
Concurrent with the academic phase of AI, the students are subjected to approximately
eight hours of physical fitness tests including pass/fail runs of the obstacle and crosscountry (1.6 mile) courses. If a student fails any of these events, he is assigned remedial
training during his off-duty hours.
Swimming instruction and tests are also given and include:
(A) Drown-proofing and treading water thirty (30) minutes
(B) The four basic strokes: crawl, back, breast and side
(C) Platform jump and underwater swim
(D) Endurance swim of one (1) mile in flight suit
(E) Dilbert Dunker: This teaches survival procedures in an inverted ditching
situation
Approximately eight hours are devoted to swimming; and, again, if the student does not
perform satisfactorily, he is required to attend remedial sessions.
The fourth week is devoted to both land and sea survival. Both classroom work and
practical application are incorporated into this section of training.
AVIATION INDOCTRINATION
CONTINUED
Land survival classes are given at NAS, Pensacola to teach the students various survival
techniques including food procurement, map reading and shelter building. They are then
given a two day survival field trip at Eglin Reservation during which students are
expected to live off the land putting to use the various techniques taught in class. A
short, cross-country, Escape-and-Evasion March using map and compass concludes the
land survival field trip.
Sea survival consists of coordinated class and field training in Pensacola Bay. Instruction
is in the following areas:
(A) Survival Equipment (Seat Pack and Parachute)
(B) Review of various harnesses and release mechanisms
(C) Survival Techniques: Various survival and rescue procedures are carried out
in a two day schedule. Students are required to use, while in the water,
techniques which include release from harnesses, escape from a parachute,
use of rafts and execute an actual helicopter lift.
Upon completion of AI, the Student Naval Aviators report back to MATSG and are
assigned to NAS, Whiting Field or NAS Corpus Christi, Texas for primary flight training.
Although the Marine student is in a Navy environment, he is still expected to conform to
the USMC regulations pertaining to uniform and appearance. This is assured by periodic
inspections conducted by MATSG as well as the Senior Marine attached to each training
squadron and training wing.
Student Naval Aviators are assigned to one of three squadrons (VT-2, VT-3, or VT-6) at
Whiting Field or VT-27/VT-28 at NAS Corpus Christi for primary flight training.
Primary training consists of 16 weeks of intensive instruction including 65 hours of flight
time and 20.8 hours of synthetic instrument trainer time. In addition to the flight
syllabus, the students attend 28 hours of flight support lectures and 82.6 hours of
academic training.
JET TRAINING
When a student chooses jets, he also submits his request for location of training. The
bases available for jet training are: NAS Kingsville, Texas and NAS Meridian,
Mississippi. Selection of course depends of the needs of the service, base loading and
choice.
Both jet training locations teach both the basics and advanced jet courses; therefore, the
student remains at one location until completion of training. After selection for jets from
VT-2, VT-3, or VT-6, the SNA will attend two days of additional jet survival training.
The student reports back to MATSG for checkout and transfer after completion of the
additional survival training.
Upon arrival as his jet training base, ground school is the first item on the agenda. It
averages four weeks in length and consists of courses in:
(1) INSTRUMENT FLIGHT RULES AND REGULATIONS
(2) VISUAL FLIGHT RULES AND NAVIGATION
(3) METEOROLOGY
(4) AERODYNAMICS
In addition, safety lectures, procedures and course rules lectures and cockpit
familiarization are required prior to the first hop.
Actual flight training in the basic phase is scheduled to last 26 weeks. The aircraft used
is the T-45C. This twin engine jet trainer is highly maneuverable and is well liked by
both students and instructors.
The flight syllabus consists of:
1. TRANSITION AND ACROBATICS
2. INSTRUMENTS
3. FORMATION FLYING
4. GUNNERY: BOTH AIR-TO-AIR AND AIR-TO-GROUND
5. CARRIER QUALS (CQ): The highlight of basic jet training, after
considerable ground practice, is when the student flies out to the USS
Lexington for arrested landings and catapult takeoffs
JET TRAINING
CONTINUED
Once the student accomplishes these things, it is time to move on to advanced jets.
The advanced flight syllabus is basically the same as previously described. More time is
spent on combat maneuvers, both air-to-air and air-to-ground and night flying. Again,
the final phase is carrier qualifications. There are a total of 90 flight hours in advanced
training. Once the student has been given the grade "Qualified" is all phases, he is ready
to receive his "WINGS OF GOLD."
HELO TRAINING
The students assigned to the Helo Training remain at their primary training squadron
(VT-2, VT-3 or VT-6) intermediate prop training. The T-34 is used in this phase which
lasts five weeks and encompasses 26 flight hours and appropriate ground school subjects.
Once the student has satisfactorily completed intermediate, he will leave North Whiting
Field and begin his actual Helo training at South Whiting Field, the home of Helicopter
training squadrons HT-8 and HT-18. Each squadron is identical. First, ground school
consists of courses in aerodynamics and engineering. Again, those courses are taught
through the use programmed texts. It is up to the student, on his own initiative, to
complete the texts prior to a specified final exam date. All material is in reference to the
Bell Jet Ranger (TH-57B/C) which is used in the Helo flight phase. The flight syllabus
consists of 45 flight hours and is six (6) weeks in duration. After mastering the basics of
Helo academics and flight, the student is ready to move on to more advanced work. The
advanced academic portion consists of more aerodynamics and engineering plus a course
in advanced instrument navigation. The flight portion is conducted in the TH-57C
aircraft and consists of 70 hours in familiarization, tactics, basic instruments, radio
instruments, cross-country navigation, formation flight and carrier qualifications. Upon
the completion of carrier qualifications and a final instrument certification flight, the
student receives his "Wings" and is transferred to the fleet for service as a Marine
Aviator.
STUDENT NAVAL AVIATOR
TRAINING/ASSIGNMENT
OVERVIEW
1. All applications for the Student Naval Aviators Program should be submitted to
your OSO.
2. All Student Naval Aviators will the attend The Basic School (TBS) prior to
attending flight school.
3. Each Basic School class is made up of enough SNA's to meet the weekly NATC
input schedule (approximately 12 SNA'S per week) until the graduation of the
next class. Since TBS classes graduate at irregular intervals, this may generate
minor delays of 1-3 months.
4. NATC reporting dates are based on TBS class standings. Individual cases
involving pregnant wives, personal hardship, etc, are given special consideration.
5. During the course of instruction at TBS, the Aviation Lieutenant Monitor will
inform the SNA's of any changes or modifications in the training syllabus and the
status of any training delays.
6. The information enclosed pertains to the SNA training syllabi for SNA at the
NATC.
7. Delays at the NATC can be generated by many factors including adverse weather,
aircraft mechanical problems, etc.
8. Approximately 1 month prior to designation as a Naval Aviator, the Commanding
Officer of the Marine Aviation Training Support Group will inform the Aviation
Lieutenant Monitor (Code MMOA-2) of the estimated completion date of each
officer and the individual's preference for aircraft type and geographic location.
STUDENT NAVAL AVIATOR
TRAINING ASSIGNMENT – CONTINUED
9.
Initial FMF training in tactical aircraft is accomplished at the following locations:
AIRCRAFT TYPE
EA-6B
AV-8
C-130
AH-1W
UH-1N
CH-46
CH-53
F/A-18
MV-22
LOCATION
WHIBDEY ISLAND, WASHINGTON
2ND MAW, CHERRY POINT, NC
2ND MAW, CHERRY POINT
3RD MAW, MAG-39 CAMP
PENDLETON, CA
3RD MAW, MAG-39 CAMP
PENDLETON, CA
3RD MAW, MAG-39 CAMP
PENDELTON, CA
2ND MAW, NEW RIVER
3RD MAW, NAS LEMOORE or
MCAS MIRAMAR, CA
MCAS NEW RIVER
NOTES:
1. Electronic Counter Measure Officers will attend the ECMO Course at
Mather AFB, Sacramento, California enroute to 2ND MAW.
2. C-130 pilots will attend C-130 Course at Little Rock AFB prior to beginning
C-130 familiarization training.
10.
Upon completion of this initial training, officers may be assigned as follows
(by aircraft type):
STUDENT NAVAL AVIATORS
TRAINING ASSIGNMENTS – CONTINUED
AIRCRAFT TYPE
EA-6B
AV-8B
FA-18
C-130
AH-1
UH-1
CH-46
CH-53
MV-22
POSSIBLE ASSIGNMENTS
2ND MAW, MCAS CHERRY POINT, NC
2ND MAW/3RD MAW MCAS CP, MCAS
YUMA
2ND MAW/3RD MAW
1ST MAW/2ND MAW/3RD MAW
2ND MAW/3RD MAW
2ND MAW/3RD MAW
1ST MAW/2ND MAW/3RD MAW
2ND MAW/3RD MAW
MCAS NEW RIVER
11. Orders issued for newly designated Naval Aviators will include assignment to
aircraft type, initial training location and ultimate duty assignment.
NOTE: Initial assignments are based primarily on the needs of the Marine Corps.
Ultimate duty assignments, etc, may be modified to overcome MOS shortages, i.e.,
balances or training delays.
12. Once a newly designated Naval Aviator arrives at his first tactic squadron, it is the
intent of the Headquarters to allow him to remain within that organization
(Section/Group/Wing) for 3 to 4 years prior to reassignment.
MARINE AVIATION
1. Mission – The primary mission of Marine Corps Aviation is to participate as the
supporting air component of Fleet Marine Forces in the seizure and defense of
advanced naval bases and to support such land operations as may be essential for
the prosecution of a naval campaign. A collateral mission is to participate as an
integral component of naval aviation in the execution of such other Navy
functions as the Fleet Commanders so direct.
2. Functions – A number of tasks are required to support the aviation mission.
These tasks are categorized under six separate functions listed below:
a. Offensive Air Support (OAS). – which includes:
(1) Close Air Support. Air action against hostile targets which are
in close proximity to friendly forces and which require detailed
integration of each air mission with the fire and movement of
those forces.
(2) Deep Air Support (DAS). Air action conducted against enemy
targets which does not require detailed integration with the fire
and movement of friendly ground forces. The most important of
the deep air support tasks is air interdiction. Its purpose is to
deny the enemy use of a particular area, route, or facility.
b. Anti-air Warfare (AAW). Operations conducted against enemy aircraft
and/or missiles, their supporting forces, and operating bases.
(1) Offensive AAW. Offensive measures are those operations taken
to destroy an air or missile threat before can be launched, as well
as those to destroy or counter enemy aircraft and missiles inflight.
(2) Defensive AAW. Defensive AAW operations include air
defense, both active and passive. Active air defense includes
such measures as the use of aircraft, anti-aircraft artillery,
electronic countermeasures, and surface-to-air guided missiles.
Passive air defense measures include the use of cover,
concealment, camouflage, dispersion, deception, mobility, and
protective construction.
c. Assault Support. Includes:
(1) Providing the vertical assault airlift capability required by
elements of the landing force.
(2) Providing air delivery of critical materials to combat elements of
the landing force from helicopters and fixed-wing aircraft.
(3) Providing air evacuation for elements of the landing force as
required.
(4) Providing intelligence gathering service as required for fixedwing aircraft and helicopters.
d. Aerial Reconnaissance. Includes:
(1) Visual Reconnaissance. A task performed by all pilots and
aircrew personnel. Aircraft are tasked to provide an aerial
platform for tactical air observers, artillery for naval gunfire
spotters, and ground unit personnel conducting visual battlefield
surveillance.
(2) Multisensor Imagery Reconnaissance. Multisensor imagery
reconnaissance includes photographic, side-looking airborne
radar (SLAR), and infrared (IR).
(3) Electronic Reconnaissance. Electronic warfare configured
aircraft provide the means to locate, identify, and analyze enemy
non-communications electronic emitters, such as radars, thereby
providing up-to-date electronic order of battle (EOB) and
technical intelligence.
e. Electronic Warfare (EW) is defined as the military action involving the
use of electromagnetic energy to determine, exploit, reduce, or prevent
hostile use of the electromagnetic spectrum and action which retains
friendly use of this spectrum. Electronic Warfare Support Measures
(ESM) are taken to search for, intercept, locate, and identify radiated
electromagnetic energy for the purpose of immediate threat recognition
and/or reaction. Electronic Countermeasures (ECM) involve actions taken
to prevent or reduce an enemy's effective use of the electromagnetic
spectrum. Electronic countermeasures include electronic jamming and
electronic deception. Electronic CounterCountermeasures (ECCM) are
actions taken to ensure friendly effective use of the electromagnetic
spectrum.
MARINE AIRCRAFT
CONTINUED
f. Control of Aircraft and Missiles. This function comprises the capability of
Marine aviation to exercise authority over, and maintain direction of, air
support elements during the conduct of operations.
3. Marine Aircraft
(a) AV-8B. The AV-8B is a single-seat, transonic-vectored thrust, light
attack aircraft with greatly increased payload, range and improved reliability
and maintainability over the AV-8A. It is manufactured by McDonnell
Aircraft and is designed with a vertical/short takeoff and landing (V/STOL)
capability to provide increased responsiveness to ground force close air
support requirements through basing flexibility and high sortie rates. It will
be configured with the Angle Rate Bombing System (ARBS) which will
provide an extremely accurate first pass attack capability and high kill
probability through the use of passive Laser Spot or TV tracking.
(b)
F/A-18. The F/A-18 is a twin-engine, single-piloted, all-weather
fighter attack aircraft manufactured by McDonnell Douglas Aircraft
Company, and major subcontractors Northrop, Hughes and General Electric.
The aircraft will fulfill both air-to-air and air-to-ground mission requirements,
and it has the capability to be both land and carrier based. Capable of
supersonic speed, the F/A-18 incorporates state-of-the-art technology such as
digital fly-by-wire flight controls, multi-mode radar, and use of lightweight
composites to enhance the combat capability and flexibility of the aircraft.
(c)
EA-6B. The EA-6B is a four-place, twin-engine, electronic
warfare aircraft. It has a high data assimilation rate, versatile electronic
surveillance system, and powerful jammers. The EA-6B, a strike aircraft,
supports ground troops by suppressing enemy electronic activity and by
obtaining tactical electronic intelligence.
(d) KC-130J. The KC-130J is a four-engine, turboprop, assault aerial
refueler and transport aircraft. Carrying a crew of six or seven, the KC-130
can provide aerial refueling to aircraft equipped with refueling probes. The
KC-130 can also be used as a tactical transport carrying 92 ground troops or
as an ambulance carrying 74 litters. The aircraft can land and take-off on
short runways and can be used on landing strips found in advance base
operations.
(e) AH-1W. The AH-1W is a twin-engine, single-rotor, attack
helicopter whose mission is to provide close-in fire support for aerial and
ground escort operations. The AH-1W armament includes an internal threeMARINE AIRCRAFT
CONTINUED
barreled, 20mm turret cannon with 750 rounds, and spur external wing
stations capable of carrying the HELLFIRE Missile, TOW Missile, GPU-2A
20mm gun pod, CBU-55 fuel air explosives, smoke grenade dispenser, chaff
dispenser, flare dispenser, MK-77 firebombs, and a variety of 2.75 inch
rockets.
(f) UH-1N. The UH-1N is a twin-engine, two-seat, single-piloted,
single-rotor helicopter whose mission is to provide utility combat support to
the Landing Force. The UH-1N can be configured with the ASC-26
installation which gives the Ground Combat Element Commander the
following command and control radio capabilities: two VHF (FM), one UHF,
secure voice, VHF-VHF retransmission, VHR-UHF retransmission, and
intraplane communication. The UH-1N is also used as a primary medical
evacuation aircraft. The UH-1N is capable of mounting the 7.62mm/M-61
machine gun, the 7.62mm GAU-2 B/A mini-gun, or the 50 caliber M-2
machine gun. An external cargo suspension unit provides the UH-1N with
external cargo capabilities.
(g) CH-46E. The CH-46E is a dual-piloted, twin-engine, tandem-rotor
helicopter whose mission is to provide helicopter transport of personnel,
supplies, and equipment for the landing force. Its primary task is to transport
assault troops. The CH-46E has a rear-loading ramp that provides rapid
loading and unloading of personnel, cargo, and vehicles, while an external
hook allows for external cargo lift. The CH-46E is capable of mounting two
7.62 M-60 machine guns or two 50 caliber/M-2 machine guns for selfprotection.
(h) CH-53E. The Sikorsky CH-53E Super Stallion is a shipboard
compatible helicopter configured for the lift and movement of cargo and
troops internally, and heavy bulky equipment by external suspension.
Development-derived improvements over the current inventory CH-53D
include: a third General Electric T-64 engine, upgraded transmission, a larger
main-rotor system, digital automatic flight control system, 2 point cargo
suspension, in-flight refueling and auxiliary fuel tanks. Payload of earlier H53 helicopters is effectively doubled by the CH-53E which is capable of
transporting sixteen tons over a fifty nautical mile radius. Fleet introduction
commenced in June 1981.
(I) MV-22. The V-22 Osprey is a multi-engine, dual-piloted, selfdeployable, medium lift, vertical takeoff and landing (VTOL) tilt rotor aircraft
designed for combat, combat support, combat service support, and Special
Operations missions worldwide. It will replace the Corps' aged fleet of CH46E and CH-53D medium lift helicopters.
4. Pilot Eligibility Requirements
a. Physical. Aviation candidates must pass the aviation flight physical
examination.
(1) Eyes: 20/40 uncorrected
(2) Height: 5'6" to 6'6"
(3) Weight: Proportional to Height
b. Mental. Aviation candidates must obtain a minimum score of 4/6 on the
AQT/FAR examination. If one does not achieve the required AQT/FAR
scores, he may retake the exam. Those officers who report to TBS with an
"aviation guarantee" can gain such an "aviation guarantee" if they pass the
physical and mental exams prior to graduation from TBS.
ADVANTAGES OF ACCEPTING THE CHALLENGE OF MARINE AVIATION
1. You will receive the finest flight training in the world.
2. Excellent pay.
3. Opportunity to travel.
4. Exciting family life.
5. Responsibility and a chance to lead Marines.
6. Unmatched job and family security.
7. Health care.
8. Opportunity to further your education.
9. Qualify for VA home loans and educational assistance.
10. Personnel and leadership experience.
RESPONSIBILITY – LEADERSHIP – OPPORTUNITY
The Marine Corps is one of the few employers that gives junior executives a vast amount
of responsibility early in their careers. As a Marine aviator, you will have control of
multimillion dollar aircraft as soon as you finish training. As you gain experience with a
squadron, you may be given responsibility for a flight or 2 more aircraft. The
performance, safety, and welfare of other flight crew members, in addition to
responsibilities associated with your aircraft, are part of the tasks assigned to Marine
aviators as they progress upward in grade and proficiency.
There is more to being a Marine aviator than simply flying airplanes. You are first a
Marine Officer and will assume leadership responsibilities in addition to flying duties.
Shortly after reporting to your first operational command, you will find yourself directing
the efforts of many ambitious and bright young men.
From the time you pin on your Second Lieutenant's bars, you take on the responsibilities
of a leader. You will learn how to direct others in assigned tasks and how to protect and
preserve property as well as human lives.
As you progress upward in grade, your challenge will also increase. Everyday you will
be tested through routine assignments to see if you've got what it takes to become a
leader of a squadron or battalion of Marines.
The sense of satisfaction and gratification gained from having become an effective,
contributing professional of a winning team will far outweigh any individual
accomplishments you may achieve.
The acceptance of the challenge of greater responsibility is the mark of a man, the stamp
of a leader.