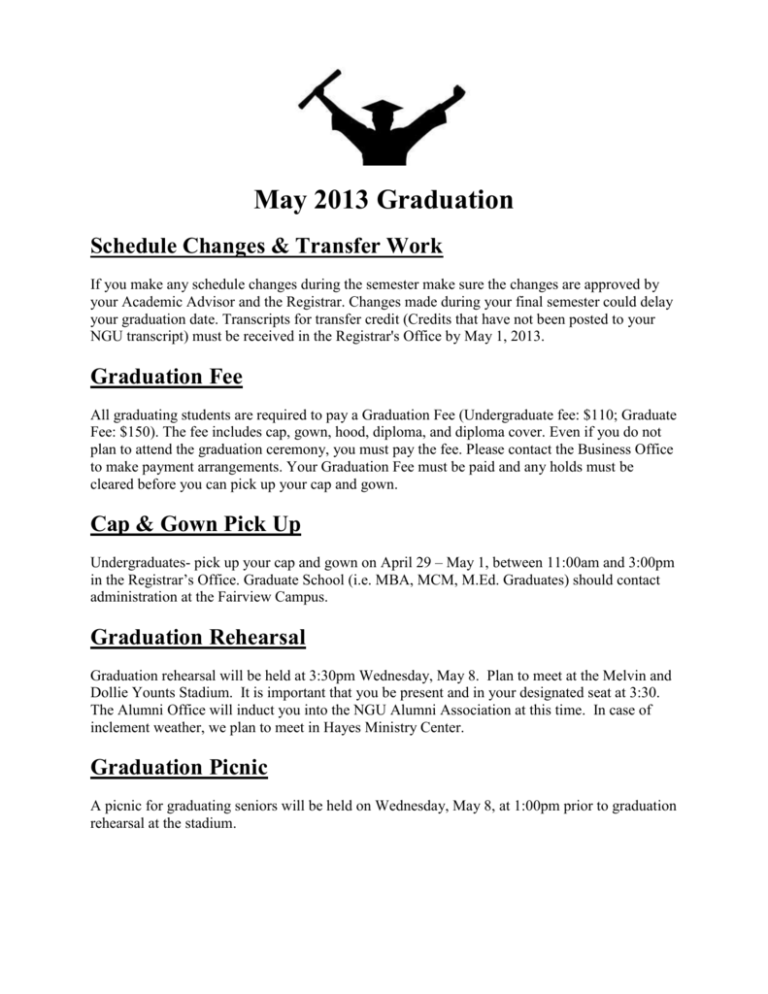 May 2013 Graduation
Schedule Changes & Transfer Work
If you make any schedule changes during the semester make sure the changes are approved by
your Academic Advisor and the Registrar. Changes made during your final semester could delay
your graduation date. Transcripts for transfer credit (Credits that have not been posted to your
NGU transcript) must be received in the Registrar's Office by May 1, 2013.
Graduation Fee
All graduating students are required to pay a Graduation Fee (Undergraduate fee: $110; Graduate
Fee: $150). The fee includes cap, gown, hood, diploma, and diploma cover. Even if you do not
plan to attend the graduation ceremony, you must pay the fee. Please contact the Business Office
to make payment arrangements. Your Graduation Fee must be paid and any holds must be
cleared before you can pick up your cap and gown.
Cap & Gown Pick Up
Undergraduates- pick up your cap and gown on April 29 – May 1, between 11:00am and 3:00pm
in the Registrar's Office. Graduate School (i.e. MBA, MCM, M.Ed. Graduates) should contact
administration at the Fairview Campus.
Graduation Rehearsal
Graduation rehearsal will be held at 3:30pm Wednesday, May 8. Plan to meet at the Melvin and
Dollie Younts Stadium. It is important that you be present and in your designated seat at 3:30.
The Alumni Office will induct you into the NGU Alumni Association at this time. In case of
inclement weather, we plan to meet in Hayes Ministry Center.
Graduation Picnic
A picnic for graduating seniors will be held on Wednesday, May 8, at 1:00pm prior to graduation
rehearsal at the stadium.
Graduation Attire
Male graduates should wear dark shoes, (no flip flops or tennis shoes) dark socks and dark slacks
with a white shirt and a tie. Female graduates should wear a Sunday dress (no slacks). Shoes
should be dress shoes with a back strap (may be open toe as long as there is a back strap). No flip
flops, slide on shoes or tennis shoes should be worn.
Graduation Day
The Graduation Ceremony is planned for Thursday, May 9 at 10:30am in the Melvin
and Dollie Younts Stadium. Tickets will not be issued for this venue.
Graduates should be in their seats in the stadium at 9:30am.
Graduation Tickets for Inclement Weather
Graduates will receive 4 tickets for Turner Chapel if weather forces the ceremony to be moved
indoors and only ticketed guests will be allowed in the chapel. Graduates will be issued their
tickets during cap and gown pick up.
Graduation Reception
A reception will be held immediately following the ceremony on the home-side concession area
at the Stadium.
Photographs and DVDs
Graduation Photo (photo of graduate receiving diploma) – The photographer will snap a photo
of the graduate receiving his/her diploma. Class Photo – A group photo will be taken on
graduation day at 9:45am. Photos will be available to view and order on the photographer's
website after graduation or the graduate may order and submit payment prior to graduation day
(see order form located at ngu.edu> Registrar> graduation). Candid Photos - The photographer
will take candid shots after the ceremony at the reception. These photos may be viewed and
ordered on the photographer's website after graduation.
A DVD of the ceremony may be ordered at graduation rehearsal or on graduation day. A table
will be set up with order forms.
If special circumstances exist which will prevent your participation in the Graduation Ceremony,
please inform the Registrar's Office at 864.977.7009 or email Tina Wells (twells@ngu.edu).