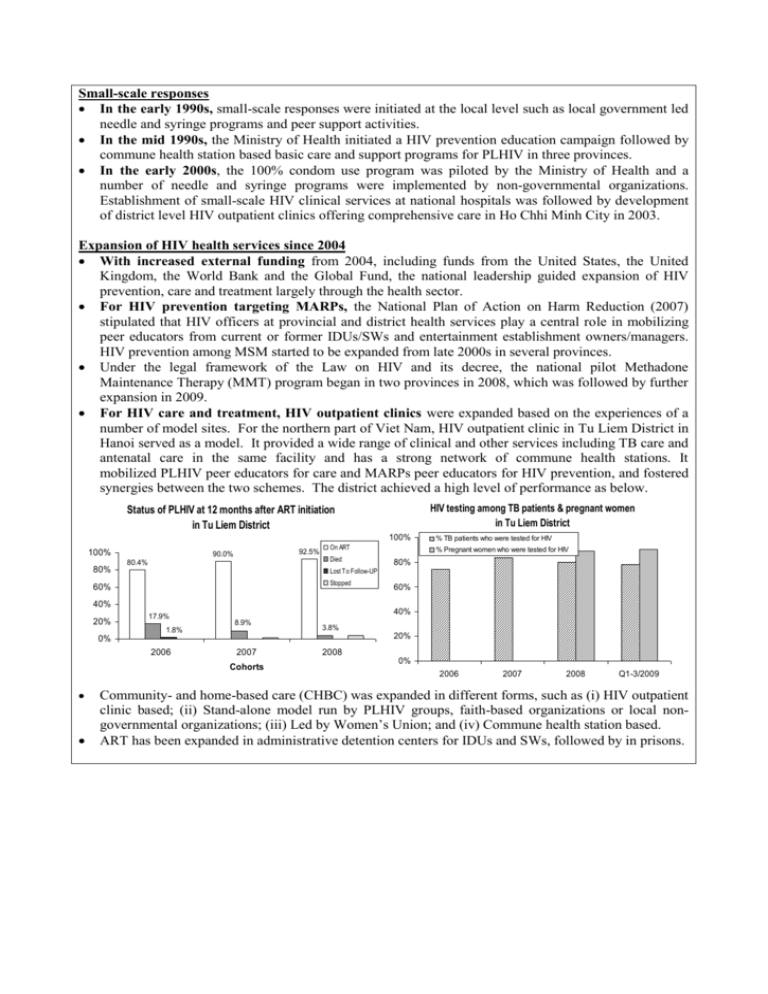 Small-scale responses
 In the early 1990s, small-scale responses were initiated at the local level such as local government led
needle and syringe programs and peer support activities.
 In the mid 1990s, the Ministry of Health initiated a HIV prevention education campaign followed by
commune health station based basic care and support programs for PLHIV in three provinces.
 In the early 2000s, the 100% condom use program was piloted by the Ministry of Health and a
number of needle and syringe programs were implemented by non-governmental organizations.
Establishment of small-scale HIV clinical services at national hospitals was followed by development
of district level HIV outpatient clinics offering comprehensive care in Ho Chhi Minh City in 2003.
Expansion of HIV health services since 2004
 With increased external funding from 2004, including funds from the United States, the United
Kingdom, the World Bank and the Global Fund, the national leadership guided expansion of HIV
prevention, care and treatment largely through the health sector.
 For HIV prevention targeting MARPs, the National Plan of Action on Harm Reduction (2007)
stipulated that HIV officers at provincial and district health services play a central role in mobilizing
peer educators from current or former IDUs/SWs and entertainment establishment owners/managers.
HIV prevention among MSM started to be expanded from late 2000s in several provinces.
 Under the legal framework of the Law on HIV and its decree, the national pilot Methadone
Maintenance Therapy (MMT) program began in two provinces in 2008, which was followed by further
expansion in 2009.
 For HIV care and treatment, HIV outpatient clinics were expanded based on the experiences of a
number of model sites. For the northern part of Viet Nam, HIV outpatient clinic in Tu Liem District in
Hanoi served as a model. It provided a wide range of clinical and other services including TB care and
antenatal care in the same facility and has a strong network of commune health stations. It
mobilized PLHIV peer educators for care and MARPs peer educators for HIV prevention, and fostered
synergies between the two schemes. The district achieved a high level of performance as below.
HIV testing among TB patients & pregnant women
in Tu Liem District
Status of PLHIV at 12 months after ART initiation
in Tu Liem District
100%
100%
80%
92.5%
90.0%
80.4%
On ART
Died
Stopped
40%
17.9%
1.8%
2006
3.8%
20%
2007
Cohorts

60%
40%
8.9%
0%

% Pregnant women who were tested for HIV
80%
Lost To Follow-UP
60%
20%
% TB patients who were tested for HIV
2008
0%
2006
2007
2008
Q1-3/2009
Community- and home-based care (CHBC) was expanded in different forms, such as (i) HIV outpatient
clinic based; (ii) Stand-alone model run by PLHIV groups, faith-based organizations or local nongovernmental organizations; (iii) Led by Women's Union; and (iv) Commune health station based.
ART has been expanded in administrative detention centers for IDUs and SWs, followed by in prisons.