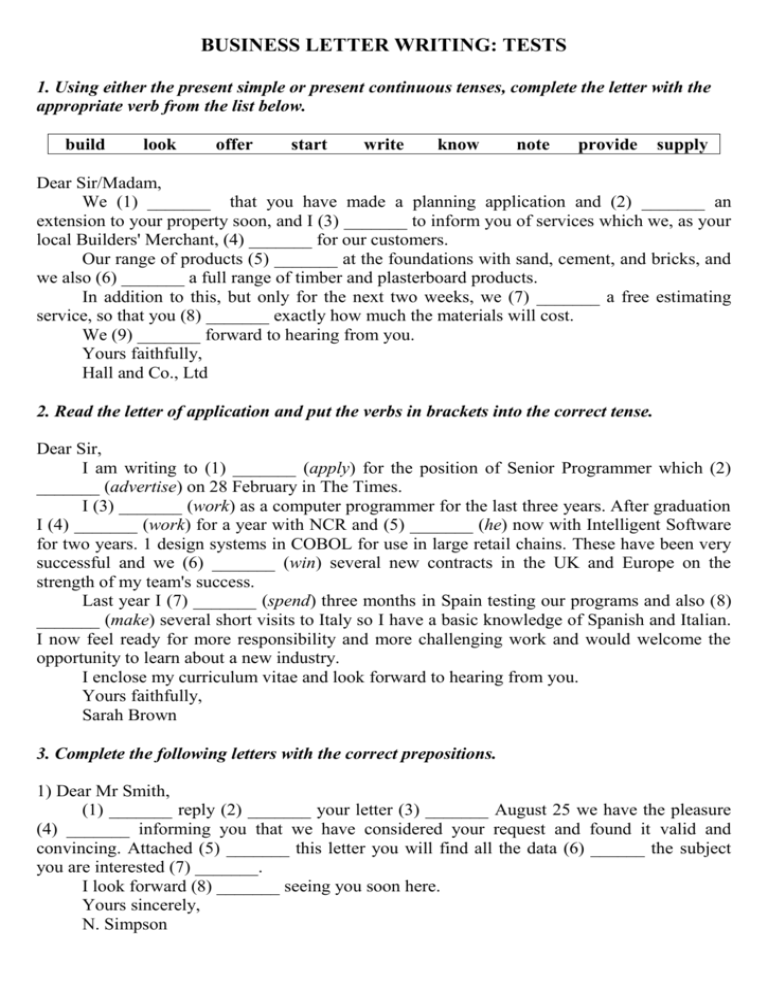 BUSINESS LETTER WRITING: TESTS
1. Using either the present simple or present continuous tenses, complete the letter with the
appropriate verb from the list below.
build
look
offer
start
write
know
note
provide
supply
Dear Sir/Madam,
We (1) _______ that you have made a planning application and (2) _______ an
extension to your property soon, and I (3) _______ to inform you of services which we, as your
local Builders' Merchant, (4) _______ for our customers.
Our range of products (5) _______ at the foundations with sand, cement, and bricks, and
we also (6) _______ a full range of timber and plasterboard products.
In addition to this, but only for the next two weeks, we (7) _______ a free estimating
service, so that you (8) _______ exactly how much the materials will cost.
We (9) _______ forward to hearing from you.
Yours faithfully,
Hall and Co., Ltd
2. Read the letter of application and put the verbs in brackets into the correct tense.
Dear Sir,
I am writing to (1) _______ (apply) for the position of Senior Programmer which (2)
_______ (advertise) on 28 February in The Times.
I (3) _______ (work) as a computer programmer for the last three years. After graduation
I (4) _______ (work) for a year with NCR and (5) _______ (he) now with Intelligent Software
for two years. 1 design systems in COBOL for use in large retail chains. These have been very
successful and we (6) _______ (win) several new contracts in the UK and Europe on the
strength of my team's success.
Last year I (7) _______ (spend) three months in Spain testing our programs and also (8)
_______ (make) several short visits to Italy so I have a basic knowledge of Spanish and Italian.
I now feel ready for more responsibility and more challenging work and would welcome the
opportunity to learn about a new industry.
I enclose my curriculum vitae and look forward to hearing from you.
Yours faithfully,
Sarah Brown
3. Complete the following letters with the correct prepositions.
1) Dear Mr Smith,
(1) _______ reply (2) _______ your letter (3) _______ August 25 we have the pleasure
(4) _______ informing you that we have considered your request and found it valid and
convincing. Attached (5) _______ this letter you will find all the data (6) ______ the subject
you are interested (7) _______.
I look forward (8) _______ seeing you soon here.
Yours sincerely,
N. Simpson
2) Dear Mr Collins,
The Organising Committee officially invites you to participate (1) _______ the work (2)
_______ the seminar to be held (3) _______ 10th to 12th November, this year.
We would very much appreciate an early reply (4) _______ this invitation and hope we
shall have the pleasure (5) _______ seeing you here.
We should be very grateful (6) _______ you if you let us know the date (7) _______
your arrival.
Yours sincerely,
S. Johnson
Dear Mr Johnson,
It gives me great pleasure to accept your kind invitation to participate (8) _______ the
work (9) _______ the seminar.
I shall cable you the date (10) _______ my arrival (11) _______ my earliest convenience.
Yours sincerely,
T. Collins
3) Dear Mr Brown,
Please forgive me (1) _______ not replying sooner (2) _______ your kind letter
(3)
_______ May 20. When your letter arrived I was (4) _______ a business trip and only returned
a week ago.
I am very grateful (5) _______ you (6) _______ sending me the catalogue I requested. I
look forward (7) _______ meeting you soon.
Yours sincerely,
F.D. Collins
4) Dear Sirs,
I refer (1) _______ the telex (2) _______ Mr. Francis dated March 19th, 2001, and write
personally to apologise (3) _______ the last minute postponement (4) _______ our visit (5)
_______ Moscow (6) _______ March 21 st. It was considered (7) _______ my colleagues in
Frankfurt to be more appropriate if I took part (8) _______ the discussions.
I look forward now (9) _______ our meeting (10) _______ the revised date of
Wednesday April 18th, again (11) _______ 11.30a.m.
(12) _______ best regards,
Yours faithfully,
R.M. Smith
5) Dear Sir,
We read your advertisement (1) _______ racing cycles (2) _______ the current edition
(3) _______ "Cyclist" and are interested (4) _______ your products, particularly touring bikes.
We are a large retail company (5) _______ cycle shops throughout Germany and would
like your catalogue and a price-list, quoting c.i.f. Berlin prices.
Please let us know your terms (6) _______ trade, including quantity discounts, delivery
dates, and any credit facilities you are prepared to offer (7) _______ large orders.
We look forward (8) _______ hearing (9) _______ you soon.
Yours faithfully.
Karl Janssen
6)Dear Sir/Madam,
I am a Spanish student (1) _______ the University (2) _______ Barcelona doing a
Master's Course (3) _______ Business Studies, and I intend to spend six months
(4)
_______ England, (5) _______ January next year, preparing (6) _______ the Cambridge First
Certificate.
Your college was recommended (7) _______ me (8) _______ a fellow student and I
would like details (9) _______ the First Certificate course, including fees and dates. Could you
also let me know if you can provide accommodation (10) _______ me (11) _______ Brighton
(12) _______ an English family.
Thank you for your attention, and I look forward to hearing from you soon.
Yours faithfully,
Maria Ortega
7) Dear Sir,
We were impressed (1) _______ your display (2) _______ office furniture
(3)
_______ the Expoquip trade fair held (4) _______ Madrid (5) _______ January.
We are a group (6) _______ retailers specialising (7) _______ the sale (8) _______ topquality non-electronic office equipment, and we are seeking a supplier (9) _______ our stores.
Could you send us your latest catalogue and price-list, details (10) _______ materials
used (11) _______ your products, and information regarding credit terms and discounts?
We look forward (12) _______ receiving your reply.
Yours faithfully,
Anne Croft (Miss)
8) Dear Mr MacFee,
We are writing (1) _______ you (2) _______ the recommendation (3) _______ Mr David
Arnold, the accountant (4) _______ D.L. Cromer Ltd. (5) _______ Staines, Middlesex. He
advised us to contact you as a referee, concerning credit facilities, which his company has asked
us (6) _______.
Could you confirm that the company settles (7) _______ due dates, and is sound enough
to meet credits of (8) _______ to £5,000 in transactions.
We would be grateful (9) _______ a reply (10) _______ your earliest possible
convenience.
Yours sincerely,
P. Gomez (Mrs)
9) Dear Mr Dietmann,
You were recommended (1) _______ us (2) _______ Gebrauchte Stilmobel, our
associates, (3) _______ whom you have operated as forwarding agents.
We are looking (4) _______ a reliable company to handle our deliveries
(5)
_______ Europe, taking care (6) _______ documentation and making sure (7) _______ a safe
delivery, as many (8) _______ our products become worthless if damaged.
Enclosed you will find a list representing a consignment we wish to send
(9)
_______ Lausanne (10) _______ Switzerland. We would like it to be delivered there (11)
_______ road (12) _______ a door-to-door basis. Could you let us have your quotation, and if it
is competitive, we can assure you (13) _______ further business
(14) _______ the future.
Yours sincerely,
R. Behrendt
10) Dear Sir/Madam,
We are a large engineering company exporting machine parts worldwide, and we have
set up contracts (1) _______ Middle Eastern Customers (2) _______ the next two years.
As these parts are similar (3) _______ nature and are going (4) _______ the same
destination over this period, we thought it might be less expensive if we insured them,
(5)
_______ an all risk basis, (6) _______ a time policy.
We would appreciate it if you could give us any information (7) _______ this type (8)
_______ cover and how it operates.
Yours faithfully,
Jack Turner
4. Complete the following letters. Decide whether to use a, the, or no article at all, in the
blank spaces.
1) Dear Sirs,
Thank you for your letter giving us (1) _______ details of (2) _______ products we
enquired about.
(3) _______ main item we are interested in is (4) _______ kitchen unit listed in
(5)
_______ catalogue under (6) _______ heading CM214. As we are building
(7)
_______ large block of apartments, we think (8) _______ unit like (9) _______ one listed,
might be (10) _______ best installation for our purposes.
Please let us know what your terms of (11) _______ trade are. Could you also tell us if
you are able to offer (12) _______ trade and (13) _______ discounts on (14) _______ price for
(15) _______ large order? We would also be grateful for (16) _______ samples of all materials
used in (17) _______ manufacture of your units.
I am including (18) _______ plan of our apartments, and (19) _______ dimensions we
would need.
Yours faithfully,
Jack Simon
2) Dear Mr Toda,
We are writing to point out that (1) _______ above delivery, which arrived yesterday, was (2)
_______ week late. This is (3) _______ second time we have had to write to you on this
subject, and we cannot allow (4) _______ situation to continue. We have already explained that
it is essential for (5) _______ medical equipment to arrive on (6) _______ due date as (7)
_______ late delivery could create (8) _______ very serious problem.
Unless we have (9) _______ absolute assurance that you can guarantee
(10)
_______ promptness of all future deliveries, we will have to look for another supplier. We will
want your confirmation before we place our next order.
Yours sincerely,
Carlo Lotti
3) Dear Mr Clark,
I shall be arriving in (1) _______ Moscow on (2) ________ Wednesday 14th, and would
be grateful if you could book accommodation at (3) _______ Rossiya Hotel. Could you also
reserve (4) _______ return ticket for me for (5) _______ Tuesday 20th.
I would appreciate if you could arrange for (6) _______ visit to (7) _______ Bolshoi
Theatre. Would it be also possible to include (8) _______ visit to (9) _______ Pushkin Museum
into our itinerary.
Your cooperation would be most appreciated.
Yours sincerely,
Norman Gotsby
5. Use the words below to complete the following letters.
1)
depot
settle
wrapped
packed
transaction
alternative
delivery
crates
consignment
hand over
Would you please make sure that the (1) _______ of fabrics is (2) _______ carefully in
tissue paper, and (3) _______ securely in (4) _______ and sent to our main goods
(5)
_______ at the above address in Milan.
If the items listed are not available, please do not send (6) _______ materials or colours.
If there are any problems with (7) _______, could you let us know immediately.
We will (8) _______ your draft for 25,000 DM, at our bank as soon as they
(9)
_______ the shipping documents.
If this (10) _______ is successful, we will place larger orders in the future.
2)
have not arrived
were damaged
have contacted
found
have not had
received
have informed
showed
was torn
unpacked
Dear Mr Harrison,
I am writing to complain about a shipment of tubular steel garden furniture we
(1)
_______ yesterday against our invoice no. G 3190/1. The crates (2) _______ on the outside,
and looked as if they had been roughly handled. When we (3) _______ them, we (4) _______
that some of the chair legs were bent and rusty, and the fabric on the seating (5) _______ , or
(6) _______ signs of wear.
Two further crates from the consignment (7) _______ yet, so we (8) _______ the
opportunity of inspecting them. I (9) _______ the shipping company that we cannot accept this
consignment from you, and they (10) _______ your insurers.
As we will be unable to retail this consignment in our stores, we are returning the
shipment to you carriage forward, and we shall expect a full refund.
Yours sincerely,
C.R. Mendez
3)
place
have been trading
began
has passed
may be approached
would be settled
have been cleared
had been established
Dear Mr Medina,
We (1) _______ with you for the past year and during that time our accounts
(2)
_______ by letter of credit. However, when we (3) _______ our association with you, you
mentioned that once a business relationship (4) _______ , our accounts (5) _______ by 60-day
bill of exchange, documents against acceptance. We feel that sufficient time (6) _______ to
allow this arrangement to be effected.
Please let us know before we (7) _______ our next order, if these new payment terms are
acceptable.
I enclose details of two referees, who (8) _______ should you require trade references,
and look forward to hearing from you.
Yours sincerely,
David Arnold
4)
offer
del credere
commission
principals
recommendation factory
rates
terms
documentation freight
manufacturers brochure
Dear Mrs Neves,
We are writing to you on the (1) _______ of the Portuguese Chamber of Commerce who
informed us that you were looking for a buying agent for precision tools in this country.
We have been in this trade for over twenty years and have close contacts with the major (2)
_______ both here and overseas.
If we may, we would like to give you a brief outline of the (3) _______ we work on.
Generally, we place orders for our (4) _______ with our suppliers, and our customers settle
direct with the manufacturer. In addition we arrange all costs, insurance and
(5) _______
facilities for the client handling consignments from the (6) _______ to the port/airport of the
importer's country.
As we have dealt with these agencies for a number of years, we can offer you their most
competitive (7) _______ for shipment. In addition we would take care of all
(8) _______
, including customs formalities.
As a rule we operate on a 4.5 per cent (9) _______ on c.i.f. values, but if credit is
involved, we could offer (10) _______ services for an additional 2.5 per cent commission,
pending the usual inquiries.
If you are interested in this (11) _______ we can assure you of first class, efficient
service. Meanwhile, do not hesitate to contact us for any more information. Please find
enclosed our (12) _______ giving you full details of our company. We look forward to hearing
from you in due course.
Yours sincerely,
M. Kobelt
5)
information credit-worthiness
statements customer confidence limit balance due
Dear Mrs Gomez,
I refer to your letter of May 18 concerning the (1) _______ of D. L. Cromer Ltd.
The company has been a (2) _______ of ours for a number of years, and although their
credit (3) _______ has not reached the level you mentioned, we have found that they always
cleared their (4) _______ on the (5) _______ dates, settling them on quarterly (6) _______ .
We trust you will treat this (7) _______ in the (8) _______.
Yours sincerely,
G. MacFee
6)
inform
charges
documents
draw
acting
valid
settle
opened
Dear Sir,
We are (1) _______ on behalf of the Eastland Bank, London, and would like to
(2)
_______ you that the above documentary credit for 45.000 FF has been (3) _______ in your
favour by your customers Mercury Data Ltd. The credit is (4) _______ until 12 August and all
bank (5) _______ have been paid.
Please bring the following (6) _______ to the above address: Air Waybill, Invoice for
full value of sale c.i.f. London, Insurance Certificate, Certificate of Origin.
Would you also (7) _______ a sight draft for the full amount of the invoices on us so that
we can (8) ________ this account.
Thank you in advance.
Yours faithfully,
Paul Diderot
7)
attention
discounts
interest
contact
help
enquiry
enclosing
Dear Mr Raval,
Thank you for your (1) _______ of 31 January, and we are (2) _______ our Spring
Catalogue and current price-list quoting c.i.f prices Bombay.
We would like to draw your (3) _______ to the trade and quantity (4) _______ we are
offering in our Special Purchases section p.p. 19-26 which may be of particular
(5)
_______ to you.
Please (6) _______ us if we can be of any further (7) _______ to you.
Yours sincerely,
Robert Gower
8)
send
attention
together
protecting
forward
sell
Project
graphics
Madam
faithfully
based
For the (1) _______ of the Sales Manager
Dear Sir or (2) _______,
We are a software company (3) _______ in London and are currently developing a
Windows-based scientific (4) _______ package for use in universities and research laboratories.
We are interested in (5) _______ the programmes we (6) _______ from unauthorised copying
and duplication.
Could you please (7) _______ us more technical information about your RSP-11
software protection system (8) _______ with your current brochure and price-list?
We look (9) _______ to hearing from you.
Yours (10) _______ ,
Anne Newson
(11) _______ Director
9)
appreciate
faithfully
Regarding
ask
grateful
regret
concerning
hearing
sincerely
delighted
please
sorry
enclose
receiving
writing
Dear Ms Chan,
Thank you for your letter of 24 April, (1) _______ the exhibition in Anytown in August.
We are (2) _______ to hear that your company will be taking part and that you will
address the opening conference.
(3) _______ the conference, we would (4) _______ it if you could send us details of all
delegates so that we can prepare security passes.
We would also (5) _______ you to let us have details of the equipment you need for your
presentation.
We look forward to (6) _______ your reply.
Yours (7) _______
Dear Sir/Madam,
Your company has been recommended to us by a business associate and I am
(8)
_______ to enquire about your translation services.
My company has recently entered the export market and we need advertising material
translated into Chinese, Russian, and Turkish.
We would be (9) _______ if you could send us your prices and terms of payment.
We look forward to (10) _______ from you.
Yours (11) _______
Dear Mr Kadenza,
I was very (12) _______ to hear about your problems with the new super vacuum.
I have investigated the complaint and I (13) _______ to tell you that the problem is the
result of faulty operation. I (14) _______ a copy of the inspector's report with this letter.
If you require us to repair the machine, (15) _______ contact me at the number above.
Yours sincerely
6. Read the following letters and choose the best words from the options in brackets.
1) Dear Mr Osterheld,
We were very pleased to receive your (1) _______ (correspondence, enquiry, mail) of 14
October 2001, asking about our leather and sheepskin (2) _______ (range, cloths, products)
and terms of (3) _______ (dealing, trade, conditions).
First let me say that our (4) _______ (label, mark, patent) is internationally famous
because of the quality of our garments, and we are convinced they will sell very well through
your (5) _______ (outlets, factories, warehouses). We think you will agree with us when you
look through the enclosed (6) _______ (manual, catalogue, leaflet) and examine the (7)
_______ (specimens, examples, samples) we are forwarding separately.
You will see from the price-list that we take care of all freight and insurance costs, so the
prices are quoted on a(n) (8) _______ (c.i.f, ex-works, f.o.b.) basis. We will also allow (9)
_______ (trade, cash, quantity) discounts for orders over $10,000, and with the usual trade
references, we can arrange for payment by 60-day (10) _______ (bill, letter, draft) of exchange.
Thank you once again for your enquiry, and we are sure you will be impressed by the
(11) _______ (vast, huge, wide) selection of our garments. Meanwhile, if there are any further
details you need, please contact us.
Yours sincerely,
Ellena Onate
2) Dear Mr Grassmann,
You were recommended to us by the German Chamber of Commerce, who
(1)
_______ (said, told, spoke) you might be interested in representing an Italian glass
manufacturing company in your country.
We have a number of agencies in other European countries who receive products on (2)
_______ (commission, consignment, approval), then sell them on a six per cent commission on
ex-works prices. These are (3) _______ (single, unique, sole) agencies which means that only
we supply them, and they represent only us in this line.
Generally, their customers (4) _______ (settle, agree, deal) all accounts with us, then we
supply them direct on invoices received from the agent.
In most cases we offer a (5) _______ (test, proof, trial) agency for one year, and if the
results are good, we (6) _______ (export, extend, expand) the agency on a further two-year
contract. We would (7) _______ (offer, suggest, invite) you support through advertising,
brochures, and leaflets in German, the (8) _______ (cost, value, worth) of this being shared
between us.
Our market (9) _______ (researches, reporters, informers) tell us there is an increasing
demand for our line of products in your country, so it will not be difficult to sell our wares.
If you would be interested in an agency of this type, we can send you a standard
agreement,
giving
you
more
details
of
our
terms.
Meanwhile, we are enclosing our (10) _______ (actual, present, current) catalogue.
Yours sincerely,
P. Grazioli
3) Dear Mr Merton,
In reply to your fax of the (1) _______ (before, over, above) date, we are sending you
details of our shipping (2) _______ (timetables, schedules, programs) and freight rates, so they
should (3) _______ (arrive, reach, deliver) you by tomorrow.
With regard to the (4) _______ (certification, documentation, paper) you asked for, we
(5) _______ (suggest, advise, warn) you use our combined Transport Bill as the goods will then
be covered by road, Ro-Ro ferry, and road again. We are also sending
(6) _______
(down, on, up) our Export Cargo Packing Instructions which should be
(7) _______
(brought, handed, put) to our driver when he calls. Consignment will be delivered to our (8)
_______ (роst, camp, depot) for consolidation, and you will be
(9) _______ (charged,
accounted, paid) at the very competitive groupage rates.
We will lake the usual (10) _______ (duties, responsibilities, care) for handling cargo,
but suggest you take all risk insurance cover on a door-to-door (11) _______ (term, basis,
ground).
Please let us know (12) _______ (as, if, when) there are any other details you require.
Yours sincerely,
Brian Close
4) Dear Sir,
We are a (1) _______ (grand, large, wide) company (2) _______ (dealing, coping,
managing) with merchandise (3) _______ (who, which, what) we ship (4) _______ (in, to,
towards) Europe and North America. We (5) _______ (want, would like, request) to know if
you can (6) _______ (suggest, supply, give) us with quotation for a comprehensive policy, (7)
_______ (assuring, protecting, covering) our warehouse at Dock Road, Southampton.
The policy would (8) _______ (consist, contain, include) fire, flood, theft, burglary, and
the usual contingencies affecting this (9) _______ (form, kind, variety) of enterprise. At any
time, there may be about £250,000 in stock on the (10) (premises, grounds, floors).
If you can offer us (11) _______ (competing, competition, competitive) rates, we will
(12) _______ (think, imagine, consider) further policies with you on our other interests.
We look forward to hearing from you (13) _______ (soon, presently, immediately).
Yours faithfully.
Peter Hind
5) Dear Mr Boldt,
We (1) _______ (wish, want, would like) to invite you to our annual dinner on 15
February and (2) _______ (wonder, ask, demand) if you would consider being one of our guest
(3) _______ (announcers, speakers, talkers).
The theme we are promoting this year is the Single European Currency, and we would
(4) _______ (admire, like, appreciate) a contribution from your field of manufacturing how this
would (5) _______ (afflict, affect, alter) you and your colleagues' enterprises. Please (6)
_______ (let, leave, make) us know as soon as possible if you are able to (7) _______ (arrive,
attend, assist).
(8) _______ (Inside, Enclosed, Within) you will find a formal invitation (9) _______ (to,
of, for) yourself and a guest.
Yours sincerely,
Peter Hoffman
Chairman
Dear Mr Hollman,
Thank you for your letter and invitation of 13 January (10) _______ (requesting, asking,
inviting) Mr Boldt to your annual dinner.
He will be (11) _______ (content, overjoyed, pleased) to attend and speak about the
effects that parity of currencies will have on the costs of (12) _______ (crude, raw, first)
materials for our industry. He (13) _______ (expects, awaits, forecasts) the talk to last about
half an hour.
I will send you a transcript next week, and Mr Boldt would (14) _______ (enjoy, greet,
welcome) any comments or suggestions you care to (15) _______ (have, propose, make).
He looks forward to seeing you on February 15 at the (16) _______ (event, occasion,
function).
Yours sincerely,
Barbara Schroeder (Mrs)
p.p. Gunter Boldt
Chairman
6) We are looking for someone with (1) _______ (current, fluent, spoken) English and Italian,
and preferably another language, such as French or German. The (2) _______ (secretary,
interviewee, applicant) should have at least two years' secretarial (3) _______ (work,
experience, employment). Office skills such as typing, word processing, and shorthand would
be a(n) (4) _______ (advantage, benefit, addition).
The work (5) _______ (consists, contains, includes) customer liaison, and
(6)
_______ (doing, making, acting) as an interpreter for the Assistant Manager, both here and
elsewhere in Europe, The successful candidate will also be expected to proof-read manuscripts
in English and Italian. In addition to this, he/she will be expected to carry out the usual
secretarial (7) _______ (work, duties, employment). For a(n) (8) _______ (application form, c.v
, interview), phone Paula Prentiss, the Personnel Manager, on (0223) 6814, Ext.412, quoting (9)
_______ (number, reference, figure) PP391.
7) Further to our telephone conversation, I am writing to you (1) _______ (affecting,
concerning, changing) your order, No.SX1940, which was (2) _______ (sold, made, placed)
with us on 10 January.
Once again, I must (3) _______ (regret, apologize, speak) to you for our delay in processing the
order. This was due to a (4) _______ (shortage, fault, problem) of office staff. However, since I
spoke to you last week, we have (5) _______ (dismissed, promoted, taken on) four new
employees at our depot, and I am pleased to be able to tell you that your order is now ready for
dispatch. It will (6) _______ (arrive, delivery, reach) you in approximately fourteen days' time.
As always, special (7) _______ (care, attention, caution) has been taken to ensure that your (8)
_______ (load, crates, consignment) of goods has been packed (9) _______ (meeting,
according, serving) to your requirements. Each item will be individually wrapped to (10)
_______ (prevent, cause, stop) damage.
Introducing the Clydesdale Bank
For well over a century, the Clydesdale Bank has provided banking services for the
people, industries and commerce of Scotland. Established in Glasgow in 1838, when that city
was already giving abundant evidence of vigorous growth, it was intended to be chiefly a local
Bank, having few branches. It was not long, however, before the Bank began a policy of
expansion which has led over the years to the establishment of a network of branches covering
Scotland from the Solway to Shetland. Throughout its history the Bank has kept abreast of all
banking developments; in Scotland it has been the pioneer in the introduction of some of the
facilities which are features of any complete and modern banking service.
This booklet is designed to provide information on the ways in which the Bank can help
its personal customers. We hope that, whether you are already a customer or you have yet to
open a bank account, you will find it interesting and useful. Two points we would make; first,
an account can be opened with a modest sum as readily as with a large one, and second, the
Bank's services are available to every customer, irrespective of the size of balance maintained.
Services to customers
There are many advantages in maintaining an account with the Clydesdale Bank. Even if
you do no more than make use of the ordinary everyday facilities of a Current Account, you
enjoy the convenience of paying by cheque and can readily receive payment by cheque from
others; you have an up-to-date record of your transactions; you have the satisfaction of knowing
that our money is safe; and you can give the Bank's name as a reference when required.
As already indicated, the Clydesdale Bank offers to its customers many more services
than these, all designed to make things easier for those who use them. For example, in addition
to taking care of and transmitting money, the Bank grants loans and overdrafts; provides
mortgages; receives documents and valuables for safekeeping; makes regular payments, such as
insurance premiums and club subscriptions, on behalf of customers who give a "standing order"
to pay them; buys and sells stocks and shares on a customer's instructions; manages investment
portfolios; deals with foreign exchange business; assists those travelling or trading abroad;
undertakes executor and trustee work; and can provide advice on all types of insurance and
annuities.
Then again, our Branch Managers more often than not are looked upon by their
customers as friends and counsellors to whom financial and business problems of all kinds are
brought for discussion. It is a condition of service in the Bank that all matters affecting its
business and the affairs of its customers must be treated as strictly confidential. In the following
pages you will find information regarding many of the services provided by the Clydesdale
Bank. Some of them are dealt with in greater detail in separate leaflets, which can be obtained
on request, but if you would like to discuss any of them we invite you to call in at any Branch
of the Bank.
Your Bank Account
Since there are nearly 400 Branches of the Clydesdale Bank, probably one of them is
quite near your home or your place of work. When you decide upon the Branch at which you
wish to open your bank account, you will find that our Staff will be glad to help you with the
few simple but necessary formalities.
One of the first things to be decided is the kind of bank account which is most suitable
for your needs. You may require a Current Account, which offers the convenience of paying by
cheque, or alternatively, an AutoCash Account where your savings can accumulate and earn
interest. Many people find it convenient to have more than one account and we will gladly
advise you on this point.
Current Account
A Current Account is a bank account which you operate by Cheque or AutoBank Card.
This type of Account allows you to pay bills by writing a cheque rather than using cash or
buying a postal order. Most organisations accept cheques in payment especially if supported by
a Cheque Card. You will receive a regular statement to let you know exactly how your account
stands. There is no service charge to personal Current Account customers of the Clydesdale
Bank as long as the account remains in credit during the three months' charging period.
AutoBank Card
An AutoBank Card can be used at our counters to pay into and withdraw from your
Current Account without writing out pay-in slips or cheques and it can also be used to obtain
cash 24 hours a day from any of our AutoBank cash dispensers located at many of our Branches
throughout the country. Apart from this cash dispensing facility you can also order a statement
or a new cheque book.
Cheque Card
A Clydesdale Bank Cheque Card guarantees to suppliers of goods and services any
cheque you offer in payment of a transaction up to J50. The card must be presented along with
the cheque at the time of payment.
This means that a Clydesdale Bank customer's cheque issued in conjunction with a
Cheque Card is as good as cash. No charge is made for this service either to customer or to
retailer. You can also use your Cheque Card to draw money from branches of most other banks
in Britain.
Since a Clydesdale Bank Cheque Card guarantees your cheques, your Bank Manager
may wish to see how you conduct your account for a period, usually three months, before
issuing one. Incidentally if you do have a Cheque Card keep it in a different pocket or place
from your cheque book for security reasons.
AutoCash Account
The AutoCash Account differs from a Current Account in that interest is earned on the
minimum calendar monthly balance and the account is operated purely by use of an AutoBank
Card. You therefore have access to your AutoCash Account 24 hours a day, seven days a week
since you can use our network of 24 hour AutoBank cash dispensers located outside many of
our Branches. You can also pay in and withdraw money using your AutoBank Card at any
Clydesdale Bank Branch where you will automatically be given a note of the balance of your
account after you have completed your transaction. You can also request this information from
our 24 hour AutoBanks. Regular payments can be made by Standing Order or Direct Debit
from your AutoCash Account and a statement detailing all your transactions will automatically
be sent to your home address every three months.
Deposit Account
The Deposit Account is principally for Clubs and Associations wishing to accumulate
funds, often where more than one person is involved in operating the account. There may also
be other circumstances where this type of account is appropriate. The Bank pays interest on the
minimum calendar monthly balance, at rates which are displayed in all Branches. You may pay
in sums of 5p and upwards at any Branch of the Bank, and any part, or the whole of the balance
with the interest earned, can be withdrawn on demand at the Branch where the account is kept.
A special feature of the Deposit Account is that a Trust Account can be opened for
younger children by, for instance, their parents. This is a useful way to encourage children to
save as it allows them to pay-in to the Account but they cannot withdraw from the Account on
their own. The person operating the Trust Account on behalf of the child can of course make
pay-ins and withdrawals in the normal manner.
Premium Account
A Clydesdale Bank Premium Account offers a higher rate of interest than is available on
Deposit Accounts. The minimum balance which must be maintained to qualify for the higher
rate is £5.000. One month's written notice of withdrawal is required. Additional sums may be
deposited in Premium Accounts subject to a minimum of £250 per lodgment. Present rates of
interest are advertised in all our Branches.
Credit Transfer
The Credit Transfer is a simple method of transferring money through the banking
system and can be used by anyone whether a customer of the Bank or not. The service, which is
available at all Branches of the Bank, can be used to transmit money to your own account in
another branch or bank, or to make remittances to anyone who has a bank account anywhere in
the United Kingdom. Credit Transfers can be used to pay household bills and such items as
subscriptions, insurance premiums and hire purchase instalments.
Direct Debiting and Standing Orders
Direct Debiting allows large organisations such as insurance companies to collect
payments owed to them direct from your account. Under this system the company obtains your
consent to your bank account being "debited" for the amount due. Direct Debiting is
increasingly replacing Standing Orders, because there is greater flexibility in the system and it
makes more efficient use of electronic equipment both in the banks and the organisations
receiving the payments. Standing Orders, in contrast, although achieving the same objective,
namely transferring funds from one account to another on a regular basis, require the paying
customer to instigate the payments and the bank requires a fresh written instruction every time
there is a change in the amount due or in the timing of payments.
Overdrafts and Loans
The range of purposes for which a Bank Loan may be granted is very wide. It is
worthwhile, therefore, to talk things over with your Branch Manager when you have a personal
or business venture in mind, or you find that you need to pay for some item at a time when your
resources are low. All applications for loans, overdrafts and credit facilities are given every
consideration.
Personal Loans
The Clydesdale Bank operates a Personal Loan Service which has been specially
designed to help the private individual to meet some item of expenditure such as the purchase
of a car, caravan or household appliance or even the cost of travel. Personal Loans are available
for amounts up to £7.500. Security is not normally required for Personal Loans. Written details
may be obtained without obligation or charge from your Branch Manager.
Home Improvement Loans
The Bank provides a Home Improvement Loan Service which allows home owners to
borrow up to £7.500 over an extended period. This type of loan is ideal for improvements such
as installing central heating or double glazing, erecting a garage, converting your loft or
extending your house. Security may be required although this will depend on the amount
requested, the period of repayment and the financial circumstances of the borrower. Written
details may be obtained without obligation or charge from your Branch Manager.
Budget Account
A Budget Account helps smooth out the fluctuations between income and expenditure by
spreading the payment of routine bills over a period. As a first step draw up a list of your
estimated outlays over the period and agree these with your Branch Manager. An amount,
based on the total estimated outlay, is transferred regularly from your main account to your
Budget Account and your agreed bills paid from your Budget Account as they fall due.
Personal Credit Plan
The Personal Credit Plan is designed to assist customers who wish a revolving credit
facility. It enables you to borrow up to thirty times the amount of the regular payments which
you agree to make. The amount you can borrow under the P.C.P. facility ranges from £300 to
£1.000. Again written details may be obtained without obligation or charge from your Branch
Manager.
If at any time the total of your instalments exceeds the amount you have borrowed and
your account moves into credit, we will pay you interest on the credit balance.
House Purchase Loans
If you are thinking of buying a house you may be interested in the facilities we can offer
to finance the purchase. We are prepared to lend sums up to a maximum of £100.000 depending
on the value of the property being purchased and your ability to meet the repayments.
Repayment can be made by our Capital and Interest or Endowment Schemes. The property you
are buying will provide the security over which the Bank will take a Standard Security.
You may however prefer to use our Guaranteed Mortgage Scheme which
GUARANTEES prospective house buyers a loan at the end of a two years savings period.
Written details of all the above schemes can be obtained without obligation or charge from your
Branch Manager.
Access Card
An Access Card affords the holder credit facilities and can be used to pay for goods and
services in the vast number of shops, service organisations, hotels and restaurants throughout
Britain which display the Access sign. The Card can also be used at outlets abroad which
display the Access, MasterCard or Eurocard signs. If cash is required it can be obtained on
production of the Card at any of the thousands of branches of the banks participating in the
Access scheme. In addition you can normally obtain up to £100 in local currency in any one
day from banks abroad that display the Access, MasterCard or Eurocard signs although local
regulations may restrict this amount.
Interest is charged on cash advances from the date the money is taken until full
repayment is made.
Full written details of the Access scheme are obtainable without obligation or charge
from your Branch Manager.
Gift Cheques
The Bank provides a special kind of cheque for use on appropriate occasions. These are
Clydesdale Bank Gift Cheques, which fulfil the practical purposes of ordinary cheques and in
addition convey the warm friendliness of a personal message of goodwill. Special designs in
full colour are available for Birthdays, Weddings, Christmas and general gift purposes. Gift
Cheques, which are available to customers and non-customers alike, can be bought at any
Clydesdale Bank Branch for a small charge, over and above the amount of the cheque which
can be for any amount over J5 you wish to provide. Those for sums up to J50 can be cashed at
any Branch of the Bank; those for larger amounts are usually passed through a bank account.
Travellers' Cash
Whether you travel abroad on business or for pleasure the Clydesdale Bank can help you
with your cash arrangements. Eurocheques and an accompanying Eurocheque Card can be used
in around 40 countries in Europe and the Mediterranean area to pay for goods and services or to
draw cash at banks just like an ordinary cheque book.
Travellers cheques are another simple way of carrying money while abroad and they can
be supplied immediately from any Branch in Sterling and US and Canadian Dollars, and in a
number of other currencies with a few days' notice.
Most common foreign currencies can also be supplied at short notice to enable you to pay
for the many small necessary items such as tips and taxi fares on arrival.
Pick up a leaflet on these services from any Branch of Clydesdale Bank.
Insurance Services
We can help you with the important task of arranging adequate insurance cover for
yourself, your family and your possessions. The services of our associated company,
Clydesdale Bank Insurance Services Limited, are available through any of our Branches and
their comprehensive insurance broking facilities cover all aspects of insurance including fire,
accident, house mortgage, life assurance, pension schemes, and Capital Transfer Tax provision.
Clydesdale Bank Insurance Services also specialise in the requirements of commercial and
industrial concerns. Free advice and guidance will readily be given on any insurance problem
and they will also review your existing policies without charge.
Personal Tax Service
Your personal income tax affairs can be a source of irritation and confusion but you can
arrange to have them handled by the specialist staff of our Trustee Departments.
Your Investments
Should you wish to invest your savings – in National Savings Certificates, stocks and
shares, or in some other way – or to realise securities which you already hold, the Bank can
help you by buying or selling on your instructions. We also provide the facility to invest in
Midland Bank Unit Trusts. Your Branch Manager will be pleased to provide further
information on the range of Unit Trusts available. Many people, for various reasons, are unable
to give adequate attention to the care of their investments. They may for example, lack the time,
be working abroad or be out of touch with market conditions. Whatever the reason, such people
can enjoy the benefits of efficient administration by using the Clydesdale Bank's Investment
Management Service. If you make use of this service, an investment policy suited to your needs
will be agreed with you; your holdings will be kept under review; and all rights and benefits to
which you become entitled will be promptly secured.
Your Will
If you do not make a Will, your dependants may not benefit as you would wish, and your
estate may be distributed in a manner quite contrary to your intentions.
The Manager of any Branch of the Bank will readily arrange for you to meet an official
of Trustee Department, who, by long experience and training, is qualified to manage your
affairs with care, skill and sympathetic understanding. By appointing the Bank as an executor
under your Will you will ensure that expert help and advice are always available when required.
The Bank will act not only as an executor under your Will, but also as trustee of family trusts or
settlements.
Safe Custody of Valuables
You can leave important documents and other valuables, such as jewellery and plate,
locked deed boxes and sealed parcels with the Bank for safe keeping. Items can be uplifted at
any time on production of the receipt which is issued when they are deposited.
There may be a charge for this service, details of which can be obtained from your
Branch.
In Conclusion
From the foregoing pages you will have gained a broad picture of the services which the
Clydesdale Bank provides through nearly 400 branches in Scotland, Cumbria and London. All
have been designed to make things easier for the Bank's customers and to relieve them of
burdens and anxieties.
While most of the services described in this booklet are principally designed for the
personal customer the Bank also provides a wide range of other services of use to the business
customer.
If you wish to have more details about the way in which the Bank can be of special
assistance to you please do not hesitate to write to us at Head Office, 30 St Vincent Place,
Glasgow G1 2HL or call in at any Branch and ask for the Bank's published literature on the
subject in which you are interested.
Better still, if you are not already a Bank customer, complete the Account Opening Form
in this booklet and call with it at a convenient Branch of the Bank; you will find our Staff
friendly and helpful.
Written details on all our lending services are available on request from any Branch or
from Clydesdale Bank PLC, 30 St Vincent Place, Glasgow Gl 2HL.