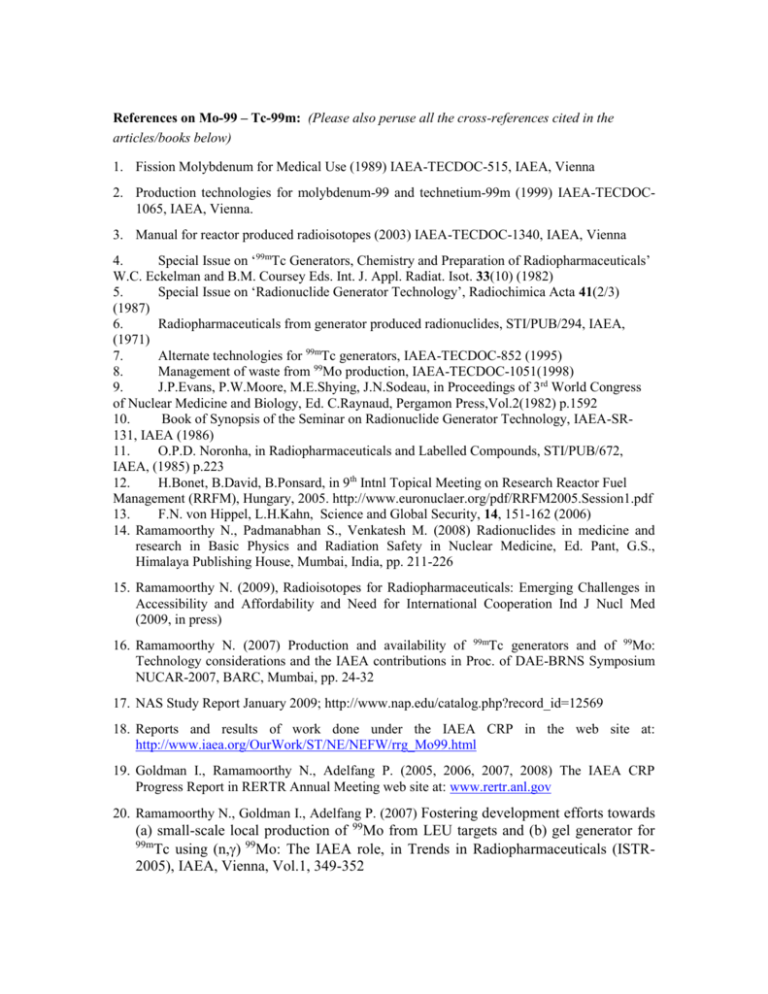 References on Mo-99 – Tc-99m: (Please also peruse all the cross-references cited in the
articles/books below)
1. Fission Molybdenum for Medical Use (1989) IAEA-TECDOC-515, IAEA, Vienna
2. Production technologies for molybdenum-99 and technetium-99m (1999) IAEA-TECDOC1065, IAEA, Vienna.
3. Manual for reactor produced radioisotopes (2003) IAEA-TECDOC-1340, IAEA, Vienna
4.
Special Issue on '99mTc Generators, Chemistry and Preparation of Radiopharmaceuticals'
W.C. Eckelman and B.M. Coursey Eds. Int. J. Appl. Radiat. Isot. 33(10) (1982)
5.
Special Issue on 'Radionuclide Generator Technology', Radiochimica Acta 41(2/3)
(1987)
6.
Radiopharmaceuticals from generator produced radionuclides, STI/PUB/294, IAEA,
(1971)
7.
Alternate technologies for 99mTc generators, IAEA-TECDOC-852 (1995)
8.
Management of waste from 99Mo production, IAEA-TECDOC-1051(1998)
9.
J.P.Evans, P.W.Moore, M.E.Shying, J.N.Sodeau, in Proceedings of 3rd World Congress
of Nuclear Medicine and Biology, Ed. C.Raynaud, Pergamon Press,Vol.2(1982) p.1592
10.
Book of Synopsis of the Seminar on Radionuclide Generator Technology, IAEA-SR131, IAEA (1986)
11.
O.P.D. Noronha, in Radiopharmaceuticals and Labelled Compounds, STI/PUB/672,
IAEA, (1985) p.223
12.
H.Bonet, B.David, B.Ponsard, in 9th Intnl Topical Meeting on Research Reactor Fuel
Management (RRFM), Hungary, 2005. http://www.euronuclaer.org/pdf/RRFM2005.Session1.pdf
13.
F.N. von Hippel, L.H.Kahn, Science and Global Security, 14, 151-162 (2006)
14. Ramamoorthy N., Padmanabhan S., Venkatesh M. (2008) Radionuclides in medicine and
research in Basic Physics and Radiation Safety in Nuclear Medicine, Ed. Pant, G.S.,
Himalaya Publishing House, Mumbai, India, pp. 211-226
15. Ramamoorthy N. (2009), Radioisotopes for Radiopharmaceuticals: Emerging Challenges in
Accessibility and Affordability and Need for International Cooperation Ind J Nucl Med
(2009, in press)
16. Ramamoorthy N. (2007) Production and availability of 99mTc generators and of 99Mo:
Technology considerations and the IAEA contributions in Proc. of DAE-BRNS Symposium
NUCAR-2007, BARC, Mumbai, pp. 24-32
17. NAS Study Report January 2009; http://www.nap.edu/catalog.php?record_id=12569
18. Reports and results of work done under the IAEA CRP in the web site at:
http://www.iaea.org/OurWork/ST/NE/NEFW/rrg_Mo99.html
19. Goldman I., Ramamoorthy N., Adelfang P. (2005, 2006, 2007, 2008) The IAEA CRP
Progress Report in RERTR Annual Meeting web site at: www.rertr.anl.gov
20. Ramamoorthy N., Goldman I., Adelfang P. (2007) Fostering development efforts towards
(a) small-scale local production of 99Mo from LEU targets and (b) gel generator for
99m
Tc using (n,) 99Mo: The IAEA role, in Trends in Radiopharmaceuticals (ISTR2005), IAEA, Vienna, Vol.1, 349-352
21.
N.Ramamoorthy, I.Goldman, P.Adelfang (2007) Enhanced prospects of 99mTc gel
generator usage with the aid of post-elution concentration of pertechnetate in ISRS-2007, J. Lab.
Comp. Radiopharm. 50 (Suppl 1) p.896
22. Saraswathy P., Sarkar, S.K., Patel, R.R. et al. (1999) Evaluation of preparation and
performance of gel column 99mTc generator based on zirconium molybdate – 99Mo, IAEATECDOC-1029, pp. 385-398
23. Saraswathy
P.
et
al.
Proc.
Intnl
RERTR
http://www.rertr.anl.gov/RERTR29/PDF/9-5_Saraswathy.pdf
Meeting
2007,
24. http://www.fnca.mext.go.jp/english/rru/tcg/e_tcg_introduction.html
25. Ashrapov U.T., Khujaev S., (2002) The stationary generator of the technetium-99m, in
Proceedings of the Second Eurasian Conference on Nuclear Science and its Application, Vol.
I, pp. 499-503. Almaty, Republic of Kazakhstan.