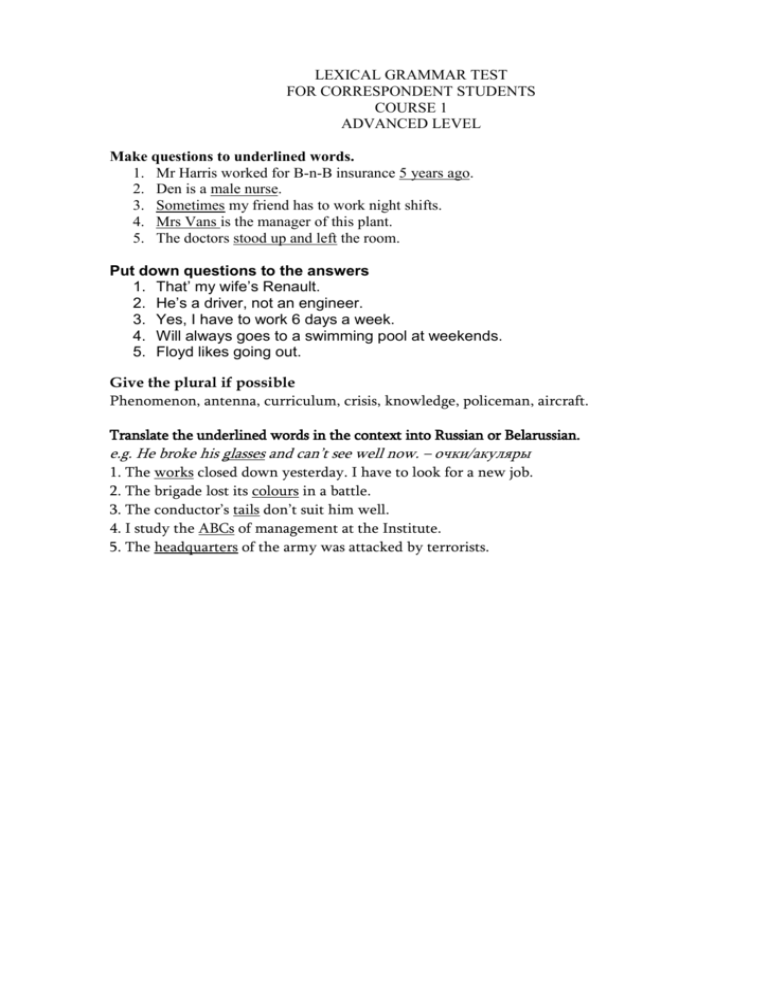 LEXICAL GRAMMAR TEST
FOR CORRESPONDENT STUDENTS
COURSE 1
ADVANCED LEVEL
Make questions to underlined words.
1. Mr Harris worked for B-n-B insurance 5 years ago.
2. Den is a male nurse.
3. Sometimes my friend has to work night shifts.
4. Mrs Vans is the manager of this plant.
5. The doctors stood up and left the room.
Put down questions to the answers
1. That' my wife's Renault.
2. He's a driver, not an engineer.
3. Yes, I have to work 6 days a week.
4. Will always goes to a swimming pool at weekends.
5. Floyd likes going out.
Give the plural if possible
Phenomenon, antenna, curriculum, crisis, knowledge, policeman, aircraft.
Translate the underlined words in the context into Russian or Belarussian.
e.g. He broke his glasses and can't see well now. – очки/акуляры
1. The works closed down yesterday. I have to look for a new job.
2. The brigade lost its colours in a battle.
3. The conductor's tails don't suit him well.
4. I study the ABCs of management at the Institute.
5. The headquarters of the army was attacked by terrorists.