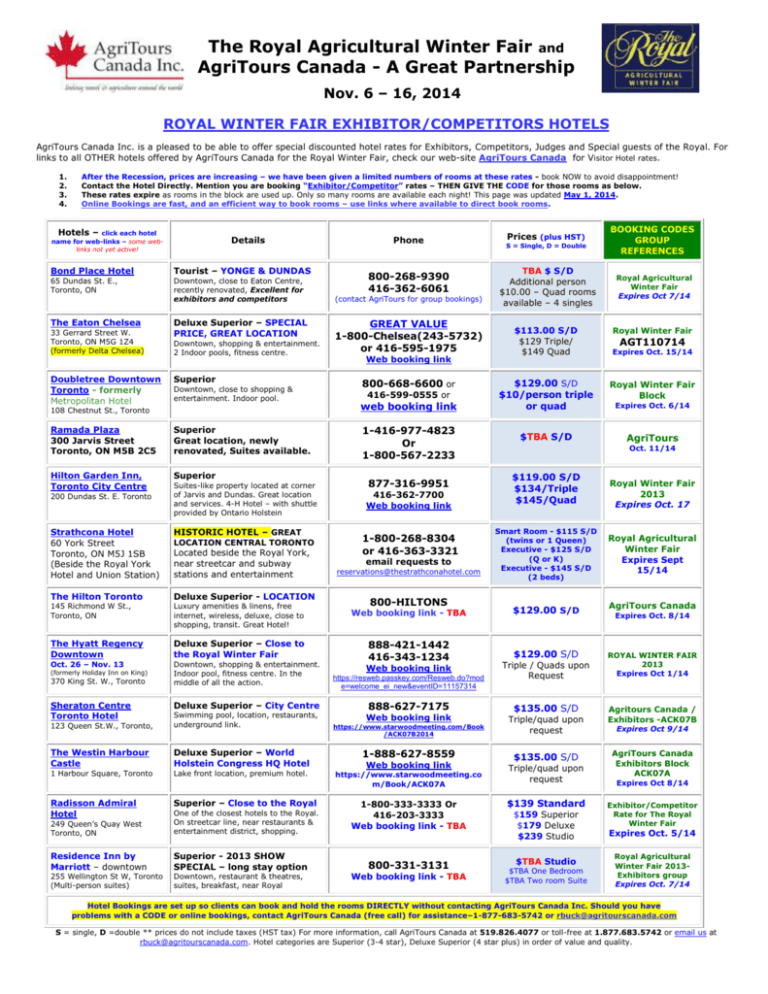 The Royal Agricultural Winter Fair and
AgriTours Canada - A Great Partnership
Nov. 6 – 16, 2014
ROYAL WINTER FAIR EXHIBITOR/COMPETITORS HOTELS
AgriTours Canada Inc. is a pleased to be able to offer special discounted hotel rates for Exhibitors, Competitors, Judges and Special guests of the Royal. For
links to all OTHER hotels offered by AgriTours Canada for the Royal Winter Fair, check our web-site AgriTours Canada for Visitor Hotel rates.
1.
2.
3.
4.
After the Recession, prices are increasing – we have been given a limited numbers of rooms at these rates - book NOW to avoid disappointment!
Contact the Hotel Directly. Mention you are booking "Exhibitor/Competitor" rates – THEN GIVE THE CODE for those rooms as below.
These rates expire as rooms in the block are used up. Only so many rooms are available each night! This page was updated May 1, 2014.
Online Bookings are fast, and an efficient way to book rooms – use links where available to direct book rooms.
Hotels – click each hotel
name for web-links – some weblinks not yet active!
Details
Bond Place Hotel
Tourist – YONGE & DUNDAS
65 Dundas St. E.,
Toronto, ON
Downtown, close to Eaton Centre,
recently renovated, Excellent for
exhibitors and competitors
The Eaton Chelsea
33 Gerrard Street W.
Toronto, ON M5G 1Z4
(formerly Delta Chelsea)
Doubletree Downtown
Toronto - formerly
Metropolitan Hotel
Deluxe Superior – SPECIAL
PRICE, GREAT LOCATION
Downtown, shopping & entertainment.
2 Indoor pools, fitness centre.
Superior
Downtown, close to shopping &
entertainment. Indoor pool.
108 Chestnut St., Toronto
Ramada Plaza
300 Jarvis Street
Toronto, ON M5B 2C5
Superior
Great location, newly
renovated, Suites available.
Hilton Garden Inn,
Toronto City Centre
Superior
200 Dundas St. E. Toronto
Suites-like property located at corner
of Jarvis and Dundas. Great location
and services. 4-H Hotel – with shuttle
provided by Ontario Holstein
Phone
800-268-9390
416-362-6061
(contact AgriTours for group bookings)
GREAT VALUE
1-800-Chelsea(243-5732)
or 416-595-1975
Web booking link
800-668-6600 or
416-599-0555 or
web booking link
1-416-977-4823
Or
1-800-567-2233
877-316-9951
416-362-7700
Web booking link
Strathcona Hotel
60 York Street
Toronto, ON M5J 1SB
(Beside the Royal York
Hotel and Union Station)
HISTORIC HOTEL – GREAT
The Hilton Toronto
Deluxe Superior - LOCATION
145 Richmond W St.,
Toronto, ON
Luxury amenities & linens, free
internet, wireless, deluxe, close to
shopping, transit. Great Hotel!
Web booking link - TBA
The Hyatt Regency
Downtown
Deluxe Superior – Close to
the Royal Winter Fair
Oct. 26 – Nov. 13
Downtown, shopping & entertainment.
Indoor pool, fitness centre. In the
middle of all the action.
888-421-1442
416-343-1234
(formerly Holiday Inn on King)
370 King St. W., Toronto
Sheraton Centre
Toronto Hotel
LOCATION CENTRAL TORONTO
Located beside the Royal York,
near streetcar and subway
stations and entertainment
Deluxe Superior – City Centre
1-800-268-8304
or 416-363-3321
email requests to
reservations@thestrathconahotel.com
800-HILTONS
Web booking link
https://resweb.passkey.com/Resweb.do?mod
e=welcome_ei_new&eventID=11157314
Deluxe Superior – World
Holstein Congress HQ Hotel
1-888-627-8559
1 Harbour Square, Toronto
Lake front location, premium hotel.
https://www.starwoodmeeting.co
m/Book/ACK07A
249 Queen's Quay West
Toronto, ON
Residence Inn by
Marriott – downtown
Superior - 2013 SHOW
SPECIAL – long stay option
255 Wellington St W, Toronto
(Multi-person suites)
Downtown, restaurant & theatres,
suites, breakfast, near Royal
Web booking link
1-800-333-3333 Or
416-203-3333
Web booking link - TBA
800-331-3131
Web booking link - TBA
Royal Agricultural
Winter Fair
Expires Oct 7/14
Royal Winter Fair
AGT110714
Expires Oct. 15/14
Royal Winter Fair
Block
$TBA S/D
AgriTours
Expires Oct. 6/14
Oct. 11/14
$119.00 S/D
$134/Triple
$145/Quad
Smart Room - $115 S/D
(twins or 1 Queen)
Executive - $125 S/D
(Q or K)
Executive - $145 S/D
(2 beds)
$129.00 S/D
$129.00 S/D
Triple / Quads upon
Request
https://www.starwoodmeeting.com/Book
/ACK07B2014
Web booking link
BOOKING CODES
GROUP
REFERENCES
$129.00 S/D
$10/person triple
or quad
$135.00 S/D
The Westin Harbour
Castle
One of the closest hotels to the Royal.
On streetcar line, near restaurants &
entertainment district, shopping.
$113.00 S/D
$129 Triple/
$149 Quad
Triple/quad upon
request
123 Queen St.W., Toronto,
Superior – Close to the Royal
TBA $ S/D
Additional person
$10.00 – Quad rooms
available – 4 singles
888-627-7175
Swimming pool, location, restaurants,
underground link.
Radisson Admiral
Hotel
Prices (plus HST)
S = Single, D = Double
$135.00 S/D
Triple/quad upon
request
$139 Standard
$159 Superior
$179 Deluxe
$239 Studio
$TBA Studio
$TBA One Bedroom
$TBA Two room Suite
Royal Winter Fair
2013
Expires Oct. 17
Royal Agricultural
Winter Fair
Expires Sept
15/14
AgriTours Canada
Expires Oct. 8/14
ROYAL WINTER FAIR
2013
Expires Oct 1/14
Agritours Canada /
Exhibitors -ACK07B
Expires Oct 9/14
AgriTours Canada
Exhibitors Block
ACK07A
Expires Oct 8/14
Exhibitor/Competitor
Rate for The Royal
Winter Fair
Expires Oct. 5/14
Royal Agricultural
Winter Fair 2013Exhibitors group
Expires Oct. 7/14
Hotel Bookings are set up so clients can book and hold the rooms DIRECTLY without contacting AgriTours Canada Inc. Should you have
problems with a CODE or online bookings, contact AgriTours Canada (free call) for assistance–1-877-683-5742 or rbuck@agritourscanada.com
S = single, D =double ** prices do not include taxes (HST tax) For more information, call AgriTours Canada at 519.826.4077 or toll-free at 1.877.683.5742 or email us at
rbuck@agritourscanada.com. Hotel categories are Superior (3-4 star), Deluxe Superior (4 star plus) in order of value and quality.