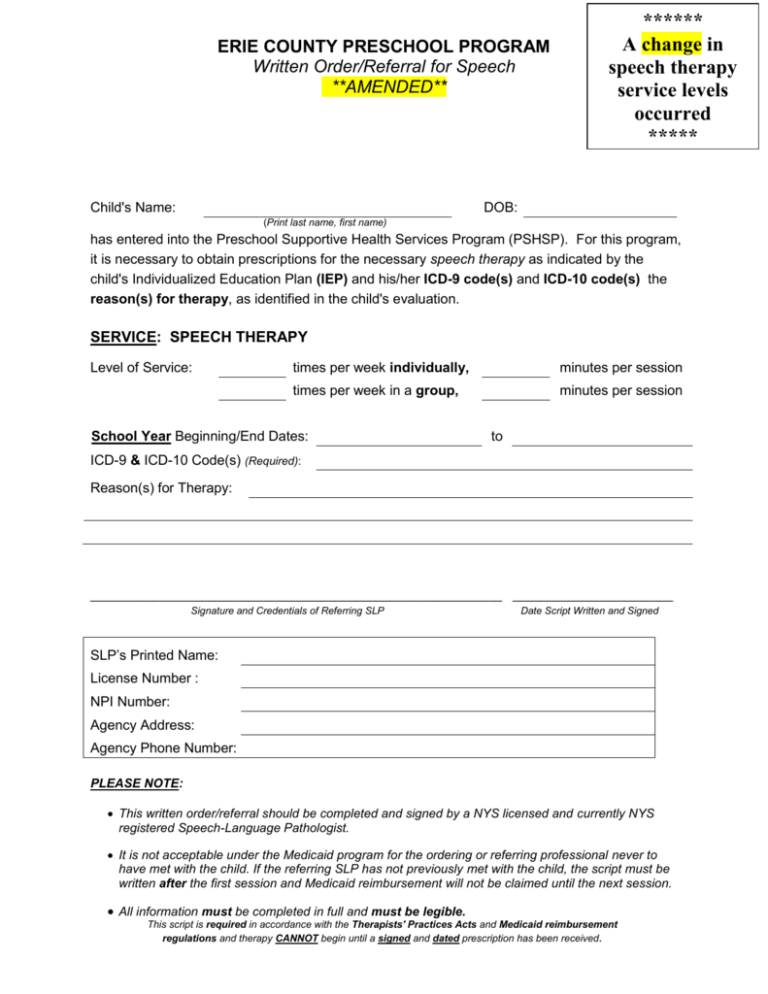 ERIE COUNTY PRESCHOOL PROGRAM
Written Order/Referral for Speech
**AMENDED**
Child's Name:
******
A change in
speech therapy
service levels
occurred
*****
DOB:
(Print last name, first name)
has entered into the Preschool Supportive Health Services Program (PSHSP). For this program,
it is necessary to obtain prescriptions for the necessary speech therapy as indicated by the
child's Individualized Education Plan (IEP) and his/her ICD-9 code(s) and ICD-10 code(s) the
reason(s) for therapy, as identified in the child's evaluation.
SERVICE: SPEECH THERAPY
Level of Service:
times per week individually,
minutes per session
times per week in a group,
minutes per session
School Year Beginning/End Dates:
to
ICD-9 & ICD-10 Code(s) (Required):
Reason(s) for Therapy:
___________________________________________________________ _______________________
Signature and Credentials of Referring SLP
Date Script Written and Signed
SLP's Printed Name:
License Number :
NPI Number:
Agency Address:
Agency Phone Number:
PLEASE NOTE:
 This written order/referral should be completed and signed by a NYS licensed and currently NYS
registered Speech-Language Pathologist.
 It is not acceptable under the Medicaid program for the ordering or referring professional never to
have met with the child. If the referring SLP has not previously met with the child, the script must be
written after the first session and Medicaid reimbursement will not be claimed until the next session.
 All information must be completed in full and must be legible.
This script is required in accordance with the Therapists' Practices Acts and Medicaid reimbursement
regulations and therapy CANNOT begin until a signed and dated prescription has been received.