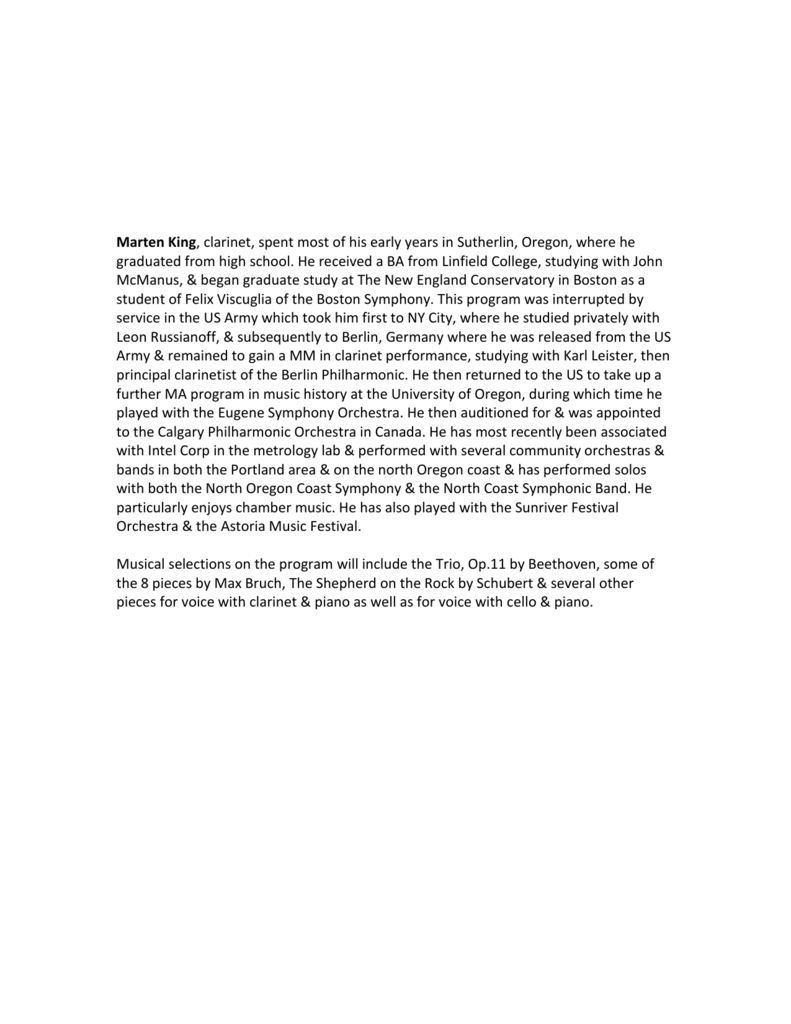 Marten King, clarinet, spent most of his early years in Sutherlin, Oregon, where he
graduated from high school. He received a BA from Linfield College, studying with John
McManus, & began graduate study at The New England Conservatory in Boston as a
student of Felix Viscuglia of the Boston Symphony. This program was interrupted by
service in the US Army which took him first to NY City, where he studied privately with
Leon Russianoff, & subsequently to Berlin, Germany where he was released from the US
Army & remained to gain a MM in clarinet performance, studying with Karl Leister, then
principal clarinetist of the Berlin Philharmonic. He then returned to the US to take up a
further MA program in music history at the University of Oregon, during which time he
played with the Eugene Symphony Orchestra. He then auditioned for & was appointed
to the Calgary Philharmonic Orchestra in Canada. He has most recently been associated
with Intel Corp in the metrology lab & performed with several community orchestras &
bands in both the Portland area & on the north Oregon coast & has performed solos
with both the North Oregon Coast Symphony & the North Coast Symphonic Band. He
particularly enjoys chamber music. He has also played with the Sunriver Festival
Orchestra & the Astoria Music Festival.
Musical selections on the program will include the Trio, Op.11 by Beethoven, some of
the 8 pieces by Max Bruch, The Shepherd on the Rock by Schubert & several other
pieces for voice with clarinet & piano as well as for voice with cello & piano.