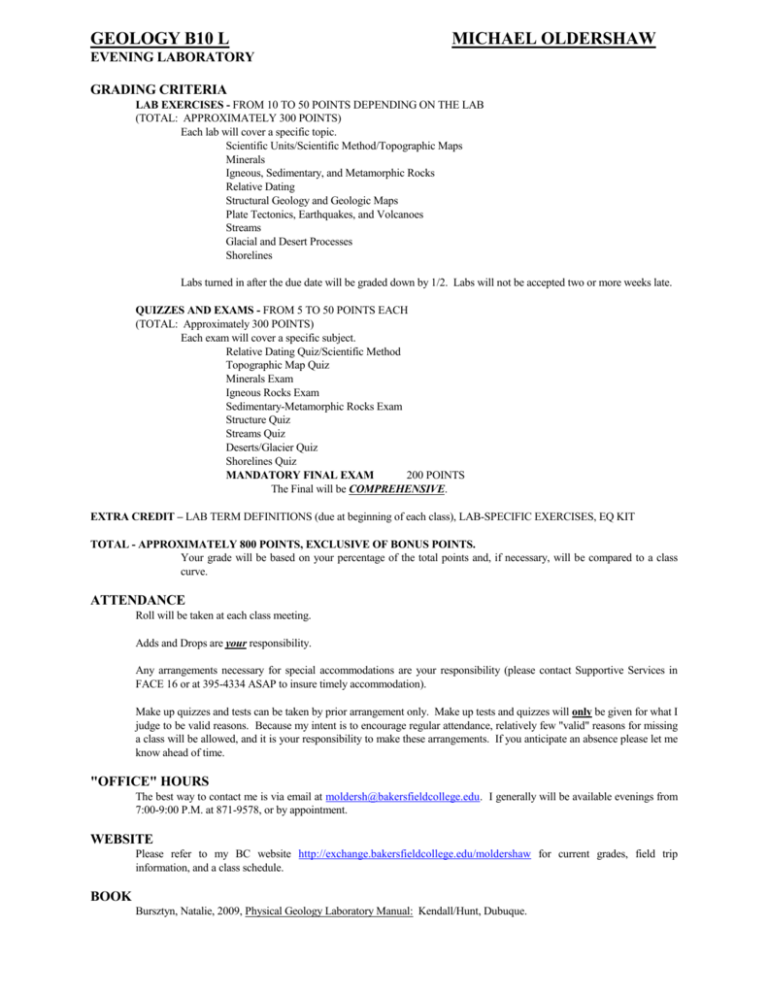 GEOLOGY B10 L
MICHAEL OLDERSHAW
EVENING LABORATORY
GRADING CRITERIA
LAB EXERCISES - FROM 10 TO 50 POINTS DEPENDING ON THE LAB
(TOTAL: APPROXIMATELY 300 POINTS)
Each lab will cover a specific topic.
Scientific Units/Scientific Method/Topographic Maps
Minerals
Igneous, Sedimentary, and Metamorphic Rocks
Relative Dating
Structural Geology and Geologic Maps
Plate Tectonics, Earthquakes, and Volcanoes
Streams
Glacial and Desert Processes
Shorelines
Labs turned in after the due date will be graded down by 1/2. Labs will not be accepted two or more weeks late.
QUIZZES AND EXAMS - FROM 5 TO 50 POINTS EACH
(TOTAL: Approximately 300 POINTS)
Each exam will cover a specific subject.
Relative Dating Quiz/Scientific Method
Topographic Map Quiz
Minerals Exam
Igneous Rocks Exam
Sedimentary-Metamorphic Rocks Exam
Structure Quiz
Streams Quiz
Deserts/Glacier Quiz
Shorelines Quiz
MANDATORY FINAL EXAM
200 POINTS
The Final will be COMPREHENSIVE.
EXTRA CREDIT – LAB TERM DEFINITIONS (due at beginning of each class), LAB-SPECIFIC EXERCISES, EQ KIT
TOTAL - APPROXIMATELY 800 POINTS, EXCLUSIVE OF BONUS POINTS.
Your grade will be based on your percentage of the total points and, if necessary, will be compared to a class
curve.
ATTENDANCE
Roll will be taken at each class meeting.
Adds and Drops are your responsibility.
Any arrangements necessary for special accommodations are your responsibility (please contact Supportive Services in
FACE 16 or at 395-4334 ASAP to insure timely accommodation).
Make up quizzes and tests can be taken by prior arrangement only. Make up tests and quizzes will only be given for what I
judge to be valid reasons. Because my intent is to encourage regular attendance, relatively few "valid" reasons for missing
a class will be allowed, and it is your responsibility to make these arrangements. If you anticipate an absence please let me
know ahead of time.
"OFFICE" HOURS
The best way to contact me is via email at moldersh@bakersfieldcollege.edu. I generally will be available evenings from
7:00-9:00 P.M. at 871-9578, or by appointment.
WEBSITE
Please refer to my BC website http://exchange.bakersfieldcollege.edu/moldershaw for current grades, field trip
information, and a class schedule.
BOOK
Bursztyn, Natalie, 2009, Physical Geology Laboratory Manual: Kendall/Hunt, Dubuque.
GEOLOGY B10 L
MICHAEL OLDERSHAW
EVENING LABORATORY – CLASS ASSIGNMENT ORDER
Topics Introduced
Scientific Method/Units
Labs Due
Scientific Method/Units
Tests/Quizzes
Scientific Method Quiz
Topographic Maps
Topographic Maps
Topo Map Quiz
Mineralogy
Mineral ID
Mineral Test
Igneous Rocks
Igneous Rocks
Igneous Rock Test
Sedimentary/Metamorphic Rocks
Sed./Met. Rocks
Sed./Met. Test
Relative Dating
Relative Dating
Relative Dating Quiz
Structural Geology/Maps
Structure Geology/Maps
Structure/Maps Quiz
Plate Tect./EQ./Volcanoes
PT/EQ/Volcano
PT/EQ/Volcano Quiz
Streams
Streams
Streams Quiz
Glaciers/Deserts
Glaciers/Deserts
Glaciers/Deserts Quiz
Shorelines
Shorelines
Shorelines Quiz
Final Meeting
Nothing Accepted
Final Examination
Class Student Learning Outcomes
Recognizing that this laboratory class is designed to work in conjunction with a lecture course, as a result of completing this and
the lecture course, students should be able to demonstrate an understanding of many geological principles and concepts. The
following represent the principle learning outcomes for this course:
1. Demonstrate a conceptual understanding of fundamental concepts, principles and interactions of Earth's systems applicable
to the geological sciences.
2. Be able to apply a fundamental understanding of the processes that shape the Earth and be able to explain how landforms
change over time.
3. Be able to identify the interactions between different Earth systems, with the ability to explain the potential results of those
interactions.
4. Understand the rock cycle and be able to identify and describe the basic properties of rocks and minerals.
5. Be able to demonstrate an understanding of Earth's hydrologic cycle, weathering systems, and tectonics.
6. Understand how geological environments are formed, changed and eroded through geological time.