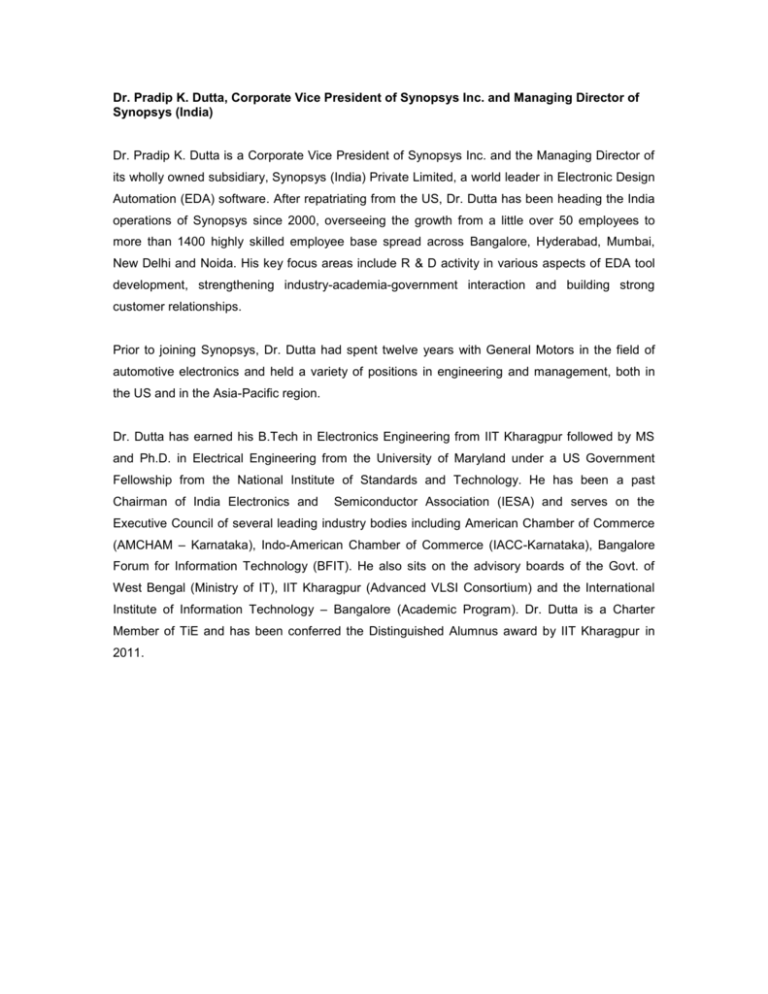 Dr. Pradip K. Dutta, Corporate Vice President of Synopsys Inc. and Managing Director of
Synopsys (India)
Dr. Pradip K. Dutta is a Corporate Vice President of Synopsys Inc. and the Managing Director of
its wholly owned subsidiary, Synopsys (India) Private Limited, a world leader in Electronic Design
Automation (EDA) software. After repatriating from the US, Dr. Dutta has been heading the India
operations of Synopsys since 2000, overseeing the growth from a little over 50 employees to
more than 1400 highly skilled employee base spread across Bangalore, Hyderabad, Mumbai,
New Delhi and Noida. His key focus areas include R & D activity in various aspects of EDA tool
development, strengthening industry-academia-government interaction and building strong
customer relationships.
Prior to joining Synopsys, Dr. Dutta had spent twelve years with General Motors in the field of
automotive electronics and held a variety of positions in engineering and management, both in
the US and in the Asia-Pacific region.
Dr. Dutta has earned his B.Tech in Electronics Engineering from IIT Kharagpur followed by MS
and Ph.D. in Electrical Engineering from the University of Maryland under a US Government
Fellowship from the National Institute of Standards and Technology. He has been a past
Chairman of India Electronics and
Semiconductor Association (IESA) and serves on the
Executive Council of several leading industry bodies including American Chamber of Commerce
(AMCHAM – Karnataka), Indo-American Chamber of Commerce (IACC-Karnataka), Bangalore
Forum for Information Technology (BFIT). He also sits on the advisory boards of the Govt. of
West Bengal (Ministry of IT), IIT Kharagpur (Advanced VLSI Consortium) and the International
Institute of Information Technology – Bangalore (Academic Program). Dr. Dutta is a Charter
Member of TiE and has been conferred the Distinguished Alumnus award by IIT Kharagpur in
2011.