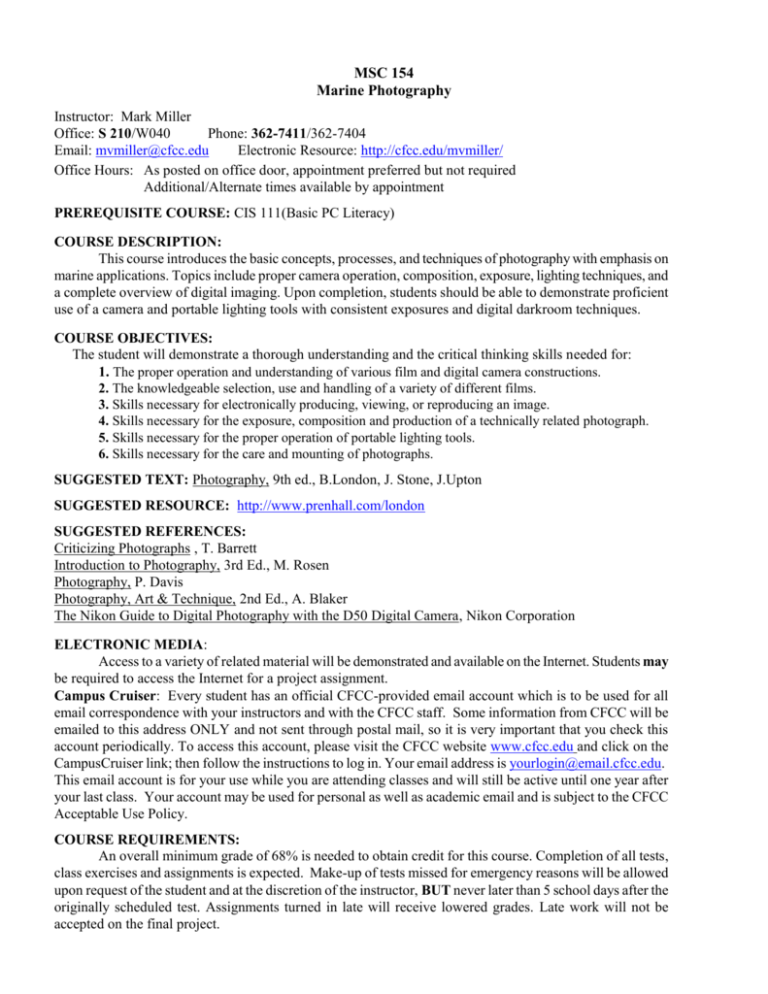 MSC 154
Marine Photography
Instructor: Mark Miller
Office: S 210/W040
Phone: 362-7411/362-7404
Email: mvmiller@cfcc.edu
Electronic Resource: http://cfcc.edu/mvmiller/
Office Hours: As posted on office door, appointment preferred but not required
Additional/Alternate times available by appointment
PREREQUISITE COURSE: CIS 111(Basic PC Literacy)
COURSE DESCRIPTION:
This course introduces the basic concepts, processes, and techniques of photography with emphasis on
marine applications. Topics include proper camera operation, composition, exposure, lighting techniques, and
a complete overview of digital imaging. Upon completion, students should be able to demonstrate proficient
use of a camera and portable lighting tools with consistent exposures and digital darkroom techniques.
COURSE OBJECTIVES:
The student will demonstrate a thorough understanding and the critical thinking skills needed for:
1. The proper operation and understanding of various film and digital camera constructions.
2. The knowledgeable selection, use and handling of a variety of different films.
3. Skills necessary for electronically producing, viewing, or reproducing an image.
4. Skills necessary for the exposure, composition and production of a technically related photograph.
5. Skills necessary for the proper operation of portable lighting tools.
6. Skills necessary for the care and mounting of photographs.
SUGGESTED TEXT: Photography, 9th ed., B.London, J. Stone, J.Upton
SUGGESTED RESOURCE: http://www.prenhall.com/london
SUGGESTED REFERENCES:
Criticizing Photographs , T. Barrett
Introduction to Photography, 3rd Ed., M. Rosen
Photography, P. Davis
Photography, Art & Technique, 2nd Ed., A. Blaker
The Nikon Guide to Digital Photography with the D50 Digital Camera, Nikon Corporation
ELECTRONIC MEDIA:
Access to a variety of related material will be demonstrated and available on the Internet. Students may
be required to access the Internet for a project assignment.
Campus Cruiser: Every student has an official CFCC-provided email account which is to be used for all
email correspondence with your instructors and with the CFCC staff. Some information from CFCC will be
emailed to this address ONLY and not sent through postal mail, so it is very important that you check this
account periodically. To access this account, please visit the CFCC website www.cfcc.edu and click on the
CampusCruiser link; then follow the instructions to log in. Your email address is yourlogin@email.cfcc.edu.
This email account is for your use while you are attending classes and will still be active until one year after
your last class. Your account may be used for personal as well as academic email and is subject to the CFCC
Acceptable Use Policy.
COURSE REQUIREMENTS:
An overall minimum grade of 68% is needed to obtain credit for this course. Completion of all tests,
class exercises and assignments is expected. Make-up of tests missed for emergency reasons will be allowed
upon request of the student and at the discretion of the instructor, BUT never later than 5 school days after the
originally scheduled test. Assignments turned in late will receive lowered grades. Late work will not be
accepted on the final project.
2
ATTENDANCE:
Absences seriously disrupt the students' progress in a class and diminish the quality of group interaction.
Students are expected to punctually attend all lecture and laboratory sessions in the courses for which they are
registered. Late arrivals and/or early departures may count toward total absences in classes. Students must be in
attendance at least eighty (80%) percent of the clock hours of a course to receive credit for the course. Those
who do not meet the minimum attendance requirements will receive a failing grade (F) for the class.
Standards of attendance are established to provide student accountability required by various agencies
associated with CFCC and to encourage student participation for the greatest possible benefit to the student.
Students with special needs may receive reasonable accommodations in accordance with the guidelines
established under the Americans with Disabilities Act. (See "Attendance" Pg. 19 of Student Handbook)
Accommodation of Special Needs Based on Disability: Any student who requests classroom
accommodations because of a disability must present documentation to verify his/her disability. This
documentation must be furnished to the Disabilities Service Coordinator, and this should be provided prior
to requesting accommodation by the instructor. On a confidential basis, the student, disabilities services and
the instructor will determine the appropriate accommodations following documentation. Accommodations
will be provided in a manner that is consistent with the objectives, outcomes, and academic standards of the
course. Absences must not exceed class attendance policy.
CONDUCT:
In an effort to assist in proper building maintenance and provide a classroom atmosphere conducive to
learning, we are not permitted to eat or drink inside the classroom. Tobacco use is prohibited on all
CFCC property. The first offense is a warning and the second offense may result in disciplinary action.
Individual private conversations should be avoided during lectures and/or demonstrations, as they tend to be
disruptive and generally distracting to other students who are trying to listen to the information being
presented. (See "Conduct" Pg.44-45 of Student Handbook) Students are encouraged to participate in
classroom discussions.
Academic Honesty: Any behavior indicating dishonesty, unethical intent or an action identified as cheating
in the CFCC Student Handbook may result in an "F" for the course. (See "Cheating" Pg.23 of Student
Handbook) When calculating grades, an "F" given as a result of cheating will be recorded as a zero.
Procedures identified in the handbook will be followed. Students caught "cheating" may be exposed to the
class.
Course Hours per Week: Class 2, Lab 2
Course Hours per Semester: 64
Semester Hours Credit: 3
Maximum number of hours student may be absent before losing credit: 12.8 (13 hrs.)
GRADING: A grade for MSC-154 will be based on the following criteria:
15% - Class room attendance, class exercises, aptitude, quizzes and general efficiency. Tardiness,
absence or carelessness in the lab will result in lowered grades. (Attendance =5%, Class Exercises and
General Efficiency = 10%)
40% - Three defined projects with defined due dates. Projects will be orally presented. (1st Project = 15%, 2nd
Project = 10%, 3rd Project = 15%) Late work will not be accepted on the final project. Late work will be
accepted for the first two projects but the student will be penalized at the rate of 5 points per school
day for each day the project is late.
30% - Three written tests.
15% - Final Comprehensive Exam
3
The following grading system will be used for this class:
GRADE
A
B
C
D
F
I
WP
WF
NUMERICAL
QUALITY POINTS
EQUIVALENCY
SIGNIFICANCE
PER SEMESTER
92 - 100
Superior
4
84 - 91
Good
3
76 - 83
Average
2
68 - 75
Poor
1
Below 68
Failure
0
Incomplete (Student failed to complete required course assignment due to extenuating circumstances-Pg. 19)
Withdraw Passing
(pg.18 of handbook)
0
Withdraw Failing
(pg.18 of handbook)
0
Excessive Absences and WF's are computed as Failures on transcripts
GRADE DEFINITIONS:
A- Outstanding performance by the student. The student exceeds all basic requirements.
Student demonstrates high level of competency in field.
B- Above average performance by the student. The student exceeds some requirements.
Student demonstrates good competency in field.
C- Average performance by the student. The student meets basic course requirements.
Student demonstrates adequate level of competency in field. Student can work in field with supervision.
D- Below average performance by the student. Student barely meets course requirements.
F- Unacceptable performance by the student. Student fails to meet course requirements.
Student does not demonstrate proficiency in field.
SAFETY NOTE:
Students must observe all safety requirements. No Food or Drinks allowed in the Computer Lab.
Students who ignore or violate safety requirements will be subject to discipline, which may include
dismissal from the course.
SUPPLIES:
Students will be asked to supply items for their personal use during this course. Students will be
expected to provide a personal USB Flash Drive to "back-up" and manage their photographic images.
(1 GB recommended, 512 M minimum)
Personnel Supplies:
1. Notebook and file storage device (USB Flash Drive).
2. CDR Discs, (80Min-700MB-48X Speed) optional
3. Optional: 35mm Daylight Color Negative Film (Plus cost of commercial processing)
4. Lens tissue and/or lens cloth.
5. Printing Paper: Epson Premium Glossy Photo Paper, 8.5" x 11", or equivalent
or Epson Premium Luster Photo Paper, 8.5" x 11", or equivalent
or Epson Heavyweight Matte Paper for Photo's, 8.5" x 11" or equivalent
6. Photo mount or matte board (11"x 14"). Two required
4
OUTLINE OF INSTRUCTION:
I. Introduction (1st. Day Handout)
A. Description of course and objectives
B. References required and/or suggested
C. Course requirements
D. Attendance & conduct requirements
E. Grading criteria, system or scale, and
grade definitions
F. Supplies
II. The Camera - Anatomy
A. Introduction: The evolution of the camera
B. Camera constructions-Advantages & Disadvantages
1. View Camera
2. Range or Viewfinder
3. Twin lens reflex
4. Single lens reflex
C. Shutters
1. Types or construction
2. System or scale (speeds)
a. Manual
b. Electronic
D. Aperture
1. Definition and theory of operation
2. System or scale (F/scale)
E. Using Aperture and Shutters in unison
1. Shutter speeds and the control of motion
2. Depth-of-Field
a. Apparent Depth-of-Field
b. Actual Depth-of-Field
1. Depth-of-Field Scale and its use
2. Pre-view buttons and their use
3. Electronic controls for Depth-of-Field
c. Hyper focal distances and its' use
3. Compositional controls of Apertures and Shutters
4. Making the choice-Aperture or Shutter Priority
F. Lenses
1. Definition and theory of Focal Length
2. Various Focal Lengths and their uses
a. Standard, Primary or Normal lenses
1. Relationship to film or chip size
2. Characteristics and use
b. Short focal lengths
1. Relationship to film or chip size
2. Characteristics and use
c. Long focal lengths
1. Relationship to film or chip size
2. Characteristics and use
3. Perspective and control
a. Definition and theory
b. Real and apparent perspective changes
1. Distance
2. Focal lengths
4. Focusing your lenses
a. Manual
b. Automatic or Electronic
5. Care and protection of your lenses
G. Metering Systems
1. Definition and Theory of use
a. Tonal Scale
b. Light Meter Calibration
(18% Reflectance)
2. Various types and operational theory
a. Energy sources
1. Photo-Electric
2.
Battery Powered
b. Incident Light Meters
c. Reflected Light Meters
1. Averaging meters
A. Center weighted
B. Multi-segmented
2. Spot Meters
d. Built in (Camera) Light Meters
3. Calculating Exposure
a. Hand held Meters
b. Built in (Camera) Meters
Manual exposure control
2. Semiautomatic exposure control
3. Fully automatic exposure
4. Programmable exposure control
1.
c. Interpreting Exposures
d. Unusual subject conditions
e. Creative exposure controls
f. Technical and Scientific exposure
calculations & applications
H. Digital Imaging
1. Overview
2. Memory Cards/Capacity
3. Using a Digital Camera
4. Choosing a Digital Camera
I. Miscellaneous and/or optional camera controls
1. Film advancement levers and/or exposure
counters.
a. Autowinders/Motor drives
b. Digital Memory Buffers
2. Digital "Downloading"
3. Self-timers
4. Mirror Locks
5. Hot Shoes, PC plugs, and synchronization speeds
III. Films, Memory Cards and Filters
A. Light & Film
1. Electromagnetic Spectrum
5
2. Visible Spectrum
B. Making an Image in Silver
C. Characteristic Curves: How & why films or
"chips" respond to light
D. Choosing a Film
1. Color: Negative or Reversal
a. Daylight
b. Tungsten
2. Black & White: Negative or Reversal
a. Continuous Tone
b. High-contrast
c. Infrared
d. Chromogenic
3. Film Speeds and their Characteristics
4. How Black-and-White Films see Color
E. The Digital Camera
1. A computer with a lens
2. Anatomy of a Digital Image
3. Color Management
4. Capturing Detail
a. Resolution
b. Bit Depth
5. Image storage
a. File formats
b. Compression
c. Size
F. Filters
1. Principles of Filters
2. Using Filters
a. Correction filters
b. Contrast filters
c. Compensation filters
d. Polarizing filters
e. Physical effects & practical uses
f. Filter factors & their application
G. Scanners and Scanning
1. Film to Digital
2. Print to Digital
IV. Photographic Composition and Categorization
A. Composition: Definition and Categorization
1. Horizontal vs Vertical Orientation
2. Simplicity of Subject
3. Photographic Balance
4. Leading Lines
5. Rule of Thirds
B. General Pictorial vs Technical/Scientific
C. Categorizations and Photographic critiques
V. Digital Darkroom (Adobe Photoshop)
A. Introduction/Overview
B. Getting Started
1. "Hardware" requirements
2. "Software" options
3. Adobe Photoshop CS
a. Work Areas & Tools
b. "Setting Up" an Image
c. Color or Black & White
4. Adjusting an Image
a. Layers
b. Selection Tools
c. Additional Techniques
1. Retouching
2. Filters for Special Effects
3. Compositing
C. Printing
1. Printers
a. Inkjet Printers
1. Inks
b. Photo. Laser Printer
c. Dye Sublimation Printers
2. Film Recorders
3. Printing Papers and Inks
4. Printing in Black and White
D. Print Display and File Management
1. Computers and Internet
2. Traditional Mounting Techniques
3. File Management
VII. Artificial Lighting Techniques
A. Direction of Light
B. Degree of Diffusion: Hard to Soft
C. Lighting with Portable Electronic Flash
1. Flash Equipment
2. Controlling Flash Exposure Manually
3. Using Automatic Flash
D. Basic Flash Techniques
E. Daylight applications of Flash
F. Troubleshooting Flash Problems
NOTE: The above outline should be considered flexible and topics may be shifted in sequence to fit equipment
and/or personnel constraints. Information contained in this syllabus was, to the best knowledge of the instructor,
considered correct and complete when distributed for use at the beginning of the semester. However, this syllabus
should not be considered a contract between Cape Fear Community College and any student, nor between the
instructor and any student. The instructor reserves the right, acting within the policies and procedures of Cape Fear
Community College, to make changes in course content and/or instructional techniques without notice or obligation.
6
Good Work Ethics Should Lead to Career Success
Cape Fear Community College and employers recognize the importance of good work ethics. The standards that
govern the conduct of persons in the workplace are known as work ethics. More specifically, a person's
conduct, such as punctuality, honesty, motivation, reliability, cooperation, thoroughness, and creativity, pertains
to the values, abilities, and behaviors that he or she brings to the job. Studies show that employees' lack of
ability to do a job accounts for only 15 percent of firings and dismissals. Of the other 85 percent, employers
often give the following reasons for "letting employees go":






Frequent absences from work
Habitual lateness
Inability to get along with other workers
Dishonesty
Lack of reliability
Failure to use resources properly
CFCC instructors want you to be prepared for further education and success in the workplace; therefore, they
have classroom and shop/lab rules and standards. Below is a checklist for assessing your commitment to
school/work ethics.
__ I understand the importance of quality--the importance of doing a school/job assignment right the first
time.
__ I am motivated, and I accept responsibility without close supervision.
__ I am receptive to new ideas, methods, and processes; and I pursue emerging technologies.
__ I speak and write effectively in a clear, concise, and professional manner.
__ I function in a "team" environment that requires working for the "good of the whole".
__ I am dependable and reliable at school/work, reporting to my classes/job on time and completing
assignments within the required time.
__ I am honest in my dealings with instructors, supervisors, students, and coworkers; and I display a
cooperative and supportive attitude.
__ I dress appropriately for school and the workplace and maintain a neat, clean appearance.
__ I manage my time effectively and look for ways to be more efficient at school and on the job.
__ I maintain a clean, orderly school/work space and leave it ready for use by others.