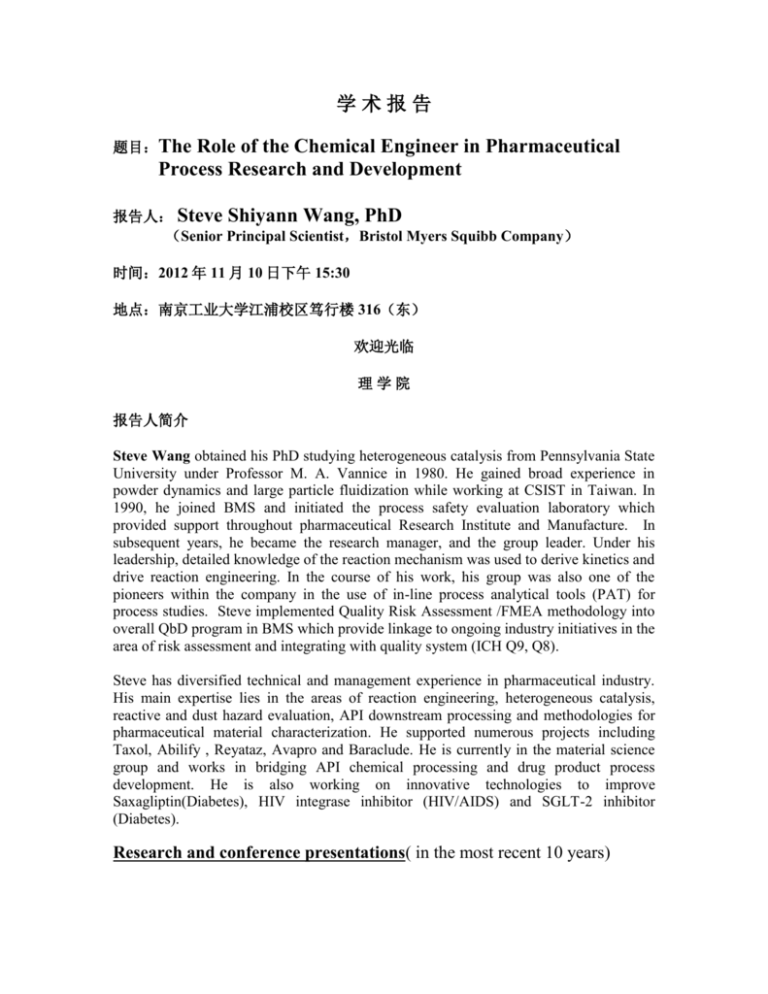 学术报告
题目:The
Role of the Chemical Engineer in Pharmaceutical
Process Research and Development
报告人: Steve Shiyann Wang, PhD
(Senior Principal Scientist,Bristol Myers Squibb Company)
时间:2012 年 11 月 10 日下午 15:30
地点:南京工业大学江浦校区笃行楼 316(东)
欢迎光临
理学院
报告人简介
Steve Wang obtained his PhD studying heterogeneous catalysis from Pennsylvania State
University under Professor M. A. Vannice in 1980. He gained broad experience in
powder dynamics and large particle fluidization while working at CSIST in Taiwan. In
1990, he joined BMS and initiated the process safety evaluation laboratory which
provided support throughout pharmaceutical Research Institute and Manufacture. In
subsequent years, he became the research manager, and the group leader. Under his
leadership, detailed knowledge of the reaction mechanism was used to derive kinetics and
drive reaction engineering. In the course of his work, his group was also one of the
pioneers within the company in the use of in-line process analytical tools (PAT) for
process studies. Steve implemented Quality Risk Assessment /FMEA methodology into
overall QbD program in BMS which provide linkage to ongoing industry initiatives in the
area of risk assessment and integrating with quality system (ICH Q9, Q8).
Steve has diversified technical and management experience in pharmaceutical industry.
His main expertise lies in the areas of reaction engineering, heterogeneous catalysis,
reactive and dust hazard evaluation, API downstream processing and methodologies for
pharmaceutical material characterization. He supported numerous projects including
Taxol, Abilify , Reyataz, Avapro and Baraclude. He is currently in the material science
group and works in bridging API chemical processing and drug product process
development. He is also working on innovative technologies to improve
Saxagliptin(Diabetes), HIV integrase inhibitor (HIV/AIDS) and SGLT-2 inhibitor
(Diabetes).
Research and conference presentations( in the most recent 10 years)
Steve S.Y. Wang, Steven H Chan " Spray Coating of Saxagliptin HCL using
Vibratory Acoustic Mixer" (Patent Application in progress) Sept. 2012
Steven H. Chan, Steve S.Y. Wang, Chiajen Lai, and John Grosso " A new perspective
on the mechanical evaluation of granular material" Drug Development and Industrial
Pharmacy, 2012; Early online:1-7
D.S. Hsieh, Dong Lin, Steve S.Y. Wang, R. O. Cann, J. B. Sausker, and S. Kiang, "
Asymmetric Hydrogenation of an Amino Acid Intermediate in the Synthesis of
Complex Drug Targets: From Kinetic Modeling to Process Development," Catalysis
of Organic Reactions, 2008.
Steve S.Y. Wang, Steven H Chan, and S. Kiang " Quality Risk Analysis of a Tablet
Coating Process" 2007 AIChE Annual Meeting : Pharmaceutical Process Development
Scale up and Implementation. (Presentation)
Steve S.Y. Wang "Mechanical Property Characterization of Active Pharmaceutical
Ingredients", 2006 AIChE Annual Meeting: Pharmaceutical Process Development Scale
up and Implementation.
Steve S.Y. Wang, W. Merkl, H. Chung, W. Doubleday, S. Kiang "Catalytic
hydrogenation of Imine via Schiff's base over Pd/Carbon Catalysts: Kinetic
Prediction of Impurity Fate and Byproduct Formation," Catalysis of Organic
Reactions, 2006.
Steve S.Y. Wang, R.S. Kotnis, J.H. Simpson, W. Merkl, D. Domina, and S. Kiang, "A
Safe and Practical Procedure to Prepare Ethyl Diazoacetate," AIChE Proceedings of
the 39th Loss Prevention Symposium 309-315, 2005.
B. O'Reilly, F. Okuniewicz, R. Schild, Steve S.Y. Wang, L. Rossano, D. Chen, and S.
iang, "Chlorine Dioxide: Green or Mean? An Oxidation Under Biphasic
Conditions," AIChE Proceedings of the 38th Loss Prevention Symposium 286-294, 2004.
Steve S.Y. Wang, J. Li, K. TenHuisen, J. Muslehiddinoglu, S. Tummala, S. Kiang, and
J.P. Chen, "Selective Debenzylation in the Presence of aromatic chlorine on Pd/C
catalysts: Reaction Kinetics and Catalyst Types," Catalysis of Organic Reactions,
edited by J.R. Sowa Jr., 2004.
Jun Li, Steve S.Y.Wang, G. Crispino , K. TenHuisen, A. Singh, J. Grosso, " Selective
Gaseous and Transfer Hydrogenolysis of Benzyl Protecting Group in the Presence
of Aromatic Chlorine in the synthesis of BMS-223131," Tetrahedron Letter, 44(21)
4041-4043, 2003
Steve S.Y. Wang, and S. Kiang, "Thermal Characterization of Cyclopropylacetylene, a
Key Intermediate in the Manufacturing of Sustiva," Managing Chemical Reactivity
Hazards and High Energy Release Events, AIChE CCPS Proceedings of the 18th Annual
International Conference 331-342, 2003.