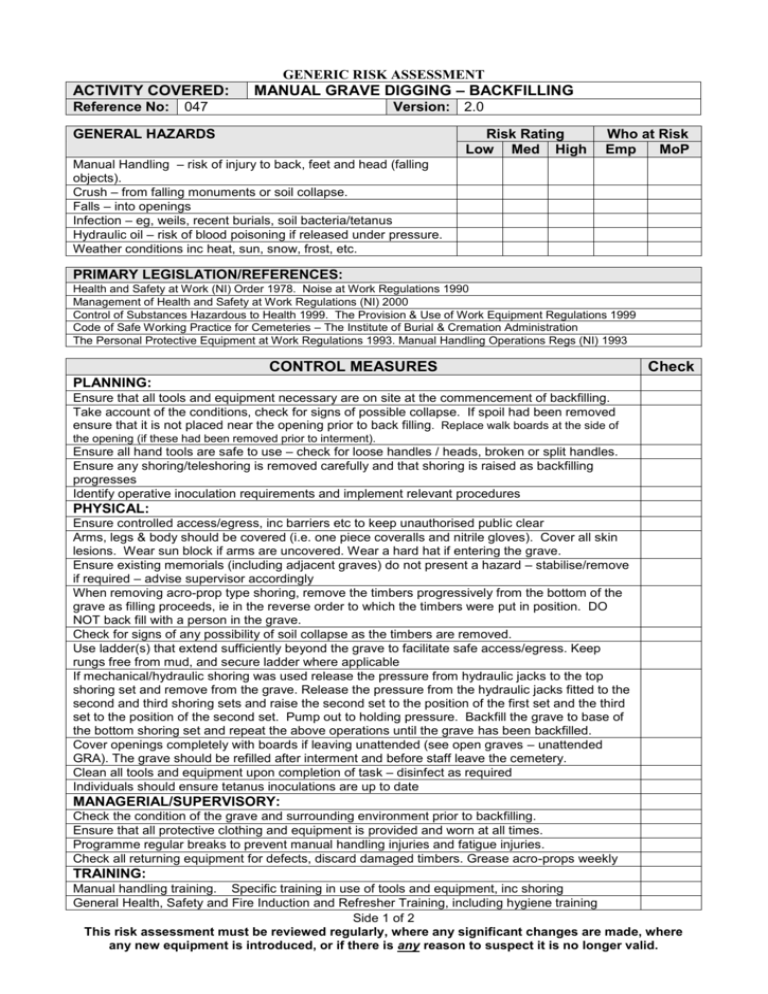 GENERIC RISK ASSESSMENT
ACTIVITY COVERED:
Reference No:
MANUAL GRAVE DIGGING – BACKFILLING
Version: 2.0
047
GENERAL HAZARDS
Risk Rating
Low Med High
Who at Risk
Emp
MoP
Manual Handling – risk of injury to back, feet and head (falling
objects).
Crush – from falling monuments or soil collapse.
Falls – into openings
Infection – eg, weils, recent burials, soil bacteria/tetanus
Hydraulic oil – risk of blood poisoning if released under pressure.
Weather conditions inc heat, sun, snow, frost, etc.
PRIMARY LEGISLATION/REFERENCES:
Health and Safety at Work (NI) Order 1978. Noise at Work Regulations 1990
Management of Health and Safety at Work Regulations (NI) 2000
Control of Substances Hazardous to Health 1999. The Provision & Use of Work Equipment Regulations 1999
Code of Safe Working Practice for Cemeteries – The Institute of Burial & Cremation Administration
The Personal Protective Equipment at Work Regulations 1993. Manual Handling Operations Regs (NI) 1993
CONTROL MEASURES
Check
PLANNING:
Ensure that all tools and equipment necessary are on site at the commencement of backfilling.
Take account of the conditions, check for signs of possible collapse. If spoil had been removed
ensure that it is not placed near the opening prior to back filling. Replace walk boards at the side of
the opening (if these had been removed prior to interment).
Ensure all hand tools are safe to use – check for loose handles / heads, broken or split handles.
Ensure any shoring/teleshoring is removed carefully and that shoring is raised as backfilling
progresses
Identify operative inoculation requirements and implement relevant procedures
PHYSICAL:
Ensure controlled access/egress, inc barriers etc to keep unauthorised public clear
Arms, legs & body should be covered (i.e. one piece coveralls and nitrile gloves). Cover all skin
lesions. Wear sun block if arms are uncovered. Wear a hard hat if entering the grave.
Ensure existing memorials (including adjacent graves) do not present a hazard – stabilise/remove
if required – advise supervisor accordingly
When removing acro-prop type shoring, remove the timbers progressively from the bottom of the
grave as filling proceeds, ie in the reverse order to which the timbers were put in position. DO
NOT back fill with a person in the grave.
Check for signs of any possibility of soil collapse as the timbers are removed.
Use ladder(s) that extend sufficiently beyond the grave to facilitate safe access/egress. Keep
rungs free from mud, and secure ladder where applicable
If mechanical/hydraulic shoring was used release the pressure from hydraulic jacks to the top
shoring set and remove from the grave. Release the pressure from the hydraulic jacks fitted to the
second and third shoring sets and raise the second set to the position of the first set and the third
set to the position of the second set. Pump out to holding pressure. Backfill the grave to base of
the bottom shoring set and repeat the above operations until the grave has been backfilled.
Cover openings completely with boards if leaving unattended (see open graves – unattended
GRA). The grave should be refilled after interment and before staff leave the cemetery.
Clean all tools and equipment upon completion of task – disinfect as required
Individuals should ensure tetanus inoculations are up to date
MANAGERIAL/SUPERVISORY:
Check the condition of the grave and surrounding environment prior to backfilling.
Ensure that all protective clothing and equipment is provided and worn at all times.
Programme regular breaks to prevent manual handling injuries and fatigue injuries.
Check all returning equipment for defects, discard damaged timbers. Grease acro-props weekly
TRAINING:
Manual handling training. Specific training in use of tools and equipment, inc shoring
General Health, Safety and Fire Induction and Refresher Training, including hygiene training
Side 1 of 2
This risk assessment must be reviewed regularly, where any significant changes are made, where
any new equipment is introduced, or if there is any reason to suspect it is no longer valid.
SITE/TASK SPECIFIC RISK ASSESSMENT
On each site the generic risk assessment must be validated by reviewing site specific
aspects/circumstances
SITE LOCATION/SPECIFIC TASK:
Max number of people involved in activity:
Frequency and duration of activity:
Additional hazards identified (whether site or activity orientated):
Additional control measures required:
Who to action and by when:
Assessment of remaining risks:
Low
Medium
High
Circumstances which may require additional information:
Circulation of risk assessment:
Operative:
Manager/supervisor:
Assessment completed by:
Name:
Review record:
Next review due:
Next review due:
Next review due:
Other:
Date:
Reviewed by:
Reviewed by:
Reviewed by:
Other:
Signature:
Date:
Date:
Date:
Side 2 of 2
This risk assessment must be reviewed regularly, where any significant changes are made, where
any new equipment is introduced, or if there is any reason to suspect it is no longer valid.