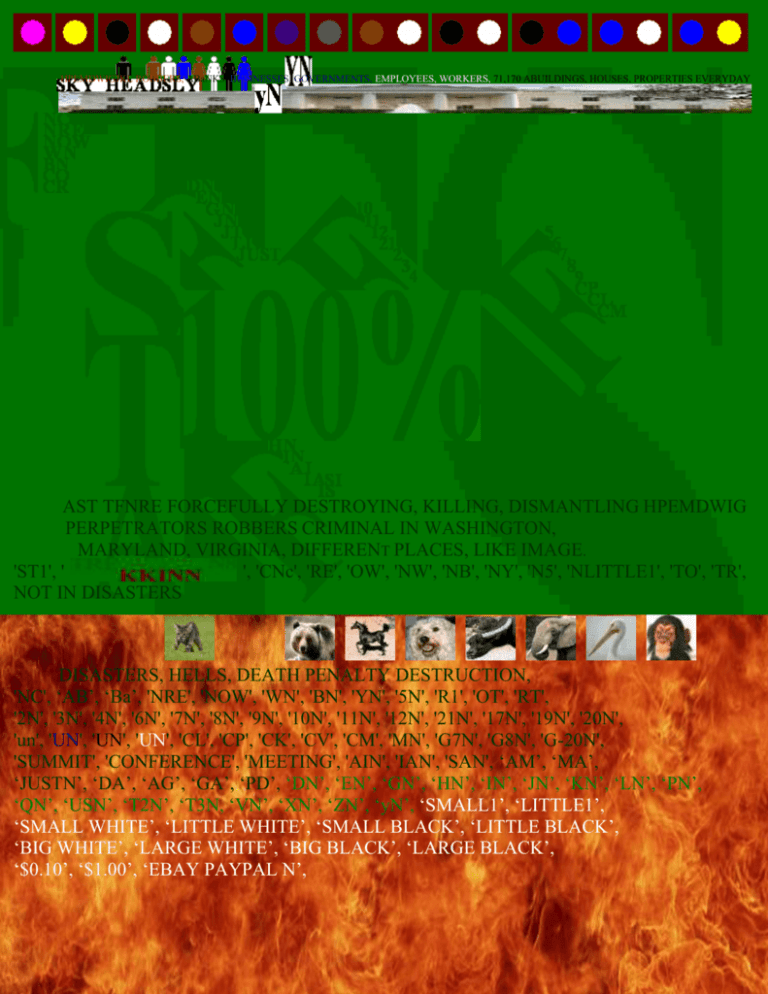 HPEMDWIGJKL ROBBERS, ABaNKS, BUSINESSES, GOVERNMENTS, EMPLOYEES, WORKERS, 71,170 ABUILDINGS, HOUSES, PROPERTIES EVERYDAY
AST TFNRE FORCEFULLY DESTROYING, KILLING, DISMANTLING HPEMDWIG
PERPETRATORS ROBBERS CRIMINAL IN WASHINGTON,
MARYLAND, VIRGINIA, DIFFERENT PLACES, LIKE IMAGE.
'ST1', '
', 'CNc', 'RE', 'OW', 'NW', 'NB', 'NY', 'N5', 'NLITTLE1', 'TO', 'TR',
NOT IN DISASTERS
DISASTERS, HELLS, DEATH PENALTY DESTRUCTION,
'NC', 'AB', 'Ba', 'NRE', 'NOW', 'WN', 'BN', 'YN', '5N', 'R1', 'OT', 'RT',
'2N', '3N', '4N', '6N', '7N', '8N', '9N', '10N', '11N', '12N', '21N', '17N', '19N', '20N',
'un', 'UN', 'UN', 'UN', 'CL', 'CP', 'CK', 'CV', 'CM', 'MN', 'G7N', 'G8N', 'G-20N',
'SUMMIT', 'CONFERENCE', 'MEETING', 'AIN', 'IAN', 'SAN', 'AM', 'MA',
'JUSTN', 'DA', 'AG', 'GA', 'PD', 'DN', 'EN', 'GN', 'HN', 'IN', 'JN', 'KN', 'LN', 'PN',
'QN', 'USN', 'T2N', 'T3N, 'VN', 'XN', 'ZN', 'yN', 'SMALL1', 'LITTLE1',
'SMALL WHITE', 'LITTLE WHITE', 'SMALL BLACK', 'LITTLE BLACK',
'BIG WHITE', 'LARGE WHITE', 'BIG BLACK', 'LARGE BLACK',
'$0.10', '$1.00', 'EBAY PAYPAL N',
WASHINGTON, DISTRICT OF COLUMBIA, MARYLAND, VIRGINIA, JAMAICA,
LONDON, ENGLAND, IRELAND, UKRAINE, PARIS, LOUISIANA, KENYA, RUSSIA,
MAINE, VENEZEULA, DALLAS, HOUSTON, AFRICA, AUSTIN, TEXAS, DEMOCRATIC
REPUBLIC OF CONGO, SOUTH AFRICA, WEST AFRICA, CENTRAL AFRICA,
ABOVE AFRICA, AFRICA BOTTOM, PAKISTAN, INDONESIA, POLAND, AFGHANISTAN,
IRAQ, SPAIN, PORTUGAL ISLAND, PANAMA CITY, ARKANSAS, WESTCHESTER,
EGYPT, BOSTON, ISRAEL, PENNSYLVANIA, BRAZIL, CHICAGO, NEW YORK CITY,
HPEMDWIGJKL ROBBERS' ACCOMPLICES INCLUDING & EXCEEDING: Pierre Omidyar, Chad Hurley, Steve Chen, Jawed
Karim, Roelof Botha, Joseph P. Borg, Larry A. Stark, John Donahoe, Scott Thompson, Bob Swan, Scott Brown, Scott Clark, Thomas
H. Kean, James R. Thompson, Dickson Chu, Ryan D. Downs, Scott Guilfoyle, Mary M. Hentges, Barry Herstein, Philipp Justus, John
D. Muller, Jack Stephenson, Mark Carges, Michael Jacobson, Alan Marks, Lorrie Norrington, Stephanie Tilenius, Marc L. Andreessen,
William C. Ford, Dawn G. Lepore, Pierre M. Omidyar, Richard T. Schlosberg, William C. Cobb, Salvatore J. Giambanco, Rajiv Dutta,
Michael van Swaaij, Meg Whitman, Dana Stalder, Eduardo Castro-Wright, M. Susan Chambers, Brian C. Cornell, Leslie A. Dach,
Cindy Davis, Michael T. Duke, Johnnie C. Dobbs, Jr., John E. Fleming, Rollin L. Ford, Jeffrey J. Gearhart, Linda Hefner, Charles M.
Holley, Jr., Thomas D. Hyde, Ignacio Prez Lizaur, Thomas A. Mars, C. Douglas McMillon, Stephen F. Quinn, Thomas M. Schoewe, H.
Lee Scott, Jr., William S. Simon, Jack L. Sinclair, Vicente Trius, S. Robson Walton, Christy Walton, John T. Westling, Steven P.
Whaley, Eric S. Zorn, Roxanne S. Austin, Calvin Darden, Mary N. Dillon, James A. Johnson, Richard M. Kovacevich, Mary E.
Minnick, Anne M. Mulcahy, Derica W. Rice, Stephen W. Sanger, Gregg W. Steinhafel, George W. Tamke, Solomon D. Trujillo,
Robert J. Ulrich, Zhang Zhijun, Peng Qinghua, Li Xihui, Zhang Mingkai, Han Yusheng, Li Lihui, Xiao Gang, Li Zaohang, Zhou
Zaiqun, Zhang Yanling, Fung Victor Kwok King, Koh Beng Seng, Shan Weijian, Tung Chee Chen, Tung Savio Wai-Hok, Yang Linda
Tsao, He Guangbei, Lee Raymond Wing Hung and Gao Yingxin, Crandall C. Bowles, Stephen B. Burke, David M. Cote, James S.
Crown, James (Jamie) Dimon, Ellen V. Futter, William H. Gray, III, Laban P. Jackson, Jr., David C. Novak, Lee R. Raymond, William
C. Weldon, Walter E. Massey, William Barnet III, Susan S. Bies, William P. Boardman, Frank P. Bramble, Sr., Virgis W. Colbert, John
T. Collins, Gary L. Countryman, Charles K. Gifford, D. Paul Jones, Kenneth D. Lewis, Barbara Desoer, Robber Charles O. Holliday,
Jr., Monica C. Lozano, Thomas J. May, Donald E. Powell, Charles O. Rossotti and Thomas M. Ryan, Jon Corzine, Samuel Alito,
Charles J. Hynes, Charles E. Schumer, Charles Bolden, Charles Grassley, Patrick Leahy, Nancy Pelosi, Harry Reid, Max Baucus, Joe
Barton, Edmund Gerald 'Jerry' Brown, Jr., Orrin G. Hatch, Jeff Sessions, James Warren DeMint, Barbara Mikulski, Alan Greenspan,
John W. Snow, Timothy Geithner, Joseph Ratzinger, Timothy Dolan, Robert De Niro, Timothy Hutton, Cheech Marin, Eva Longoria,
Gladys Knight, Ron Winans, Francis Ford Coppola, Henry Kissinger, Amy Klobuchar, Kent Conrad, Mitch McConnell, Eric Cantor,
Condoleezza Rice, Robert Menendez, Jan Brewer, Hillary Rodham Clinton, James B. Steinberg, Jacob J. Lew, Patrick F. Kennedy,
William C. Thompson, Jr., Joel I. Klein, Stuart Rabinowitz, James M. Shuart, Herman A. Berliner, Robert Motta, Kaushik Sengupta,
Robert B. Zoellick, Dominique Strauss-Kahn, Justin Yifu Lin, John Thain, Lloyd Blankfein, John Mack, Brian Moynihan, Michael
Bernard DeNoma, Jeffrey L.S. Koo, James Chen, Stephen Green, Michael Geoghegan, James E. Rohr, Joseph C. Guyaux, Eric
Schmidt, Tommy Hilfiger, Carlos Slim, Mittal Steel, Bernard Arnault, William Gates III, Steve Ballmer, Terry Semel, Jerry Yang,
David Filo, Carol Bartz, Li Ka-shing, Randall L. Stephenson, Liliane Bettencourt, Birgit Rausing, Savitri Jindal, Abigail Johnson, Iris
Fontbona, Charlene de Carvalho-Heineken, Rosalia Mera, Doris Fisher, Oprah Winfrey, Giuliana Benetton, Chu Lam Yiu, Zhang Xin,
Meg Whitman, Joanne Kathleen Rowling, Christopher Koetke, John Fraser, Warren Buffet, Charlie Munger, Vikram S. Pandit, Robert
K. Kraft, Yoshi Inaba, Randy Tinseth, Roger Carr, Dan Yagoda, Pat Dempsey, Terry Rogers, Jim Cocolin, Dave Evans, Kevin Schlutz,
Barack Obama, William Michael Daley, Gene Sperling, Elizabeth Warren, Alan Bersin, James Mattis, Joseph Biden, Susan Rice,
Bronislaw Komorowski, Darryl Willis, James Clapper, Michael Bennet, Michelle Obama, John Pistole, Susan Collins, Yvette D.
Clarke, Maxine Waters, Charlie Crist, Craig Becker, Jeffrey Goldstein, Michael Mundaca, Mark Pearce, Jake Siewert, Neal S. Wolin,
Paul Volcker, Lee Sachs, John Boehner, Bart Stupak, Robert Blendon, Rashad Hussain, Robert Gates, AL Gore, Bill Clinton, Newt
Gingrich, Robert Willard, Sheila C. Bair, Phil Angelides, Robin Roberts, David Petraeus, Michael Mullen, James T. Conway, Raymond
Odierno, Eric Olson, Sonia Sotomayor, Steve Chu, Jon Huntsman, Gary Locke, Larry King, Charles Gibson, John Bolton, Robert
Gibbs, Valerie Jarrett, David Axelrod, Hilda Solis, Peter Orszag, Christopher Chen, Christopher Dodd, Christopher Hill, Ben Bernanke,
Ben Stein, Phil Demuth, Rob Nabors, Janet Napolitano, Shaun Donovan, Kenneth L. Salazar, Ronald Kirk, Raymond L. LaHood, Leon
Panetta, Kenneth Feinberg, Michael Steele, Robert Mueller, Raymond W. Kelly, Robert Angela Spaccia, Randy Adams, Charlie Beck,
Luis Artiga, Oscar Hernandez, Jeff Koons Sarah Palin, Kathleen Sebelius, Robert E. Cooper, Jr., Michael Bloomberg, Jonathan Mintz,
John J. Doherty, Rob McKenna, Sidney Thomas, Elena Kagan, Liz Cho, Lee Goldberg, Cynthia McFadden, Sade Baderinwa, Art
McFarland, Bill Ritter, George Walker Bush, Michael James Astrue, Paul Bremer, Miles D. White, Mike Winthrop, Robert Bob
Benmosche, Dick Cheney, Martha Raddatz, John Glover Roberts, Ruth Bader Ginsburg, Alberto Gonzales, Michael Mukasey, Colin
Powell, Karl Rove, George Tenet, Michael Hayden, Jay Bybee, Vaughn Walker, Stephen C. Robinson, Marsha Revel, Donald
Rumsfeld, Eric H. Holder, Kobe Bryan, Julia Roberts, Paris Hilton, Lindsay Lohan, Peter King, Jessica Sarah Parker, Christina Park,
Ellen DeGeneres, Robyn Rihanna Fenty, Usher Raymond, Beyonce Knowles, Dana Elaine Owens, Tina Fry, Andrew M. Cuomo, Robin
L. Baker, Lawsky, Carl J. Boykin, Alan G. Hevesi, Joe Lieberman, Leslie A. Margolin, Paul David Hewson, Donald L. Carcieri, Henry
Morgenstern, Solomon Bradman, Robber Elizabeth, Gordon Brown, Sarah Brown, Peter Mandelson, Alistair Darling, Tony Blair,
Prince Charles, David Miliband, David Cameron, Samantha Cameron, Lord Roger Roberts, Jack Straw, Vince Cable, Peter Sands,
Dennis Blair, Alexey Kudrin, Hu Jintao, Wu Bangguo, Wen Jiabao (Zhang Kangkang, Liu Pengzhi, appointees), Jia Qinglin, Li
Changchun, Xi Jinping, Li Keqiang, He Guoqiang, Zhou Yongkang, Guo Jinlong, Dai Bingguo, Wang Qishan, Leng Jie Song, Wang
Yang, Guo Boxiong, Xu Caihou, Liang Guanglie, Chen Bingde, Li Jinai, Liao Xilong, Chang Wanquan, Jing Zhiyuan, Wu Shengli, Xu
Qiliang, Yu Zhengsheng, Wang Shengjun, Ji Yunshi, Yang Zhiming, Zhang Xiaojian, Yang Shiqiu, Wang Xiaochu, Hu Xiaoyi, Linghu
An, Shi Aizhong, An Guo, Yu Xiaoming, Wang Hu, Mao Qun'an, Huang Huahua, Wan Qingliang, Li Rong-gen, Tong Xing, Song Hai,
Lin Musheng, Huang Longyun, Xiao Zhiheng, Lei Yulan, Lin Shusen, Qiang Wei, Yang Yi, Sui Mingtai, He Yafei, Zhu Min, Jiang
Dingzhi, Cai E'sheng, Guo Ligen, Wang Huaqing, Wang Zhaoxing, Xiao Gang, Li Xiaopeng, Li Congjun, Yao Jian, Lu Zushan, Zhang
Ping, Zhou Wangjun, Xie Xuren, Xie Fuzhan, Zhou Xiaochuan, Hu Xiaolian, Nan HanChen, Cao Ju Ru, Hu Lijiao, Chen Xiyu, Li
Baohua, Lu Peijian, Chen Muhua, Li Guixian, Zhu Rongji, Dai Xianglong, Chen Deming, Mari Pangestu, Li Yizhong, Liu Mingkang,
Huang Xingguo, Zhang Yutai, Wang Mengkui, Jin Renqing, Hou Yunchun, Hui Liangyu, Ma Xulun, Chen Zhu, Han Changfu, Wang
Chen, Wu Dingfu, Zhu Shanlu, Wu Zongxin, Liu Shijin, Lu Zhongyuan, Wang Shouwen, He Zhenliang, Wen Qiang, Xie Caiping,
Huang Yizhong, Ma Zhaoxu, Zheng Hong, Bo Xilai, Zhong Shan, He Ning, Han Zheng, Liu Zhijun, Gao Peng, Zhang Yunjie, Zhao
Xijun, Zhang Monan, Geng Yansheng, Li Baodong, Zhang Mao, Hu Xiaoyi, Zhang Yesui, Edmund Ho Hau-wah, Ma Ying-jeou, Hau
Lung-bin, Eric Chu, Jason Hu, Lee Hsien Loong, Thaksin Shinawatra, Abhisit Vejjajiva, Tarit Pengdit, Satit Vongnongteay, Nguyen
Minh Triet, Nguyen Tan Dung, Lee Myung-Bak, Kim Tae-ho, Kim Tae-Young, Chung Un-chan, Hyun In-taek, Kim Hwang-sik,
Bouasone Bouphavanh, Hun Sen, Benigno Aquino, Kim Yong Nam, S. R. Nathan, Kurmanbek Bakiyev, Moldomusa Kongantiev,
Daniyar Usenov, Kadyrbek Sarbayev, Roza Otunbayeva, Mizan Zainal Abidin, Najib Tun Razak, Dalai Lama, Kanyarat
Bhanthumnavin, Susilo Bambang Yudhoyono, Silvio Berlusconi, Pier Silvio Berlusconi, Gianfranco Fini, Gianni Alemanno, Yasuo
Fukuda, Haruhiko Kuroda, Yukio Hatoyama, Ichiro Ozawa, Komura Masahiko, Toshimi Kitazawa, Naoto Kan, Angela Markel, FrankWalter Steinmeier, Rainer Bruederle, Ulrich Deppendorf, Wolfgang Schaeuble, Rainer Bruederle, Roland Koch, Christian Wulff,
Stephen Harper, Michaelle Jean, Mark J. Carney, W. Paul Jenkins, Michael Sabia, Dmitry Medvedev, Vladimir Putin, Sergei Lavrov,
Sergei Kiriyenko, Boris Gryzlov, Rashid Nurgaliyev, Nicolas Sarkozy, Carla Bruni-Sarkozy, Jacques Rogge, Herve Morin, Bernard
Kouchner, Francois Fillon, Jean-Claude Trichet, Herman Van Rompuy, Jean-Claude Juncker, Olli Rehn, José Manuel Barroso, Brian
Joseph Lenihan, Brian Cowen, Patrick Honohan, Michel Barnier, John Key, Mirko Cvetkovic, Petr Necas, Ehud Olmert, Shimon Peres,
Benjamin Netanyahu, Ehud Barak, Mykola Azarov, George Papandreou, George Papaconstantinou (Giorgos Papakonstantinou),
George Petalotis, Valdis Dombrovskis, Wouter Van Besien, Marianne Thyssen, Caroline Gennez, Kevin Rudd, Julia Gillard, Tony
Abbott, Kristina Keneally, Ken Wyatt, Doris Leuthard, Heinz Fischer, Dragan Sutanovac, Yulia Tymoshenko, Luiz Inacio Lula da
Silva, Dilma Rousseff, Bruno Rodriguez, Henrique Meirelles, Alan Garcia, Hugo Chavez, Juan Carlos, Rodriguez Zapatero, Felipe
Calderon, Alejandro Poire, Evo Morales, Michelle Bachelet, Jorge Pizarro, Sebastian Pinera, Angel Gurria, Alvaro Uribe, Bruce
Golding, Cristina Kirchner, Raul Castro, Henrique Calisto, Albert II, Paola, Philippe, Juan Manuel Santos, Joseph Kabila Kabange,
Morgan Tsvangirai, Kgalema Motlanthe, Thabo Mbeki, Wyclef Jean, Robert Mugabe, Ali Bongo, Jacob Zuma, Laurent Gbagbo,
Alassane Ouattara, Clarence Thomas, Aaron Motsoaledi, Rupiah Banda, Charles Bernard Rangel, David Paterson, Thomas P.
DiNapoli, Sheldon Silver, Joseph Bruno, Robert L. Megna, Pedro Espada Jr., Mamadou Tandja, Jean Max Bellerive, Vimbayi Kajese,
Manuel Zelaya, Roberto Micheletti, Yousuf Raza Gilani, Liu Zhenmin, Solyom Laszlo, Madhav Kumar, Martin Bashir, Sunil Gulati,
David Downs, John Kristick, Abdullah, Abdullah II, Hamid Karzai, Asif Ali Zardari, Yousaf Raza Gillani, Manmohan Singh,
Mehmood Qureshi, Sheikh Hasina, Pratibha Patil, Pranab Mukherjee, Mostafa Mohammad Najjar, Ali Akbar Salehi, Saeed Jalili, Saad
Hariri, Sheikh Nahyan Bin Mubarak Al Nahyan, Derisory Indroyono Soesilo, Iyad Allawi, Nouri al-Maliki, Yin Yin Nwe, Jalal
Talabani, Ayad al-Samarai, Abdullah Gul, Ibrahim Gambari, John Holmes, Ki-moon, Asha-Rose Migiro, Miguel dEscoto Brockmann.
HPEMDWIGJKL ROBBERS' HEADQUARTERS, WAREHOUSES, APARTMENT BUILDINGS, HOUSES, MANSIONS,
PROPERTIES WHERE? JAILS, PRISONS WHERE?