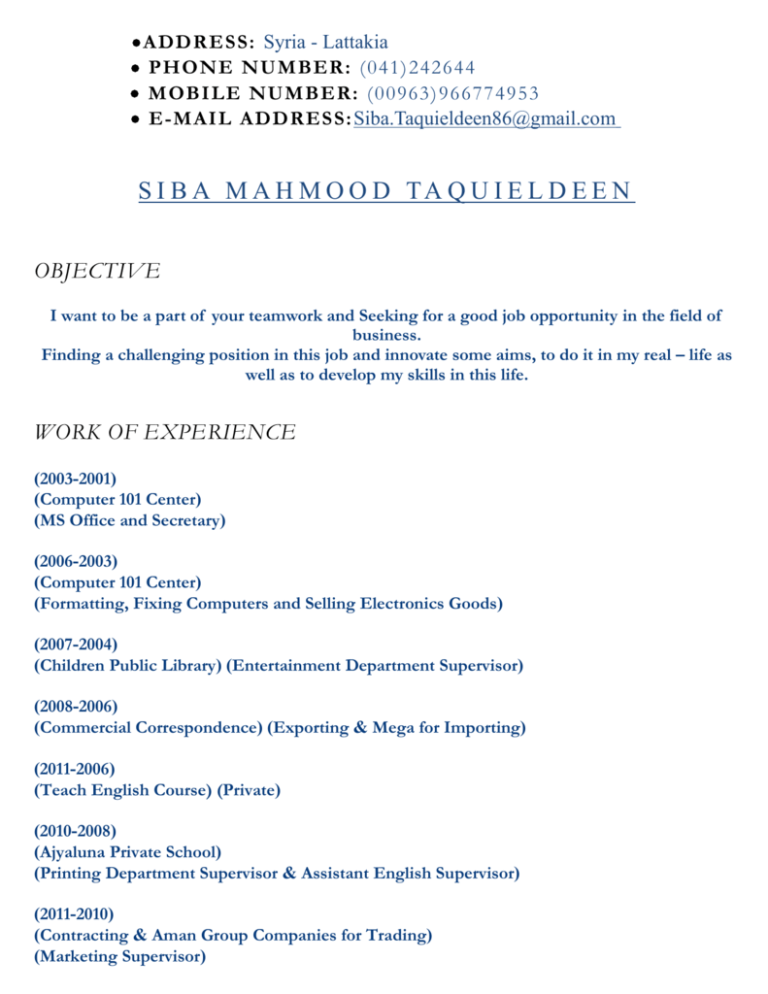  ADDRESS: Syria - Lattakia
 PHONE NUMBER: (041) 242644
 MOBILE NUMBER: (00963) 966774953
 E-MAIL ADDRESS: [email protected]
S I B A M A H M O O D TA Q U I E L D E E N
OBJECTIVE
I want to be a part of your teamwork and Seeking for a good job opportunity in the field of
business.
Finding a challenging position in this job and innovate some aims, to do it in my real – life as
well as to develop my skills in this life.
WORK OF EXPERIENCE
)1002-1002(
)Computer 202 Center(
)MS Office and Secretary(
)1002-1002(
)Computer 202 Center(
)Formatting, Fixing Computers and Selling Electronics Goods(
)1002-1002(
)Children Public Library( )Entertainment Department Supervisor(
)1002-1002(
)Commercial Correspondence( )Exporting & Mega for Importing(
)1022-1002(
)Teach English Course) (Private(
)1020-1002(
)Ajyaluna Private School(
)Printing Department Supervisor & Assistant English Supervisor(
)1022-1020(
)Contracting & Aman Group Companies for Trading(
)Marketing Supervisor(
EDUCATION
(2005-2010) Al-Baath University of Homs
1) Major: Translation
(2007)
2) Participated in the (First Aid Basics and Home Health Care Course)
(2006)
3) Diploma of (How to start a new business) from Mawred Association
(2006)
4) Diploma of (Achieving Success Through Effective Business Communication)
(2005)
5) Pre-Toefl Courses (Rai Language Center)
(2004)
6) Basic English Grammar (Rai Language Center)
(2002-2003)
7) English Conversation Courses (Rai Language Center)
(2002)
8) High school Diploma (scientific)
Lattakia, Syria
TECHNICAL SKILLS
* Operating Systems: DOS, Windows 2000, Windows Millennium, Windows XP (all forms)...
(With the ability to self-learn any software/program in short period).
* MS Office: Word, Excel, PowerPoint,, and Outlook Express.
* Computer Skills: Adobe Photo Shop, Adobe Audio Audition, Adobe Illustrator, Cool Edit
Multimedia builder, ACD Systems, Movie Maker, and Pinical 10
* Advanced Knowledge of
* ICDL
PERSONAL INFORMATION
Nationality: Syrian
Age: 24
Marital Status: Single.
Languages: English, Arabic (Mother language)
Turkish, & French (Good Knowledge)
Hobbies: Reading, Travel, Basketball, Swim, Chess, Playing Guitar, Listen to Music &
learning more Languages
Extra-Curricular Activities and Awards
(1997-2002)
Member of the Huteen-Syrian-Basketball Team.
(2003-2006)
Member of the Tishreen-Syrian-Basketball Team.
(2004-2007)
Member of the Rainbow Association For Children.
Member of the Family Gym For Sport.
Member of the Wellness Massar Gym For Sport.
(2001-2004)
Have 3 Medals from Party Al-Baath (Basketball champion).
(2007-2011)
Member of the Family Gym For Sport.