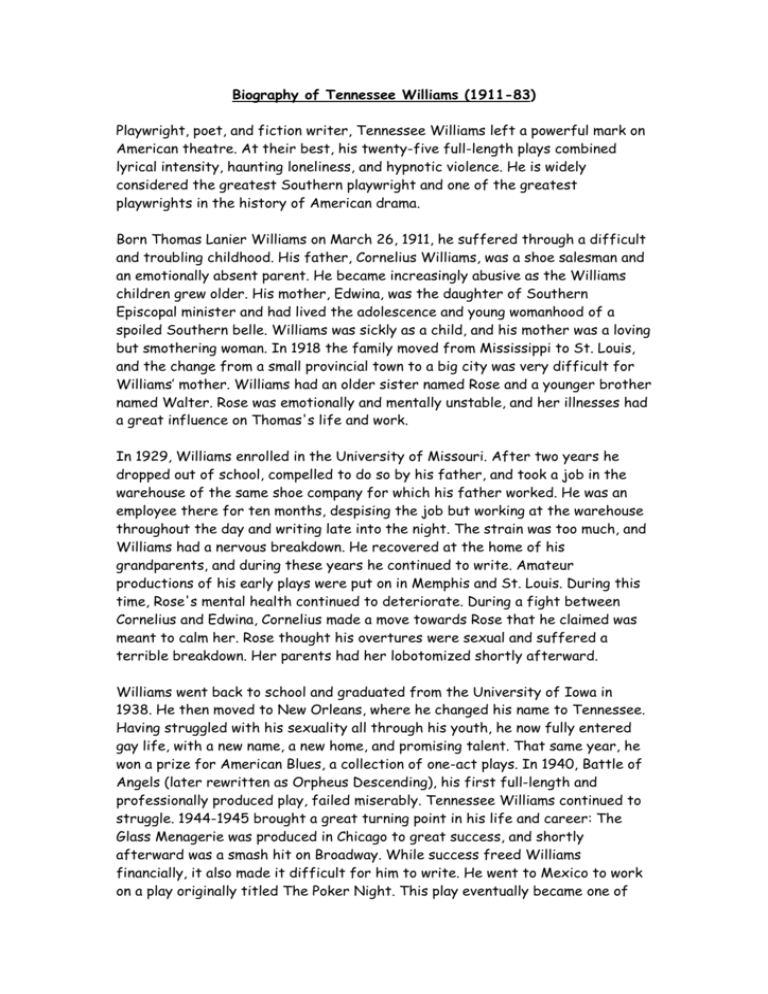 Biography of Tennessee Williams (1911-83)
Playwright, poet, and fiction writer, Tennessee Williams left a powerful mark on
American theatre. At their best, his twenty-five full-length plays combined
lyrical intensity, haunting loneliness, and hypnotic violence. He is widely
considered the greatest Southern playwright and one of the greatest
playwrights in the history of American drama.
Born Thomas Lanier Williams on March 26, 1911, he suffered through a difficult
and troubling childhood. His father, Cornelius Williams, was a shoe salesman and
an emotionally absent parent. He became increasingly abusive as the Williams
children grew older. His mother, Edwina, was the daughter of Southern
Episcopal minister and had lived the adolescence and young womanhood of a
spoiled Southern belle. Williams was sickly as a child, and his mother was a loving
but smothering woman. In 1918 the family moved from Mississippi to St. Louis,
and the change from a small provincial town to a big city was very difficult for
Williams' mother. Williams had an older sister named Rose and a younger brother
named Walter. Rose was emotionally and mentally unstable, and her illnesses had
a great influence on Thomas's life and work.
In 1929, Williams enrolled in the University of Missouri. After two years he
dropped out of school, compelled to do so by his father, and took a job in the
warehouse of the same shoe company for which his father worked. He was an
employee there for ten months, despising the job but working at the warehouse
throughout the day and writing late into the night. The strain was too much, and
Williams had a nervous breakdown. He recovered at the home of his
grandparents, and during these years he continued to write. Amateur
productions of his early plays were put on in Memphis and St. Louis. During this
time, Rose's mental health continued to deteriorate. During a fight between
Cornelius and Edwina, Cornelius made a move towards Rose that he claimed was
meant to calm her. Rose thought his overtures were sexual and suffered a
terrible breakdown. Her parents had her lobotomized shortly afterward.
Williams went back to school and graduated from the University of Iowa in
1938. He then moved to New Orleans, where he changed his name to Tennessee.
Having struggled with his sexuality all through his youth, he now fully entered
gay life, with a new name, a new home, and promising talent. That same year, he
won a prize for American Blues, a collection of one-act plays. In 1940, Battle of
Angels (later rewritten as Orpheus Descending), his first full-length and
professionally produced play, failed miserably. Tennessee Williams continued to
struggle. 1944-1945 brought a great turning point in his life and career: The
Glass Menagerie was produced in Chicago to great success, and shortly
afterward was a smash hit on Broadway. While success freed Williams
financially, it also made it difficult for him to write. He went to Mexico to work
on a play originally titled The Poker Night. This play eventually became one of
his masterpieces, A Streetcar Named Desire. It won Williams a Pulitzer Prize in
1947, which enabled him to travel and buy a home in Key West, a new base to
which Williams could escape for both relaxation and writing. Around this time,
Williams met Frank Merlo. The two fell in love, and the young man became
Williams' romantic partner until Merlo's untimely death in 1961. He was a
steadying influence on Williams, who suffered from depression and lived in fear
that he, like his sister Rose, would go insane.
These years were some of Williams' most productive. His plays were a great
success in the United States and abroad, and he was able to write works that
were well-received by critics and popular with audiences: The Rose Tattoo
(1950), Cat on a Hot Tin Roof (1955), Night of the Iguana (1961), among many
others. Cat on a Hot Tin Roof won Williams his second Pulitzer Prize.
He gave American theatergoers unforgettable characters, an incredible vision
of life in the South, and a series of powerful portraits of the human condition.
He was deeply interested in something he called "poetic realism," the use of
everyday objects, which, seen repeatedly and in the right contexts, become
imbued with symbolic meaning. His plays, for their time, also seemed
preoccupied with the extremes of human brutality and sexual behaviour:
madness, rape, incest, nymphomania, as well as violent and fantastic deaths.
Williams himself often commented on the violence in his own work, which to him
seemed part of the human condition; he was conscious, also, of the violence in
his plays being expressed in a particularly American setting. As with the work of
Edward Albee, critics who attacked the "excesses" of Williams' work often
were making thinly veiled attacked on his sexuality. Homosexuality was not
discussed openly at that time, but in Williams' plays the themes of desire and
isolation show, among other things, the influence of having grown up gay in a
homophobic world.
The sixties brought hard times for Tennessee Williams. He had become
dependent on drugs, and the problem only grew worse after the death of Frank
Merlo in 1961. Merlo's death from lung cancer sent Williams into a deep
depression that lasted ten years. Williams was also insecure about his work,
which was sometimes of inconsistent quality, and he was violently jealous of
younger playwrights.
His sister Rose was in his thoughts during his later work. The later plays are not
considered Williams' best, including the failed Clothes for a Summer Hotel.
Overwork and drug use continued to take their toll on him, and on February 23,
1983, Williams choked to death on the lid of one of his pill bottles. He left
behind an impressive body of work, including plays that continue to be
performed the world over. In his worst work, his writing is melodramatic and
overwrought, but at his best Tennessee Williams is a haunting, lyrical, and
powerful voice, one of the most important forces in twentieth-century American
drama.
About 'A Streetcar Named Desire':
During the incredibly successful run of The Glass Menagerie, theatre workmen taught
Williams how to play poker. Williams was already beginning to work on a new story, about
two Southern belles in a small apartment with a rough crowd of blue-collar men. A poker
game played by the men was to be central to the action of the play; eventually, this
story evolved into A Streetcar Named Desire.
Streetcar hit theatres in 1946. The play cemented William's reputation as one of the
greatest American playwrights, winning him a New York's Critics Circle Award and a
Pulitzer Prize. Among the play's greatest achievements is the depiction of the
psychology of working class characters. In the plays of the period, depictions of working
class life tended to be didactic, with a focus on social commentary or a kind of
documentary drama. Williams' play sought to depict working-class characters as
psychologically evolved entities; to some extent, Williams tries to portray these bluecollar characters on their own terms, without romanticising them.
Tennessee Williams did not express strong admiration for any early American
playwrights; his greatest dramatic influence was the brilliant Russian playwright Anton
Chekhov. Chekhov, with his elegant juxtaposition of the humorous and the tragic, his
lonely characters, and his dark sensibilities, was a powerful inspiration for Tennessee
Williams' work. At the same time, Williams' plays are undeniably American in setting and
character. Another important influence was the novelist D.H. Lawrence, who offered
Williams a depiction of sexuality as a potent force of life; Lawrence is alluded to in The
Glass Menagerie as one of the writers favoured by Tom. The American poet Hart Crane
was another important influence on Williams; in Crane's tragic life and death, open
homosexuality, and determination to create poetry that did not mimic European
sensibilities, Williams found endless inspiration. Williams also belongs to the tradition of
great Southern writers who have invigorated literary language with the lyricism of
Southern English.
Like Eugene O'Neill, Tennessee Williams wanted to challenge some of the conventions of
naturalistic theatre. Summer and Smoke (1948), Camino Real (1953), and The Glass
Menagerie (1944), among others, provided some of the early testing ground for
Williams' innovations. The Glass Menagerie uses music, screen projections, and lighting
effects to create the haunting and dream-like atmosphere appropriate for a "memory
play." Like Eugene O'Neill's Emperor Jones and Arthur Miller's Death of a Salesman,
Williams' plays explores ways of using the stage to depict the interior life and memories
of a character.
In Streetcar, stage effects are used to represent Blanche's decent into madness. The
maddening polka music, jungle sound effects, and strange shadows help to represent the
world as Blanche experiences it. These effects are a departure from the conventions of
naturalistic drama, although in this respect Streetcar is not as innovative as The Glass
Menagerie. Nevertheless, A Streetcar Named Desire uses these effects to create a
highly subjective portrait of the play's central action. On stage, these effects
powerfully evoke the terror and isolation of madness.
Character List:
Blanche Dubois: No longer a young girl in her twenties, Blanche Dubois has suffered
through the deaths of all of her loved ones, save Stella, and the loss of her old way of
life. When Blanche was a teenager, she married a young boy whom she worshipped; the
boy turned out to be depressive and homosexual, and not long after their marriage he
committed suicide. While Stella left Belle Reve, the Dubois ancestral home, to try and
make her own life, Blanche stayed behind and cared for a generation of dying relatives.
She saw the deaths of the elder generation and the end of the Dubois family fortune. In
her grief, Blanche looked for comfort in amorous encounters with near-strangers.
Eventually, her reputation ruined and her job lost, she was forced to leave the town of
Laurel. She has come to the Kowalski apartment seeking protection and shelter.
Stella Kowalski: Blanche's younger sister. About twenty-five years old and pregnant
with her first child, Stella has made a new life for herself in New Orleans. She is madly
in love with her husband Stanley; their relationship is in part founded on the most direct
and primitive kind of desire. She is close to Blanche, but in the end she will betray her
sister horribly by refusing to believe the truth.
Stanley Kowalski: Stella's husband. A man of solid, blue-colour stock, Stanley Kowalski
is direct, passionate, and often violent. He has no patience for Blanche and the illusions
she cherishes. He is a controlling and domineering man; he demands subservience from
his wife and feels that his authority is threatened by Blanche's arrival. He proves that
he can be cold and calculating; in the end, he moves mercilessly to ensure Blanche's
destruction.
Harold "Mitch" Mitchell: One of Stanley's friends. Mitch is as tough and "unrefined" as
Stanley. He is an imposing physical specimen, massively built and powerful, but he is also
a deeply sensitive and compassionate man. His mother is dying, and this impending loss
affects him profoundly. He is attracted to Blanche from the start, and Blanche hopes
that he will ask her to marry him. In the end, these hopes are dashed by Stanley's
interference.
Eunice Hubbel: The owner of the apartment building, and Steve's wife. She is generally
helpful, giving Stella and Blanche shelter after Stanley beats Stella. In the end, she
advises Stella that in spite of Blanche's tragedy, life has to go on. In effect, she is
advising Stella not to look too hard for the truth.
Steve Hubbel: Eunices's husband. Owner of the apartment building. One of the poker
players. Steve has the finally line of the play. As Blanche is carted off to the asylum, he
coldly deals another hand.
Pablo Gonzales: One of the poker players. He punctuates the poker games with dashes
of Spanish.
Negro Woman: The Negro Woman seems to be one of the non-naturalistic characters;
it seems that the actor playing this role is in fact playing a number of different Negro
women, all minor characters. Emphasising the non-naturalistic aspect of the character,
in the original production of Streetcar, the "Negro Woman" was played by a male actor.
A Strange Man (The Doctor): The Doctor arrives at the end to bring Blanche on her
"vacation." After the Nurse has pinned her, the Doctor succeeds in calming Blanche. She
latches onto him, depending, now and always, "on the kindness of strangers."
A Strange Woman (The Nurse): The Nurse is a brutal and impersonal character,
institutional and severe in an almost stylised fashion. She wrestles Blanche to the
ground.
A Young Collector: The Young Collector comes to collect money for the paper. Blanche
throws herself at him shamelessly.
A Mexican Woman: Sells flowers for the dead. She sells these flowers during the
powerful scene when Blanche recounts her fall(s) from grace.