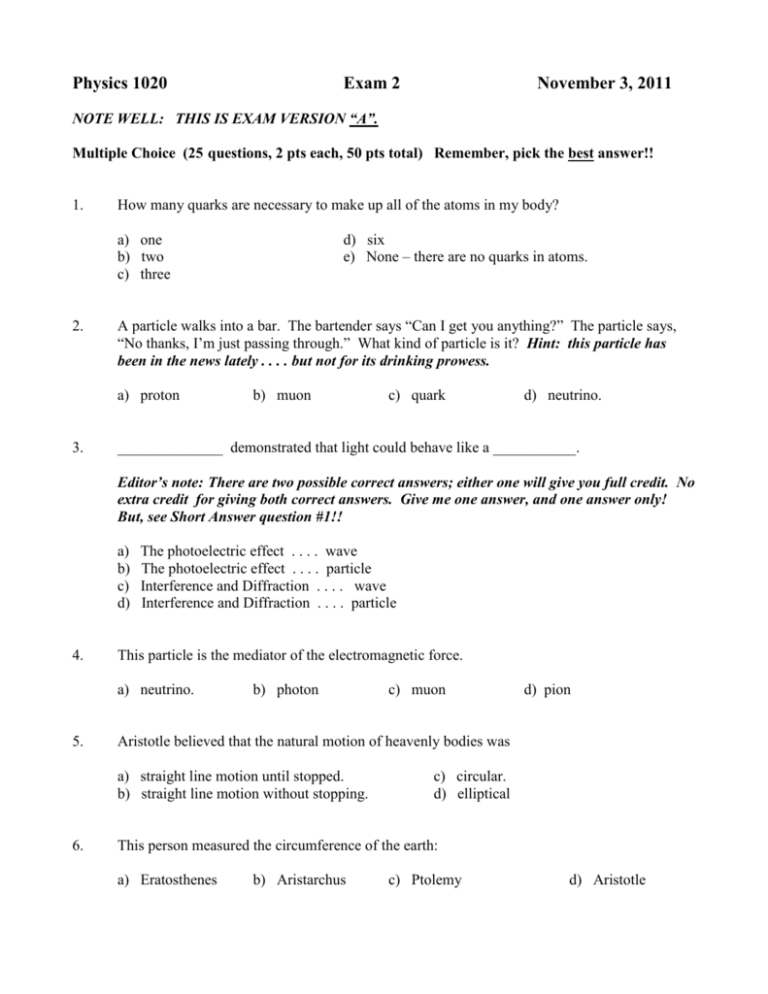 Physics 1020
Exam 2
November 3, 2011
NOTE WELL: THIS IS EXAM VERSION "A".
Multiple Choice (25 questions, 2 pts each, 50 pts total) Remember, pick the best answer!!
1.
How many quarks are necessary to make up all of the atoms in my body?
a) one
b) two
c) three
2.
A particle walks into a bar. The bartender says "Can I get you anything?" The particle says,
"No thanks, I'm just passing through." What kind of particle is it? Hint: this particle has
been in the news lately . . . . but not for its drinking prowess.
a) proton
3.
d) six
e) None – there are no quarks in atoms.
b) muon
c) quark
d) neutrino.
______________ demonstrated that light could behave like a ___________.
Editor's note: There are two possible correct answers; either one will give you full credit. No
extra credit for giving both correct answers. Give me one answer, and one answer only!
But, see Short Answer question #1!!
a)
b)
c)
d)
4.
The photoelectric effect . . . . wave
The photoelectric effect . . . . particle
Interference and Diffraction . . . . wave
Interference and Diffraction . . . . particle
This particle is the mediator of the electromagnetic force.
a) neutrino.
5.
b) photon
d) pion
Aristotle believed that the natural motion of heavenly bodies was
a) straight line motion until stopped.
b) straight line motion without stopping.
6.
c) muon
c) circular.
d) elliptical
This person measured the circumference of the earth:
a) Eratosthenes
b) Aristarchus
c) Ptolemy
d) Aristotle
7.
Whose view of the universe best explained the positions of Venus and Mercury?
a) Aristotle's
8.
b) Ptolemy's
c) Aristotle and Copernicus
b) False
Kepler's laws of planetary motion involved
a)
b)
c)
d)
e)
12.
b) Ptolemy and Copernicus
Kepler's laws ultimately proved Copernicus' conjecture that the solar system was heliocentric
to be correct.
a) True
11.
c) an ellipse . . . a circle
d) Copernicus . . . Ptolemy
These scientists used deferents, epicycles, and subepicycles to describe the solar system:
a) Ptolemy and Aristotle
10.
d) Kepler's
(Shades of the SAT's!!) Complete the analogy: Brahe is to Kepler as _______ is to _______.
a) a theorist . . . an experimentalist
b) an experimentalist . . . a theorist
9.
c) Brahe's
a relationship between the radii of the planet's orbits and their orbital periods.
the geometrical shape of the orbits of the planets.
a relationship between the speed of the planet and its distance from the sun.
both (a) and (c) but not (b).
(a) and (b) and (c).
Kepler's explanation for his laws was that
a)
b)
c)
d)
e)
the universe obeyed an inverse square law of gravitation.
the period of a pendulum depended on the square root of the length of the pendulum.
the distance an object falls is proportional to the square of the amount of time it falls.
none of these; Kepler made no explanations for his laws.
none of these; Kepler's explanation is not listed above.
13. Galileo could believe what he saw when he pointed his telescope at the sky because
a)
b)
c)
d)
he tested the telescope on known objects on the earth.
he knew he had built the telescope correctly.
he believed the Copernican/Keplerian model of the solar system.
well, he really wasn't sure, but he did have an ego which told him he was correct.
In questions 14 through 16, pick from the following discoveries: Note: Pick the BEST answer!
a)
b)
c)
d)
The moons of Jupiter
Planets as Disks
The phases of Venus
Sunspots and Solar Rotation
e)
f)
g)
h)
Craters and Mountains on the Moon
The Rings of Saturn
The Phases of Mercury
Individual Stars in the Milky Way
14. Galileo actually thought these were Moons. Well, okay, but a lot of very small moons.
15. This is generally considered the most important of his discoveries.
16.
17.
This discovery demonstrated that the planets really were different from the fixed stars.
Galileo proved that balls drop with constant
a) velocity.
18.
Galileo determined that the distance that a falling body travelled was proportional to the
__________ of the body.
b) density
c) time of flight
d) square of the time of flight
In order to determine the answer to the previous question, Galileo had to
a)
b)
c)
d)
21.
d) speed.
Can water be used to imitate a good clock?
What is the nature of the force on an object being pulled downward?
Is downward motion constant velocity or constant acceleration motion?
Does the force of gravity obey an inverse square law?
a) mass
20.
c) force.
Galileo used inclined planes to answer the question: (best answer, please!!)
a)
b)
c)
d)
19.
b) acceleration.
slow down the motion of the falling body.
improve the technique for measuring distance.
make a better telescope than any that had previously been used.
develop the inclined plane.
I throw a ball off of the top of a building that has a height 50.0 meters. I throw it with an initial
speed of 40.0 m/s, at an angle of 36.9° above the horizontal. I can easily (easily??) show that
the ball will hit the ground 6.47 seconds after it leaves my hand. What is the magnitude of the
acceleration of the ball 4.00 seconds after it leaves my hand?
a) zero
b) 9.8 m/s2
c) 24.0 m/s2
d) 32 m/s2
22.
Ignoring air resistance, which of the following represents an object in free fall?
a) A ball dropped from rest from the top of Mendel Hall.
b) A ball thrown straight down from the top of Mendel Hall, after it has left the thrower's
hand.
c) A ball thrown straight up from the top of Mendel Hall, after it has left the thrower's
hand.
d) A satellite in Earth orbit.
e) (b) and (c) are not free fall; (a) and (d) are free fall.
f) (a) and (c) and (d) are free fall: (b) is not free fall.
g) None of them represent free fall.
h) Actually, they all represent free fall.
23.
We showed in lab, and I claimed in class, that for an object in projectile motion
a)
b)
c)
d)
its vertical motion is constant acceleration, but its horizontal motion is constant speed.
its vertical motion is constant speed, but its horizontal motion is constant acceleration.
both the vertical and horizontal motion of the object are constant, non–zero acceleration.
both the vertical and horizontal motion of the object are constant speed.
24 and 25.
Since I feel bad after sending that rather scathing email on Tuesday night, and since I have
received some comments regarding the issue raised in the following question, this counts
double! 
What should I do to improve my sartorial splendor?
a)
b)
c)
d)
e)
Buy some new shirts, for God's sake!
Wear long pants!
Start wearing a suit and tie.
Wear a clown's suit – it would be oh so appropriate, in oh so many ways.
What the $*#@$ does "sartorial" mean??