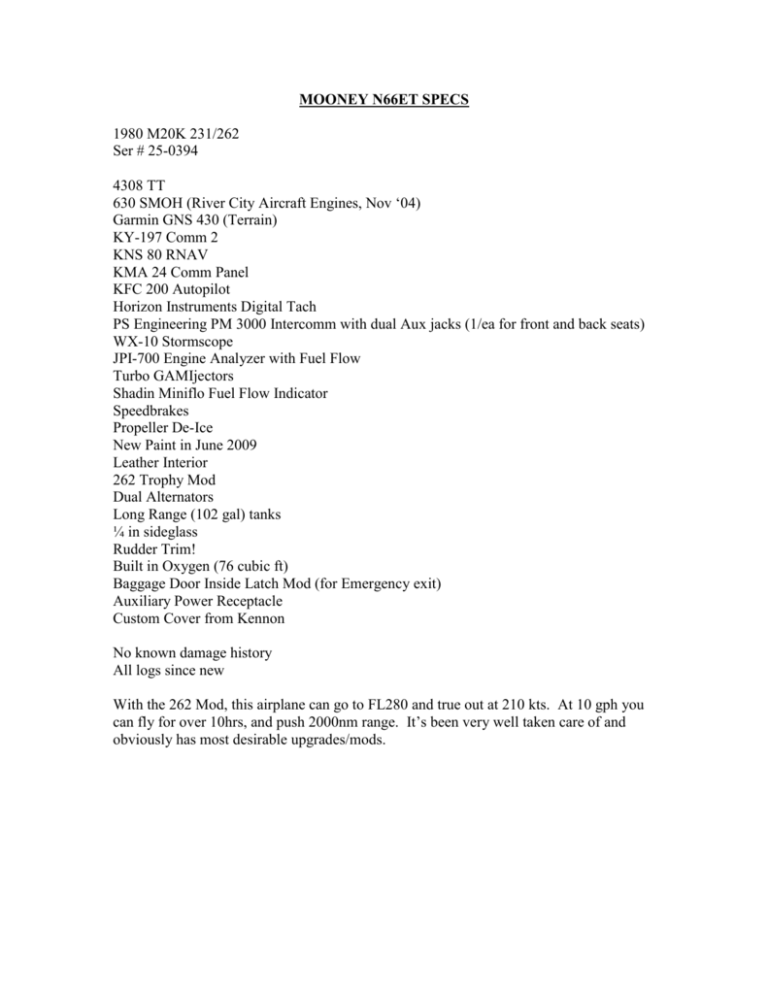 MOONEY N66ET SPECS
1980 M20K 231/262
Ser # 25-0394
4308 TT
630 SMOH (River City Aircraft Engines, Nov '04)
Garmin GNS 430 (Terrain)
KY-197 Comm 2
KNS 80 RNAV
KMA 24 Comm Panel
KFC 200 Autopilot
Horizon Instruments Digital Tach
PS Engineering PM 3000 Intercomm with dual Aux jacks (1/ea for front and back seats)
WX-10 Stormscope
JPI-700 Engine Analyzer with Fuel Flow
Turbo GAMIjectors
Shadin Miniflo Fuel Flow Indicator
Speedbrakes
Propeller De-Ice
New Paint in June 2009
Leather Interior
262 Trophy Mod
Dual Alternators
Long Range (102 gal) tanks
¼ in sideglass
Rudder Trim!
Built in Oxygen (76 cubic ft)
Baggage Door Inside Latch Mod (for Emergency exit)
Auxiliary Power Receptacle
Custom Cover from Kennon
No known damage history
All logs since new
With the 262 Mod, this airplane can go to FL280 and true out at 210 kts. At 10 gph you
can fly for over 10hrs, and push 2000nm range. It's been very well taken care of and
obviously has most desirable upgrades/mods.