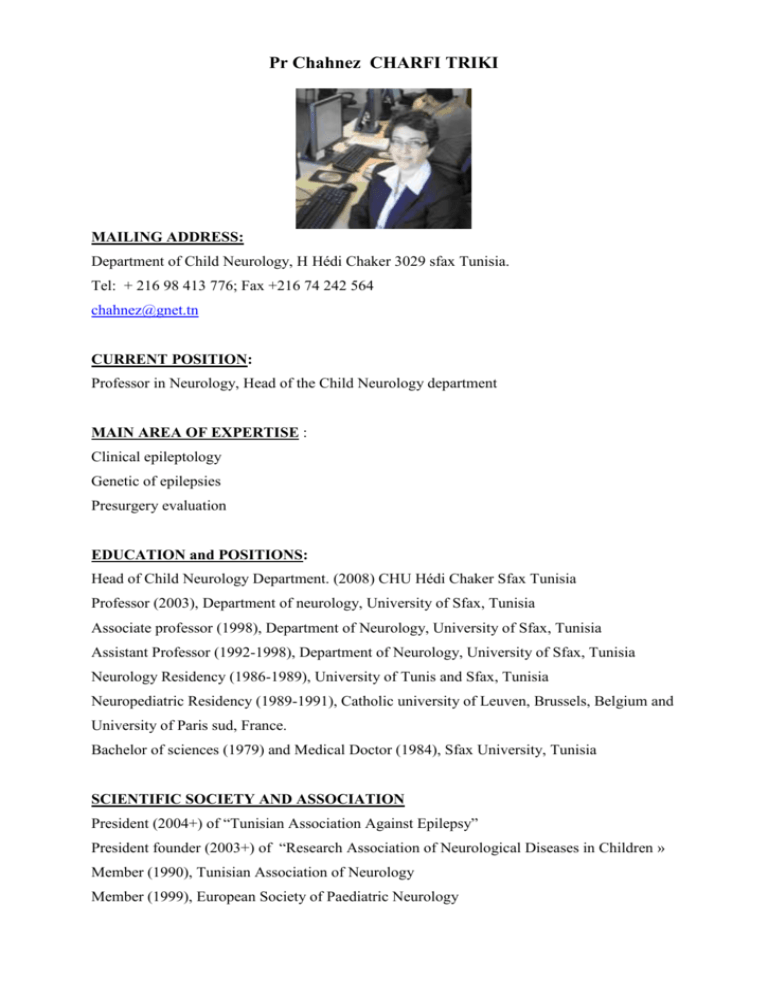 Pr Chahnez CHARFI TRIKI
MAILING ADDRESS:
Department of Child Neurology, H Hédi Chaker 3029 sfax Tunisia.
Tel: + 216 98 413 776; Fax +216 74 242 564
chahnez@gnet.tn
CURRENT POSITION:
Professor in Neurology, Head of the Child Neurology department
MAIN AREA OF EXPERTISE :
Clinical epileptology
Genetic of epilepsies
Presurgery evaluation
EDUCATION and POSITIONS:
Head of Child Neurology Department. (2008) CHU Hédi Chaker Sfax Tunisia
Professor (2003), Department of neurology, University of Sfax, Tunisia
Associate professor (1998), Department of Neurology, University of Sfax, Tunisia
Assistant Professor (1992-1998), Department of Neurology, University of Sfax, Tunisia
Neurology Residency (1986-1989), University of Tunis and Sfax, Tunisia
Neuropediatric Residency (1989-1991), Catholic university of Leuven, Brussels, Belgium and
University of Paris sud, France.
Bachelor of sciences (1979) and Medical Doctor (1984), Sfax University, Tunisia
SCIENTIFIC SOCIETY AND ASSOCIATION
President (2004+) of "Tunisian Association Against Epilepsy"
President founder (2003+) of "Research Association of Neurological Diseases in Children »
Member (1990), Tunisian Association of Neurology
Member (1999), European Society of Paediatric Neurology
Member (1999) of Tunisian Union for Mental Retardation
Member founder (2002) of Tunisian Association for Hereditary Metabolic Disorders
Treasurer and founder (+2005) of Medical Research Association. Sfax Medical University
Member (2002), International Child Neurology Association (ICNA)
Member (2002) of EUREPA (European Epilepsy Academy)
Member of scientific advisory board of EUREPA (September 2002-2008)
Member of French section of Eurepa (November 2002)
General Secretary in Commission Epilepsy Mediterranean Affairs (CEMA) (+2007)
President of the Organising Committee of the 13th Mediterranean Child Neurology Meeting
(Tunis, Tunisia, 29-30 mars 2008)
EDUCATION:
-Professor in charge and founder of degree on épileptology (October 2000) in Sfax
University,
Tunisia
which
is
an
elearning
education
since
October
2006.
(www.dematice.org/emed)
- Professor in charge for degree on Pediatric neurology (October 2006). Which is an
interuniversity degree between Sfax medical university and Tunis medical university.
RESEARCH INTERESTS:
- Professor in charge to research laboratory "Neuropédiatrie" code 01/UR/0805. Sfax
University, Tunisia.
- Member of the steering committee of three national research projects:
(http://www.iph.rnu.tn/handicap/fr/prgm/projets/) about: 1) molecular diagnosis of mental
retardation, 2) learning disabilities and 3) management of multiple handicap.
- Research project DGRST/INSERM about undetermined leucodystrophies in Tunisia with Pr
O.Boespflug-Tanguy (France).
ELEARNING
Leadership for an elearning program on epileptology and professor in charge of the master
degree on epileptology which is an Elearning course since October 2006. .
(www.dematice.org/emed)
Member and coauthor for the TEMPUS project about the use of new technologies in Sfax
medical university.
Member of GIPS (groupe d'innovation pédagogique ) in Sfax University.
PUBLICATIONS
Two new mutations in the MT-TW gene leading to the disruption of the secondary structure
of the tRNA(Trp) in patients with Leigh syndrome.
Mkaouar-Rebai E, Chamkha I, Kammoun F, Kammoun T, Aloulou H, Hachicha M, Triki C,
Fakhfakh F.
Mol Genet Metab. 2009 Mar 16. [Epub ahead of print]
A novel MECP2 gene mutation in a Tunisian patient with Rett syndrome.
Fendri-Kriaa N, Abdelkafi Z, Rebeh IB, Kamoun F, Triki C, Fakhfakh F.
Genet Test Mol Biomarkers. 2009 Feb;13(1):109-13.
Genetic screening of two Tunisian families with generalized epilepsy with febrile seizures
plus.
Fendri-Kriaa N, Kammoun F, Rebai A, Kolsi D, Hadj Salem I, Fakhfakh F, Triki C.
Eur J Neurol. 2009 Feb 19.
Molecular prenatal diagnosis of muscular dystrophies in Tunisia and postnatal follow-up role.
Siala O, Kammoun Feki F, Louhichi N, Hadj Salem I, Gribaa M, Elghzel H, Saad A, Triki C,
Fakhfakh F.
Genet Test. 2008 Dec;12(4):581-6.
[Moyamoya and Down syndrome: about 2 cases]
Sfaihi Ben Mansour L, Ayedi A, Chaari W, Aloulou H, Kammoun T, Mnif Z, Mahfoudh A,
Triki C, Hachicha M.
Arch Pediatr. 2008 Jul;15(7):1197-200. Epub 2008 May 27.
LAMA2 mRNA processing alterations generate a complete deficiency of laminin-alpha2
protein and a severe congenital muscular dystrophy.
Siala O, Louhichi N, Triki C, Morinière M, Fakhfakh F, Baklouti F.
Neuromuscul Disord. 2008 Feb;18(2):137-45. Epub 2007 Nov 28.
[Relevance of plasma exchange in the treatment of myasthenia gravis: study of 11 cases]
Miladi MI, Feki I, Kammoun H, Elleuch H, Triki C, Gargouri J, Mhiri C.
Rev Med Interne. 2008 Feb;29(2):87-93. Epub 2007 Oct 25.
Severe MDC1A congenital muscular dystrophy due to a splicing mutation in the LAMA2
gene resulting in exon skipping and significant decrease of mRNA level.
Siala O, Louhichi N, Triki C, Morinière M, Rebai A, Richard P, Guicheney P, Baklouti F,
Fakhfakh F.
Genet Test. 2007 Fall;11(3):199-207.
Ring chromosome 20 syndrome without deletions of the subtelomeric and CHRNA4-KCNQ2 genes loci.
Elghezal H, Hannachi H, Mougou S, Kammoun H, Triki C, Saad A.
Eur J Med Genet. 2007 Nov-Dec;50(6):441-5.
Mutational analysis of the mitochondrial tRNALeu(UUR) gene in Tunisian patients with
mitochondrial diseases.
Mkaouar-Rebai E, Tlili A, Masmoudi S, Belguith N, Charfeddine I, Mnif M, Triki C,
Fakhfakh F.
Biochem Biophys Res Commun. 2007 Apr 20;355(4):1031-7.
[Allgrove syndrome. Report on a family]
Sellami D, Bouacida W, Frikha F, Triki C, BenZina Z, Ben Salah S, Feki J, Sellami A.
J Fr Ophtalmol. 2006 Apr;29(4):418-21.
[Myasthenia gravis and hyperthyroidism: two cases]
Trabelsi L, Charfi N, Triki Ch, Mnif M, Rekik N, Mhiri Ch, Abid M.
Ann Endocrinol (Paris). 2006 Jun;67(3):265-9.
10:
New FKRP mutations causing congenital muscular dystrophy associated with mental
retardation and central nervous system abnormalities. Identification of a founder mutation in
Tunisian families.
Louhichi N, Triki C, Quijano-Roy S, Richard P, Makri S, Méziou M, Estournet B, Mrad S,
Romero NB, Ayadi H, Guicheney P, Fakhfakh F.
Neurogenetics. 2004 Feb;5(1):27-34.
Merosin-deficient congenital muscular dystrophy with mental retardation and cerebellar cysts,
unlinked to the LAMA2, FCMD, MEB and CMD1B loci, in three Tunisian patients.
Triki C, Louhichi N, Méziou M, Choyakh F, Kéchaou MS, Jlidi R, Mhiri C, Fakhfakh F,
Ayadi H.
[Hemichorea caused by striatal infarct in a young type 1 diabetic patient]
Bellassoued M, Mhiri C, Triki C, Abid M.
Rev Neurol (Paris). 2001 Oct;157(10):1287-9.
[Carcinomatous meningitis revealing a cancer: study of two cases]
Samet S, Belahsen F, Triki C, Masmoudi H, Jlidi R, Mhiri C.
Tunis Med. 2001 Apr;79(4):257-60.
Sacral meningeal arteriovenous fistula supplied by branches of the hypogastric artery revealed
by conus medullaris infarction.
Mhiri C, Miladi MI, Triki C, Kechaou MS.
Spinal Cord. 2000 Nov;38(11):711-4.
[Clinical, biological and genetic study of 24 patients with ataxia telangiectasia from southern
Tunisia]
Triki C, Feki I, Meziou M, Turki H, Zahaf A, Mhiri C.
Rev Neurol (Paris). 2000 Jul;156(6-7):634-7. Review.
[Rett's syndrome: report of 5 cases in Tunisia]
Triki C, Mhiri C.
Rev Neurol (Paris). 1999 Nov;155(11):955-9.
[Hydatid cysts of the brain stem. Two cases]
Boudawara MZ, Jemel H, Ghorbel M, Triki C, Soussi R, Ben Ali H, Mhiri C, Ben Mansour
H.
Neurochirurgie. 1999 Nov;45(4):321-4.
[A rare cause of myopathic syndrome: alcoholism]
Triki C, Ben Chehida A, Meziou M, Samet S, Jlidi R, Mhiri C.
Tunis Med. 1999 Mar;77(3):167-9.
[Neurological manifestations indicative of brucellosis]
Gouider R, Samet S, Triki C, Fredj M, Gargouri A, el Bahri F, Ben Ghorbel I, Kasraoui A,
Mhiri C, Mrabet A.
Rev Neurol (Paris). 1999 Mar;155(3):215-8.
[Detection of fragile X syndrome by molecular hybridization in 29 families affected by
hereditary mental retardation]
Masmoudi S, Keskes L, Feki I, Fakhfakh F, Triki C, Ghribi F, Mhiri C, Ayadi H.
Tunis Med. 1998 Aug-Sep;76(8-9):244-9.
[Importance of electromyography in the diagnosis of botulism]
Zouari N, Choyakh F, Triki C, Mhiri C.
Neurophysiol Clin. 1997 Jun;27(3):220-6.
[Lupic spinal cord diseases and antiphospholipid antibodies]
Feki I, Ben Hmida M, Masmoudi H, Triki C, Bahloul Z, Hachicha J, Jlidi R, Mhiri C.
Rev Neurol (Paris). 1997 Mar;153(2):138-40.
[Gastrointestinal polyposis in Bourneville's tuberous sclerosis: an involvement often
overlooked]
Tahri N, Turki H, Turki M, Triki C, Jlidi R, Zahaf A, Krichen MS.
Ann Gastroenterol Hepatol (Paris). 1996 May-Jun;32(3):123-7.
[Molecular analysis of ten families with Duchenne muscular atrophy]
Fakhfakh F, Mhiri C, Triki C, Ayadi H.
Tunis Med. 1996 Mar;74(3):113-8.
[Duchenne muscular dystrophy: clinico-pathologic study of 10 families from South Tunisia]
Mhiri C, Triki C, Fakhfakh F, Chouayakh F, Fki I, Jlidi R, Ayadi H, Zouari N.
Tunis Med. 1996 Feb;74(2):85-92.
Early onset ataxias in Tunisia. Intrafamilial heterogeneity.
Ben Hamida M, Attia-Romdhane N, Hentati F, Triki C.
Adv Neurol. 1993;61:105-14. Review.
[Cerebral complications of incontinentia pigmenti. A clinicopathological study of a case]
Triki C, Devictor D, Kah S, Roge-Wolter M, Lacroix C, Venencie PY, Landrieu P.
Rev Neurol (Paris). 1992;148(12):773-6.
[Clinical and genetic analysis of 188 families with spinocerebellar degeneration. Friedreich's
disease and P. Marie's hereditary ataxias]
Ben Hamida M, Attia-Romdhane N, Triki CH, Oueslati S, Hentati F.
Rev Neurol (Paris). 1991;147(12):798-808.