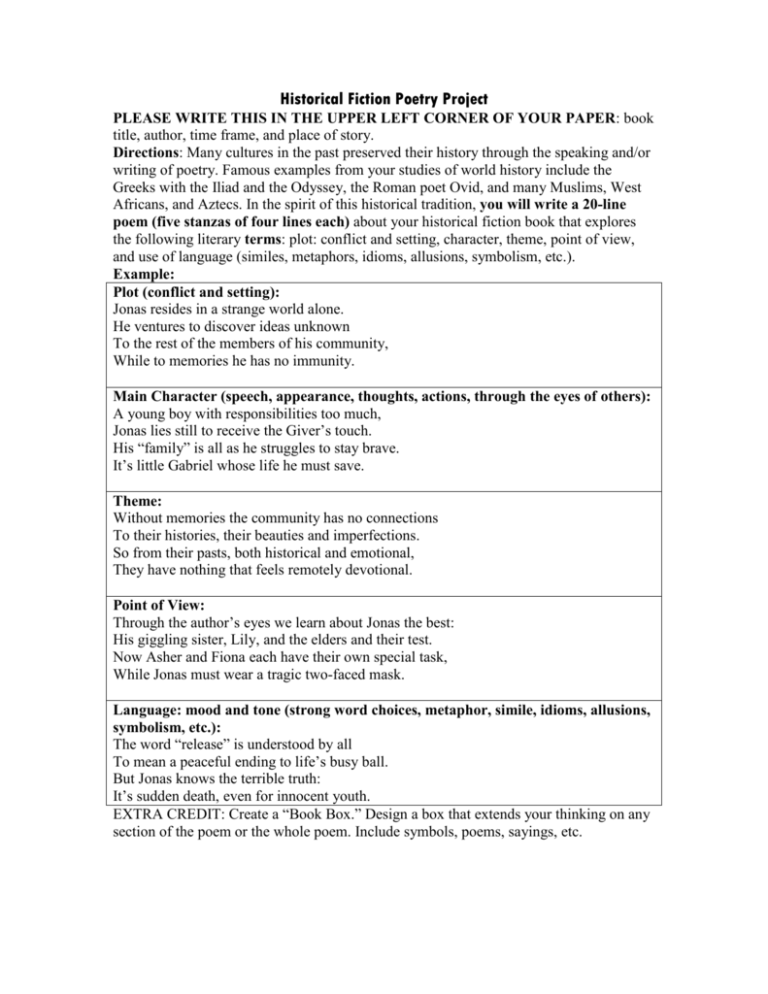 Historical Fiction Poetry Project
PLEASE WRITE THIS IN THE UPPER LEFT CORNER OF YOUR PAPER: book
title, author, time frame, and place of story.
Directions: Many cultures in the past preserved their history through the speaking and/or
writing of poetry. Famous examples from your studies of world history include the
Greeks with the Iliad and the Odyssey, the Roman poet Ovid, and many Muslims, West
Africans, and Aztecs. In the spirit of this historical tradition, you will write a 20-line
poem (five stanzas of four lines each) about your historical fiction book that explores
the following literary terms: plot: conflict and setting, character, theme, point of view,
and use of language (similes, metaphors, idioms, allusions, symbolism, etc.).
Example:
Plot (conflict and setting):
Jonas resides in a strange world alone.
He ventures to discover ideas unknown
To the rest of the members of his community,
While to memories he has no immunity.
Main Character (speech, appearance, thoughts, actions, through the eyes of others):
A young boy with responsibilities too much,
Jonas lies still to receive the Giver's touch.
His "family" is all as he struggles to stay brave.
It's little Gabriel whose life he must save.
Theme:
Without memories the community has no connections
To their histories, their beauties and imperfections.
So from their pasts, both historical and emotional,
They have nothing that feels remotely devotional.
Point of View:
Through the author's eyes we learn about Jonas the best:
His giggling sister, Lily, and the elders and their test.
Now Asher and Fiona each have their own special task,
While Jonas must wear a tragic two-faced mask.
Language: mood and tone (strong word choices, metaphor, simile, idioms, allusions,
symbolism, etc.):
The word "release" is understood by all
To mean a peaceful ending to life's busy ball.
But Jonas knows the terrible truth:
It's sudden death, even for innocent youth.
EXTRA CREDIT: Create a "Book Box." Design a box that extends your thinking on any
section of the poem or the whole poem. Include symbols, poems, sayings, etc.