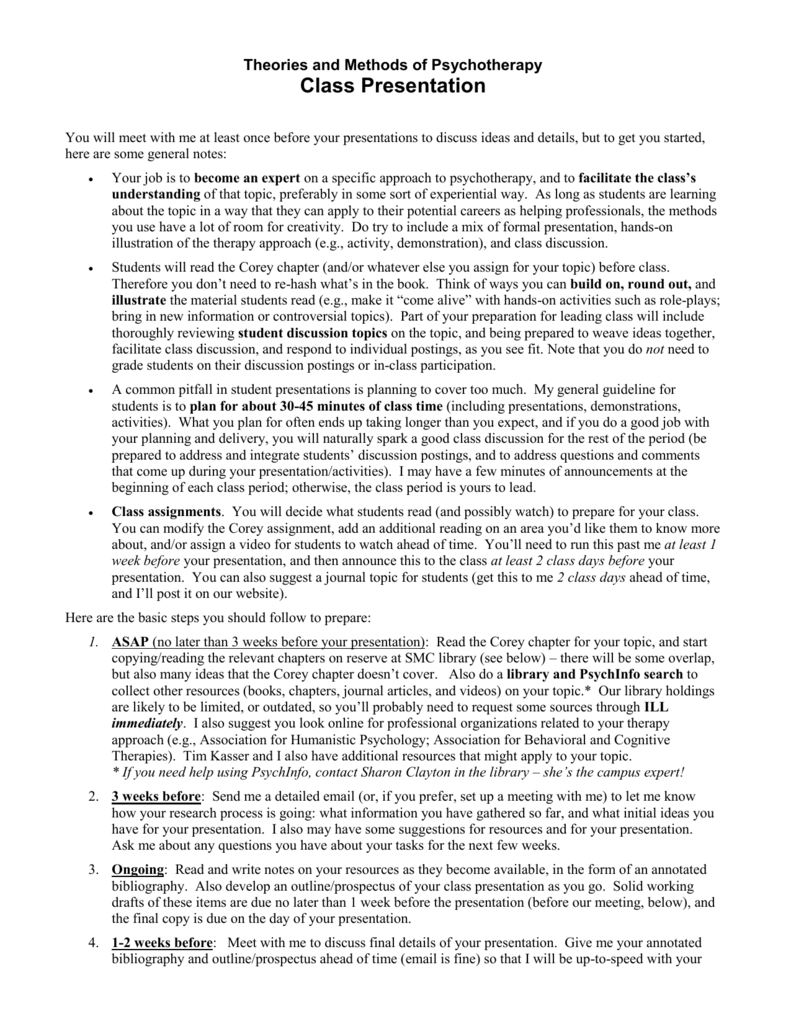 Theories and Methods of Psychotherapy
Class Presentation
You will meet with me at least once before your presentations to discuss ideas and details, but to get you started,
here are some general notes:

Your job is to become an expert on a specific approach to psychotherapy, and to facilitate the class's
understanding of that topic, preferably in some sort of experiential way. As long as students are learning
about the topic in a way that they can apply to their potential careers as helping professionals, the methods
you use have a lot of room for creativity. Do try to include a mix of formal presentation, hands-on
illustration of the therapy approach (e.g., activity, demonstration), and class discussion.

Students will read the Corey chapter (and/or whatever else you assign for your topic) before class.
Therefore you don't need to re-hash what's in the book. Think of ways you can build on, round out, and
illustrate the material students read (e.g., make it "come alive" with hands-on activities such as role-plays;
bring in new information or controversial topics). Part of your preparation for leading class will include
thoroughly reviewing student discussion topics on the topic, and being prepared to weave ideas together,
facilitate class discussion, and respond to individual postings, as you see fit. Note that you do not need to
grade students on their discussion postings or in-class participation.

A common pitfall in student presentations is planning to cover too much. My general guideline for
students is to plan for about 30-45 minutes of class time (including presentations, demonstrations,
activities). What you plan for often ends up taking longer than you expect, and if you do a good job with
your planning and delivery, you will naturally spark a good class discussion for the rest of the period (be
prepared to address and integrate students' discussion postings, and to address questions and comments
that come up during your presentation/activities). I may have a few minutes of announcements at the
beginning of each class period; otherwise, the class period is yours to lead.

Class assignments. You will decide what students read (and possibly watch) to prepare for your class.
You can modify the Corey assignment, add an additional reading on an area you'd like them to know more
about, and/or assign a video for students to watch ahead of time. You'll need to run this past me at least 1
week before your presentation, and then announce this to the class at least 2 class days before your
presentation. You can also suggest a journal topic for students (get this to me 2 class days ahead of time,
and I'll post it on our website).
Here are the basic steps you should follow to prepare:
1. ASAP (no later than 3 weeks before your presentation): Read the Corey chapter for your topic, and start
copying/reading the relevant chapters on reserve at SMC library (see below) – there will be some overlap,
but also many ideas that the Corey chapter doesn't cover. Also do a library and PsychInfo search to
collect other resources (books, chapters, journal articles, and videos) on your topic.* Our library holdings
are likely to be limited, or outdated, so you'll probably need to request some sources through ILL
immediately. I also suggest you look online for professional organizations related to your therapy
approach (e.g., Association for Humanistic Psychology; Association for Behavioral and Cognitive
Therapies). Tim Kasser and I also have additional resources that might apply to your topic.
* If you need help using PsychInfo, contact Sharon Clayton in the library – she's the campus expert!
2. 3 weeks before: Send me a detailed email (or, if you prefer, set up a meeting with me) to let me know
how your research process is going: what information you have gathered so far, and what initial ideas you
have for your presentation. I also may have some suggestions for resources and for your presentation.
Ask me about any questions you have about your tasks for the next few weeks.
3. Ongoing: Read and write notes on your resources as they become available, in the form of an annotated
bibliography. Also develop an outline/prospectus of your class presentation as you go. Solid working
drafts of these items are due no later than 1 week before the presentation (before our meeting, below), and
the final copy is due on the day of your presentation.
4. 1-2 weeks before: Meet with me to discuss final details of your presentation. Give me your annotated
bibliography and outline/prospectus ahead of time (email is fine) so that I will be up-to-speed with your
progress at our meeting. Contact me well in advance to schedule this meeting – get together a list of
days/times that you and your partner(s) are free, and send them to me to choose from. Generally good
times for me are Mondays after 3:00, Tuesdays before 2:30, and Thursdays before 5:00 (except for 4/19
and 5/3 – on these weeks I am out of town Wednesday afternoon through the end of the week).
5. 2 class days before you present: Assign to the class any additional readings, video clips, suggested
journal topics, etc., for the day of your presentation.
6. Day of the presentation. Read student discussion topics and be prepared to respond/facilitate discussion.
At the end of class, turn in all of your materials to me, including your outline, annotated bibliography,
copies of your resources (see Evaluation, below), and any other material you would like me to see (e.g.,
groups using powerpoint should give me a printed copy of the slides; if you prepare responses to students'
discussion postings, in advance, you may turn those in as well).
SMC Reserves: I have put the following books on closed reserve (4 hours) in the SMC Library. The chart below
lists chapters that correspond to each topic area. I may have additional resources on your topic in my office. Our
library also has videos on some of these therapy approaches (or you can search for one through ILL).
Psychodynamic
Existential
Multicultural**
Couple**
Family
Systems
Group**
2, 4
9
15 (part)
--
12
--
8
8 (part)
4 (M)
15
15, 9
(part)
10
Gurman & Messer: Essential Psychotherapies:
Theory and Practice.
2-3
5
--
12
11
13
Kottler: Theories in counseling and therapy: An
experiential approach.**
4
5 (part)
--
8
--
Parrot: Counseling and psychotherapy.
6
8
15
15
--
2, 3
5
Corsini & Wedding: Current psychotherapies.
Gladding: Counseling: A comprehensive profession.
Sharf: Theories of psychotherapy and counseling.
* Has class activity ideas!
--
through
-14
-hout
** See me ASAP for additional resources.
Evaluation: Your grade on the assignment will reflect the following elements:

Annotated bibliography. This is to help you prepare, and to ensure that you do enough research before
you present. It also helps me see all the knowledge you develop, beyond what comes out in your
presentation. Write approximately a paragraph on each resource, explaining what you learned from it and
how you might apply it to your presentation. Turn in a solid draft 1 week before your presentation, so I
can check your progress and give you feedback. The final copy is due at the time of your presentation.
Please also turn in a copy of any resources you used, beyond the ones on reserve in SMC (or from my
collection). For resource that we have available electronically, you can email me a copy of pdf files.

Prospectus / outline. This document will help you to be fully prepared for the presentation, and it allows
me to offer feedback and suggestions to you in advance. It also serves to show me how much work you've
done and how many wonderful ideas you've come up with, in the event that we don't have time for them
all in class.

Class presentation. Are you thoroughly prepared? Is the information you present accurate? Do you
interest and engage the class? Do the students learn something interesting and useful for this
method/approach to psychotherapy? Do you respond to student questions and ideas thoughtfully and
appropriately?

General preparedness. Do you meet deadlines (described above)? Do you turn in drafts when they are
due? Are you generally "on top of" the preparation process?
I will give feedback on students' projects once all are complete. Please note: If your presentation falls on or near
a due date for another major class assignment (e.g., Mock Therapy), be sure to arrange an extension on the other
assignment ahead of time.