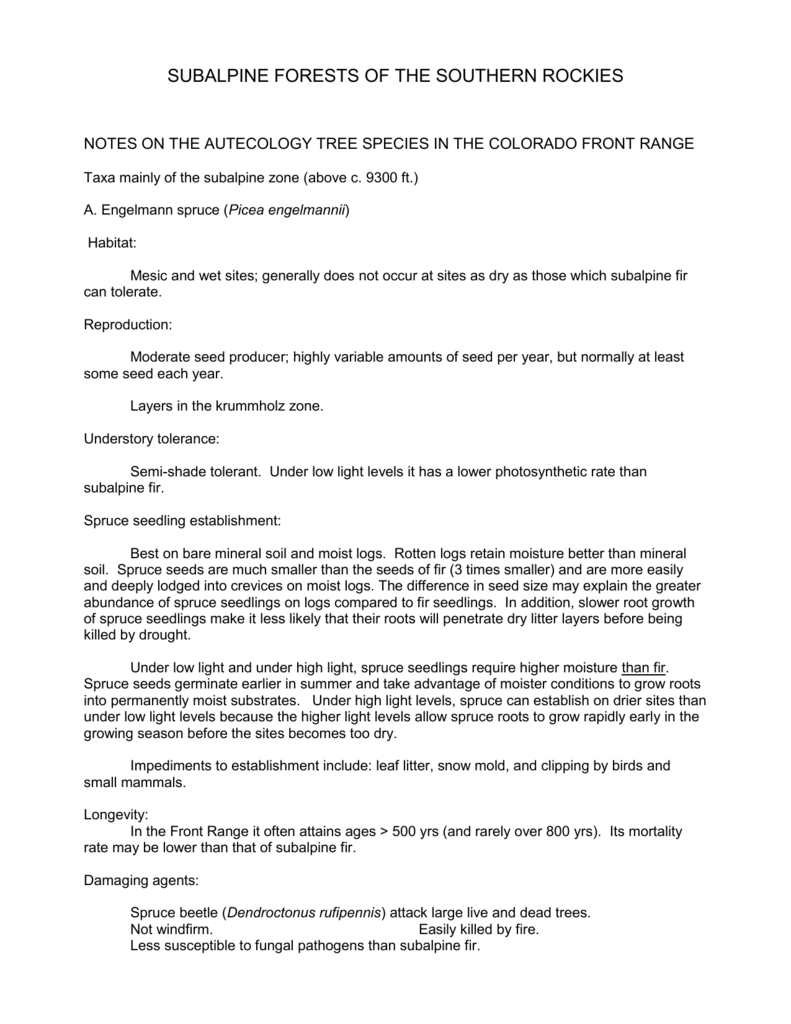 SUBALPINE FORESTS OF THE SOUTHERN ROCKIES
NOTES ON THE AUTECOLOGY TREE SPECIES IN THE COLORADO FRONT RANGE
Taxa mainly of the subalpine zone (above c. 9300 ft.)
A. Engelmann spruce (Picea engelmannii)
Habitat:
Mesic and wet sites; generally does not occur at sites as dry as those which subalpine fir
can tolerate.
Reproduction:
Moderate seed producer; highly variable amounts of seed per year, but normally at least
some seed each year.
Layers in the krummholz zone.
Understory tolerance:
Semi-shade tolerant. Under low light levels it has a lower photosynthetic rate than
subalpine fir.
Spruce seedling establishment:
Best on bare mineral soil and moist logs. Rotten logs retain moisture better than mineral
soil. Spruce seeds are much smaller than the seeds of fir (3 times smaller) and are more easily
and deeply lodged into crevices on moist logs. The difference in seed size may explain the greater
abundance of spruce seedlings on logs compared to fir seedlings. In addition, slower root growth
of spruce seedlings make it less likely that their roots will penetrate dry litter layers before being
killed by drought.
Under low light and under high light, spruce seedlings require higher moisture than fir.
Spruce seeds germinate earlier in summer and take advantage of moister conditions to grow roots
into permanently moist substrates. Under high light levels, spruce can establish on drier sites than
under low light levels because the higher light levels allow spruce roots to grow rapidly early in the
growing season before the sites becomes too dry.
Impediments to establishment include: leaf litter, snow mold, and clipping by birds and
small mammals.
Longevity:
In the Front Range it often attains ages > 500 yrs (and rarely over 800 yrs). Its mortality
rate may be lower than that of subalpine fir.
Damaging agents:
Spruce beetle (Dendroctonus rufipennis) attack large live and dead trees.
Not windfirm.
Easily killed by fire.
Less susceptible to fungal pathogens than subalpine fir.
B. Subalpine fir (Abies lasiocarpa)
Habitat:
Similar to that of spruce, but it also tolerates drier sites.
Reproduction:
Generally produces less seed than spruce and in some years seed production may be nil.
Layers in the krummholz zone and also in subalpine forests.
Longevity:
Generally it does not attain as great an age as does spruce. Trees older than 300 years
are scarce, although occasionally trees over 400 years occur.
Understory tolerance:
Shade tolerant. Under low light levels, greater photosynthetic rate than spruce. However,
both species survive under similarly low light levels.
Fir seedling establishment:
There consistently is a larger proportion of spruce seedlings on logs than fir seedlings.
Why doesn't fir take advantage of moist logs for seedling establishment as much as spruce does?
Fir seedlings are much more abundant on litter than is spruce, presumably due to its more
rapid root elongation from larger seeds. Fewer seedlings on logs than for spruce probably
because the larger seeds of fir do not lodge into crevices as easily or as deeply. Fir seeds that
establish later in the summer can survive better because their large seeds allow more rapid root
growth. Also establishes on bare mineral soil. Seedling establishment:
Damaging agents:
Not fire resistant.
Ips beetles cause a small amount of mortality.
Highly susceptible to fungal pathogens once trees reach c. 150 yrs.
Not windfirm.
C. Lodgepole pine (Pinus contorta var. latifolia)
Habitat:
Overlaps with spruce and fir but more abundant in the lower subalpine zone and on drier
sites.
Reproduction:
Prolific and precocious cone production. Serotinous cones.
Longevity:
Generally less long-lived than spruce, but can attain ages > 400 years.
Understory tolerance:
Not shade tolerant. Will not survive in the understory of a spruce-fir forest but can grow
through the canopy of an open aspen stand.
Seedling establishment:
Best on bare mineral soil.
Damaging agents:
Mountain pine beetle (Dendroctonus ponderosae) and other bark beetles.
May resist fire slightly better than spruce or fir, but is easily killed by crown fires. Usually
abundant establishment after fire.
Not windfirm.
D. Limber pine (Pinus flexilis)
Habitat:
Generally at dry, rocky sites; exposed to high winds. Some also at low elevation.
Reproduction:
Seeds are cached and dispersed by birds.
Longevity:
Often attains ages > 1000 years.
Understory tolerance:
Extremely shade intolerant.
Seedling establishment:
Bare mineral soil; especially rocky areas.
Damaging agents:
More fire resistant than the other subalpine trees.
Windfirm (long tap root).
Porcupine damage.
E. Aspen (Populus tremuloides)
Habitat:
Wide range: both dry ridges and moist riparian areas.
Reproduction:
Establishment from seed is rare but does occur (for example after 2002 fires in western
Colorado). Primarily reproduces vegetatively (root suckers).
Longevity:
Very short-lived; trees older than 200 years are rare. Most stands > 120 years old appear
senescent.
Understory tolerance:
Shade intolerant.
Damaging agents:
Fire kills aerial portion of tree, but root stock can survive at least lower intensity burns.
Susceptible to a canker disease which can kill entire clones.
Browsing by large mammals can severely damage trees.