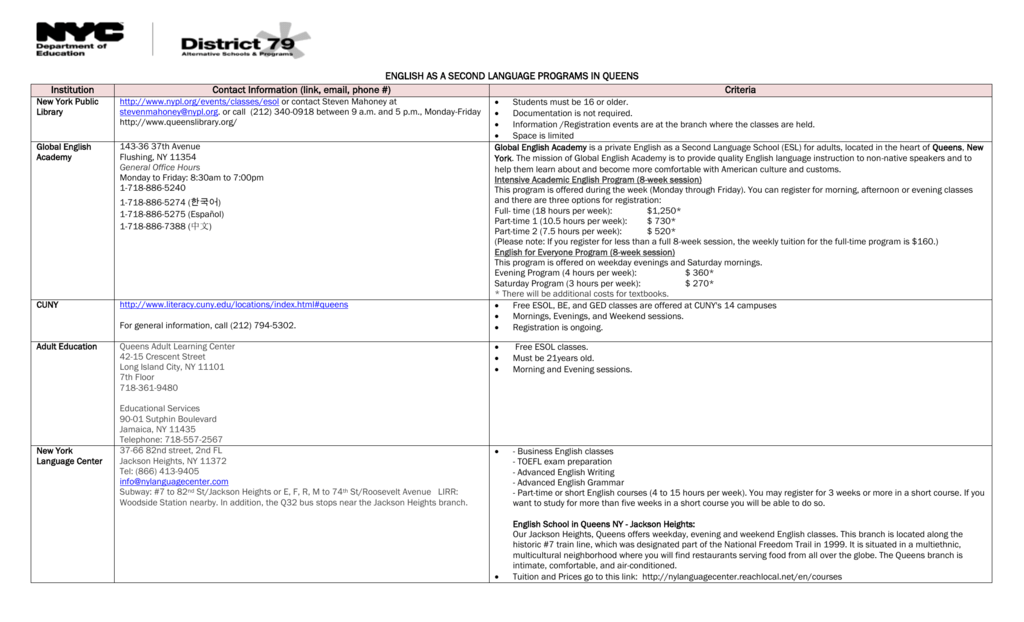 Institution
ENGLISH AS A SECOND LANGUAGE PROGRAMS IN QUEENS
Contact Information (link, email, phone #)
New York Public
Library
http://www.nypl.org/events/classes/esol or contact Steven Mahoney at
[email protected] or call (212) 340-0918 between 9 a.m. and 5 p.m., Monday-Friday
http://www.queenslibrary.org/
Global English
Academy
143-36 37th Avenue
Flushing, NY 11354
General Office Hours
Monday to Friday: 8:30am to 7:00pm
1-718-886-5240
1-718-886-5274 (한국어)
1-718-886-5275 (Español)
1-718-886-7388 (中文)
CUNY
http://www.literacy.cuny.edu/locations/index.html#queens
For general information, call (212) 794-5302.
Adult Education
New York
Language Center
Queens Adult Learning Center
42-15 Crescent Street
Long Island City, NY 11101
7th Floor
718-361-9480
Educational Services
90-01 Sutphin Boulevard
Jamaica, NY 11435
Telephone: 718-557-2567
37-66 82nd street, 2nd FL
Jackson Heights, NY 11372
Tel: (866) 413-9405
[email protected]
Subway: #7 to 82nd St/Jackson Heights or E, F, R, M to 74th St/Roosevelt Avenue LIRR:
Woodside Station nearby. In addition, the Q32 bus stops near the Jackson Heights branch.
Criteria

Students must be 16 or older.

Documentation is not required.

Information /Registration events are at the branch where the classes are held.

Space is limited
Global English Academy is a private English as a Second Language School (ESL) for adults, located in the heart of Queens, New
York. The mission of Global English Academy is to provide quality English language instruction to non-native speakers and to
help them learn about and become more comfortable with American culture and customs.
Intensive Academic English Program (8-week session)
This program is offered during the week (Monday through Friday). You can register for morning, afternoon or evening classes
and there are three options for registration:
Full- time (18 hours per week):
$1,250*
Part-time 1 (10.5 hours per week):
$ 730*
Part-time 2 (7.5 hours per week):
$ 520*
(Please note: If you register for less than a full 8-week session, the weekly tuition for the full-time program is $160.)
English for Everyone Program (8-week session)
This program is offered on weekday evenings and Saturday mornings.
Evening Program (4 hours per week):
$ 360*
Saturday Program (3 hours per week):
$ 270*
* There will be additional costs for textbooks.

Free ESOL, BE, and GED classes are offered at CUNY's 14 campuses

Mornings, Evenings, and Weekend sessions.

Registration is ongoing.



Free ESOL classes.
Must be 21years old.
Morning and Evening sessions.

- Business English classes
- TOEFL exam preparation
- Advanced English Writing
- Advanced English Grammar
- Part-time or short English courses (4 to 15 hours per week). You may register for 3 weeks or more in a short course. If you
want to study for more than five weeks in a short course you will be able to do so.

English School in Queens NY - Jackson Heights:
Our Jackson Heights, Queens offers weekday, evening and weekend English classes. This branch is located along the
historic #7 train line, which was designated part of the National Freedom Trail in 1999. It is situated in a multiethnic,
multicultural neighborhood where you will find restaurants serving food from all over the globe. The Queens branch is
intimate, comfortable, and air-conditioned.
Tuition and Prices go to this link: http://nylanguagecenter.reachlocal.net/en/courses
Institution
Contact Information
Definition/Criteria

YWCA of
Queens
42-07 Parsons Blvd., Flushing, NY 11355
Phone: (718) 353-4553
Fax: (718) 353-4044
http://ywcaqueens.org/programs/center-for-adults/esl/
Queens College
English
Language
Institute
Hours: (M-F) 9-5 | (Sat-Sun) Closed
Bldg: Kiely Hall Room: 111
Phone: (718) 997-5720
Fax: (718) 997-5731
Donna Gruber
Executive Director, English Language Institute
[email protected]
English Courses in Queens NY include:
- ESL courses for beginner, intermediate and advanced levels
- Intensive English courses of 20 hours or 30 hours per week

ESL classes are designed to inform students of the rules of the English language, gain understanding of American life and
culture, and provide a place to practice and improve communication skills as a community of English language learners.
When students enter the ESL program, our staff provides a free assessment of their English language level to place them
in the appropriate classes, ranging from level 0 to level 3. These classes are designed to meet the individual needs of the
students. With classes in session in the morning and evening, students have the freedom to choose the class that best fits
their schedule.
ESL Levels 0-3
Cost : FREE
Program Length: 10-11 weeks
Program Hours: Two days a week
Morning: 9:00am-12:00pm or Evening: 6:00pm-9:00pm
How to Enroll:
Call ESL department to schedule a placement exam or email [email protected]
All new students MUST come in person to the ELI office. Fall 2012 Placement exam: week of August 28, 2012 Full-Time
Day Program 18 hours a week, 4 days a week August 28 - December 19, 2012 . Placement exams: week of August 28, 2012
TUITION: Full Time: U.S. Resident (Green Card) $2,295 Non-resident $2,699
10% discount on tuition offered through August 9, 2012
Part-Time: 10% discount on tuition offered through August 21, 2012.One class, 6 hours a week: $765
Both classes, 12 hours a week: $1530
Part-Time Evening Program August 29 - December 19. 2012 - Placement: Begins August 29, 2012
1. ELI131 - Reading/Writing Monday/Wednesday, 6-9 pm
Placement test on Wednesday, August 29, at 6 pm.
2. ELI132 - Listening/Speaking Tuesday/Thursday, 6-9 pm
Placement test on Thursday, August 30, at 6 pm.
3. Both classes (ELI131 & ELI132): Monday through Thursday, 6-9 pm
Placement tests on Wednesday, August 29, and Thursday, August 30.
Applicants need to attend both placement dates.