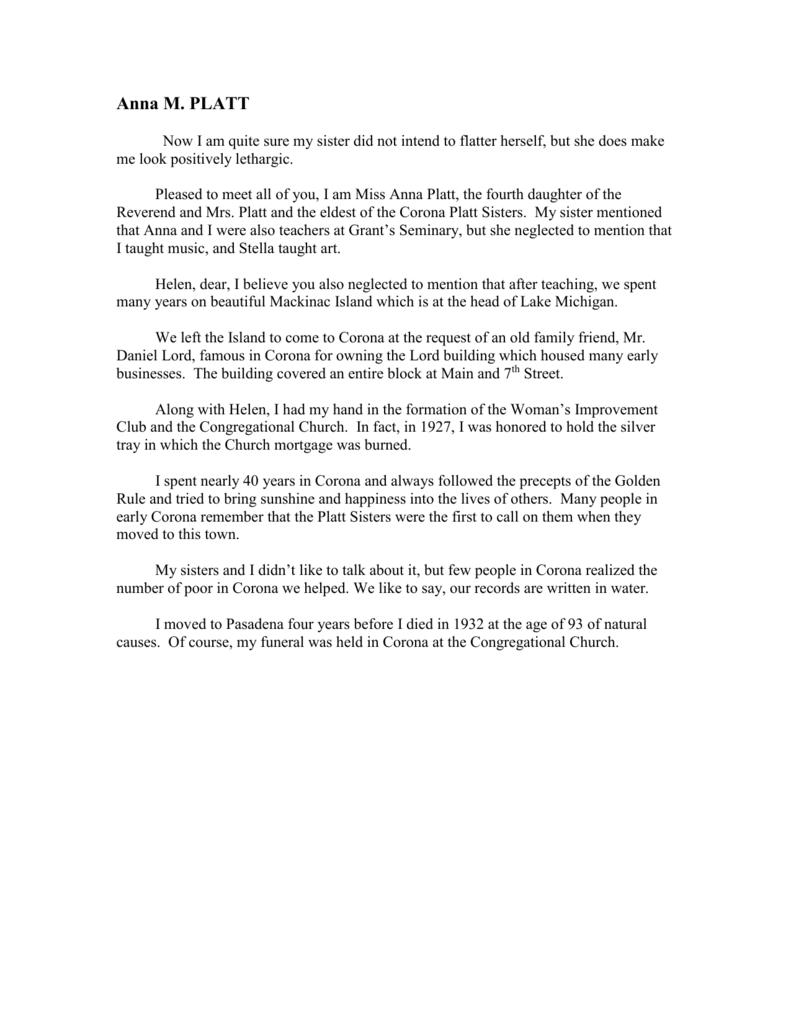 Anna M. PLATT
Now I am quite sure my sister did not intend to flatter herself, but she does make
me look positively lethargic.
Pleased to meet all of you, I am Miss Anna Platt, the fourth daughter of the
Reverend and Mrs. Platt and the eldest of the Corona Platt Sisters. My sister mentioned
that Anna and I were also teachers at Grant's Seminary, but she neglected to mention that
I taught music, and Stella taught art.
Helen, dear, I believe you also neglected to mention that after teaching, we spent
many years on beautiful Mackinac Island which is at the head of Lake Michigan.
We left the Island to come to Corona at the request of an old family friend, Mr.
Daniel Lord, famous in Corona for owning the Lord building which housed many early
businesses. The building covered an entire block at Main and 7th Street.
Along with Helen, I had my hand in the formation of the Woman's Improvement
Club and the Congregational Church. In fact, in 1927, I was honored to hold the silver
tray in which the Church mortgage was burned.
I spent nearly 40 years in Corona and always followed the precepts of the Golden
Rule and tried to bring sunshine and happiness into the lives of others. Many people in
early Corona remember that the Platt Sisters were the first to call on them when they
moved to this town.
My sisters and I didn't like to talk about it, but few people in Corona realized the
number of poor in Corona we helped. We like to say, our records are written in water.
I moved to Pasadena four years before I died in 1932 at the age of 93 of natural
causes. Of course, my funeral was held in Corona at the Congregational Church.