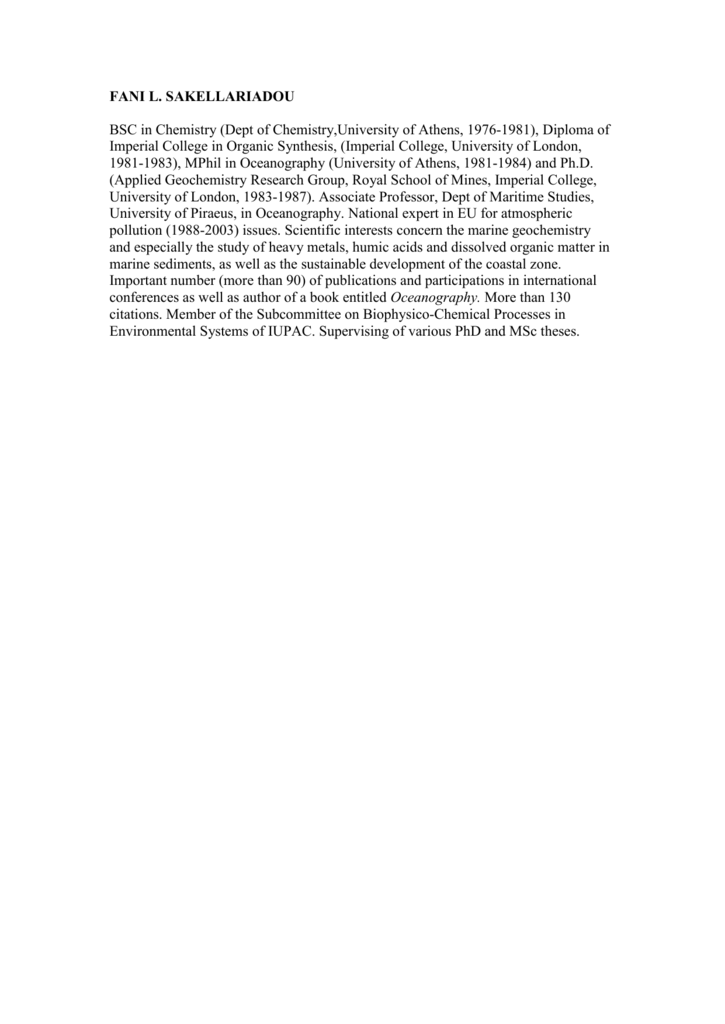 FANI L. SAKELLARIADOU
BSC in Chemistry (Dept of Chemistry,University of Athens, 1976-1981), Diploma of
Imperial College in Organic Synthesis, (Imperial College, University of London,
1981-1983), MPhil in Oceanography (University of Athens, 1981-1984) and Ph.D.
(Applied Geochemistry Research Group, Royal School of Mines, Imperial College,
University of London, 1983-1987). Associate Professor, Dept of Maritime Studies,
University of Piraeus, in Oceanography. National expert in EU for atmospheric
pollution (1988-2003) issues. Scientific interests concern the marine geochemistry
and especially the study of heavy metals, humic acids and dissolved organic matter in
marine sediments, as well as the sustainable development of the coastal zone.
Important number (more than 90) of publications and participations in international
conferences as well as author of a book entitled Oceanography. More than 130
citations. Member of the Subcommittee on Biophysico-Chemical Processes in
Environmental Systems of IUPAC. Supervising of various PhD and MSc theses.