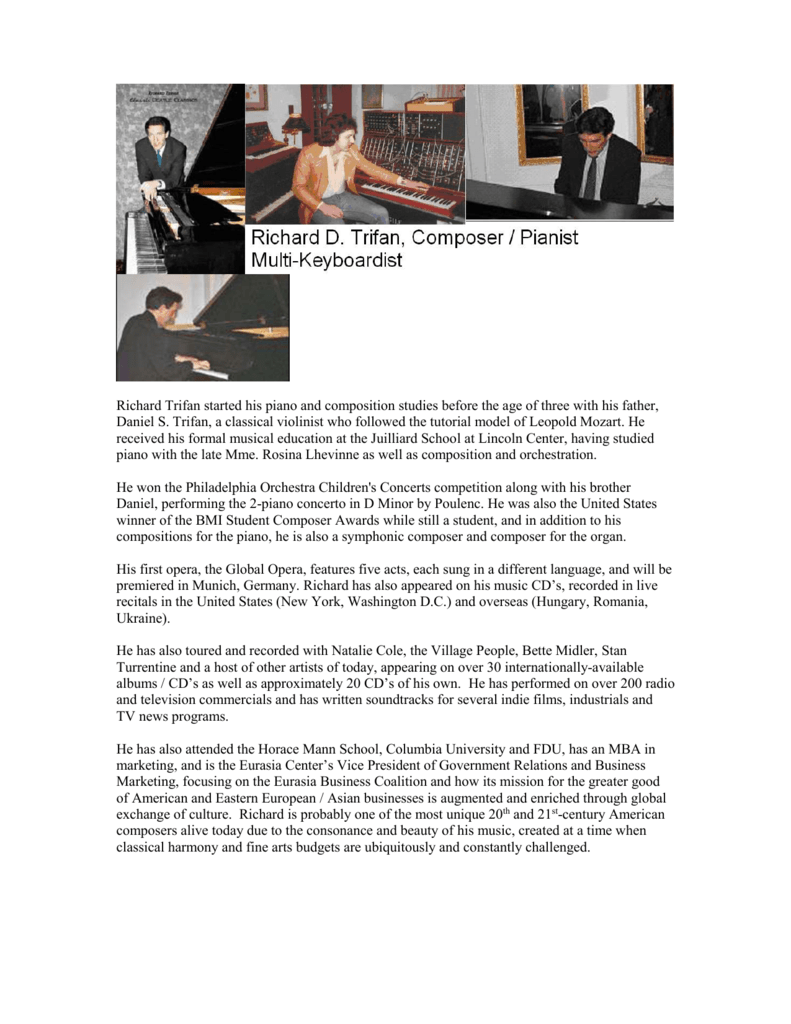 Richard Trifan started his piano and composition studies before the age of three with his father,
Daniel S. Trifan, a classical violinist who followed the tutorial model of Leopold Mozart. He
received his formal musical education at the Juilliard School at Lincoln Center, having studied
piano with the late Mme. Rosina Lhevinne as well as composition and orchestration.
He won the Philadelphia Orchestra Children's Concerts competition along with his brother
Daniel, performing the 2-piano concerto in D Minor by Poulenc. He was also the United States
winner of the BMI Student Composer Awards while still a student, and in addition to his
compositions for the piano, he is also a symphonic composer and composer for the organ.
His first opera, the Global Opera, features five acts, each sung in a different language, and will be
premiered in Munich, Germany. Richard has also appeared on his music CD's, recorded in live
recitals in the United States (New York, Washington D.C.) and overseas (Hungary, Romania,
Ukraine).
He has also toured and recorded with Natalie Cole, the Village People, Bette Midler, Stan
Turrentine and a host of other artists of today, appearing on over 30 internationally-available
albums / CD's as well as approximately 20 CD's of his own. He has performed on over 200 radio
and television commercials and has written soundtracks for several indie films, industrials and
TV news programs.
He has also attended the Horace Mann School, Columbia University and FDU, has an MBA in
marketing, and is the Eurasia Center's Vice President of Government Relations and Business
Marketing, focusing on the Eurasia Business Coalition and how its mission for the greater good
of American and Eastern European / Asian businesses is augmented and enriched through global
exchange of culture. Richard is probably one of the most unique 20th and 21st-century American
composers alive today due to the consonance and beauty of his music, created at a time when
classical harmony and fine arts budgets are ubiquitously and constantly challenged.