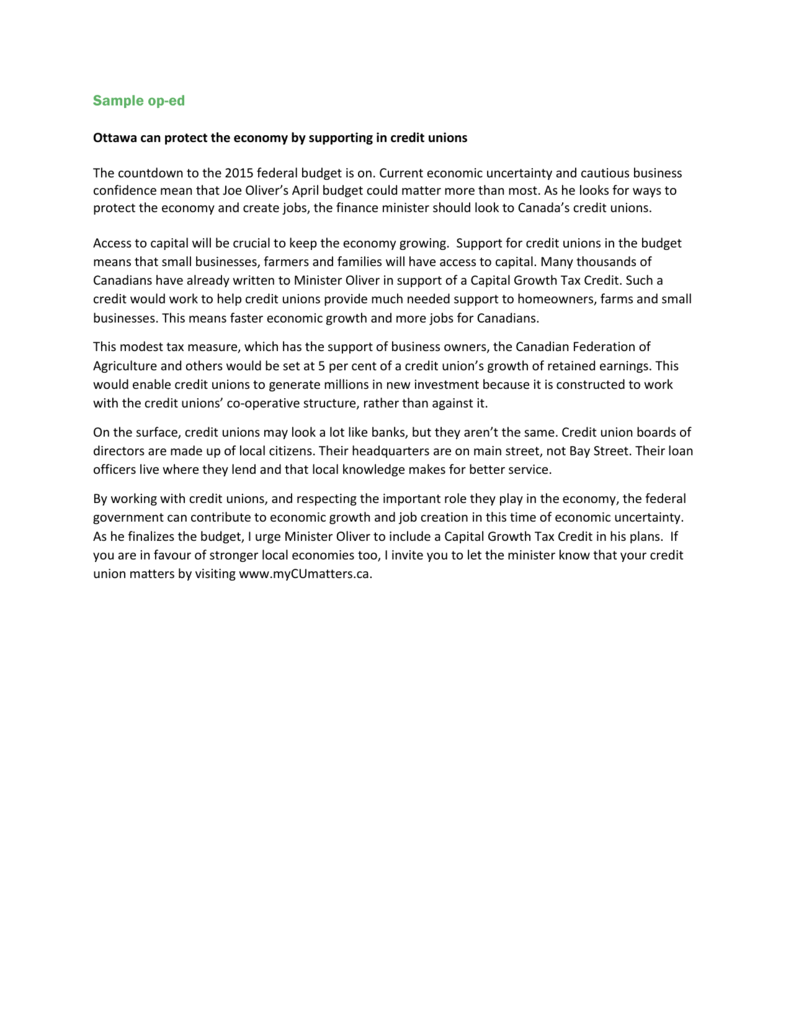 Sample op-ed
Ottawa can protect the economy by supporting in credit unions
The countdown to the 2015 federal budget is on. Current economic uncertainty and cautious business
confidence mean that Joe Oliver's April budget could matter more than most. As he looks for ways to
protect the economy and create jobs, the finance minister should look to Canada's credit unions.
Access to capital will be crucial to keep the economy growing. Support for credit unions in the budget
means that small businesses, farmers and families will have access to capital. Many thousands of
Canadians have already written to Minister Oliver in support of a Capital Growth Tax Credit. Such a
credit would work to help credit unions provide much needed support to homeowners, farms and small
businesses. This means faster economic growth and more jobs for Canadians.
This modest tax measure, which has the support of business owners, the Canadian Federation of
Agriculture and others would be set at 5 per cent of a credit union's growth of retained earnings. This
would enable credit unions to generate millions in new investment because it is constructed to work
with the credit unions' co-operative structure, rather than against it.
On the surface, credit unions may look a lot like banks, but they aren't the same. Credit union boards of
directors are made up of local citizens. Their headquarters are on main street, not Bay Street. Their loan
officers live where they lend and that local knowledge makes for better service.
By working with credit unions, and respecting the important role they play in the economy, the federal
government can contribute to economic growth and job creation in this time of economic uncertainty.
As he finalizes the budget, I urge Minister Oliver to include a Capital Growth Tax Credit in his plans. If
you are in favour of stronger local economies too, I invite you to let the minister know that your credit
union matters by visiting www.myCUmatters.ca.