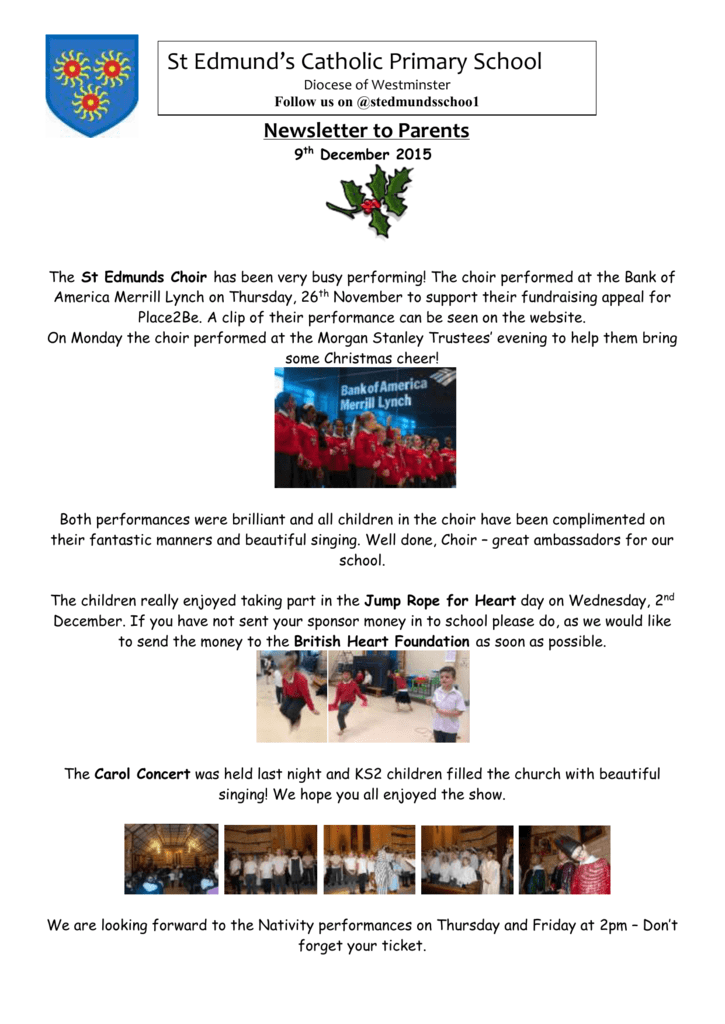 St Edmund's Catholic Primary School
Diocese of Westminster
Follow us on @stedmundsschoo1
Newsletter to Parents
9th December 2015
The St Edmunds Choir has been very busy performing! The choir performed at the Bank of
America Merrill Lynch on Thursday, 26th November to support their fundraising appeal for
Place2Be. A clip of their performance can be seen on the website.
On Monday the choir performed at the Morgan Stanley Trustees' evening to help them bring
some Christmas cheer!
Both performances were brilliant and all children in the choir have been complimented on
their fantastic manners and beautiful singing. Well done, Choir – great ambassadors for our
school.
The children really enjoyed taking part in the Jump Rope for Heart day on Wednesday, 2nd
December. If you have not sent your sponsor money in to school please do, as we would like
to send the money to the British Heart Foundation as soon as possible.
The Carol Concert was held last night and KS2 children filled the church with beautiful
singing! We hope you all enjoyed the show.
We are looking forward to the Nativity performances on Thursday and Friday at 2pm – Don't
forget your ticket.
The Christmas post box is open in the school reception area. Children can post their cards
and they will be delivered during the week.
Children will be having their Christmas lunch on Wednesday, 16th December. Children will
wear their school uniform as usual on this day.
Thursday, 17th December will be Christmas party day and all children are invited to wear
their party clothes. Girls are not allowed to wear high heels or wedges to school or school
events due to safety regulations. (Several girls wore heels to the Carol concert.)
School will finish at 2pm on Friday, 18th December.
Don't forget that all after school clubs are now finished for the term.
The After School Care will finish on Thursday, 17th December with no after school care on
Friday, 18th December.
We have had a very busy term and are looking forward to seeing everyone after the
Christmas break for the first day of the Spring term on
Tuesday, 5th January 2016.
The staff would like to wish you all a very Merry Christmas and a peaceful and
prosperous New Year.