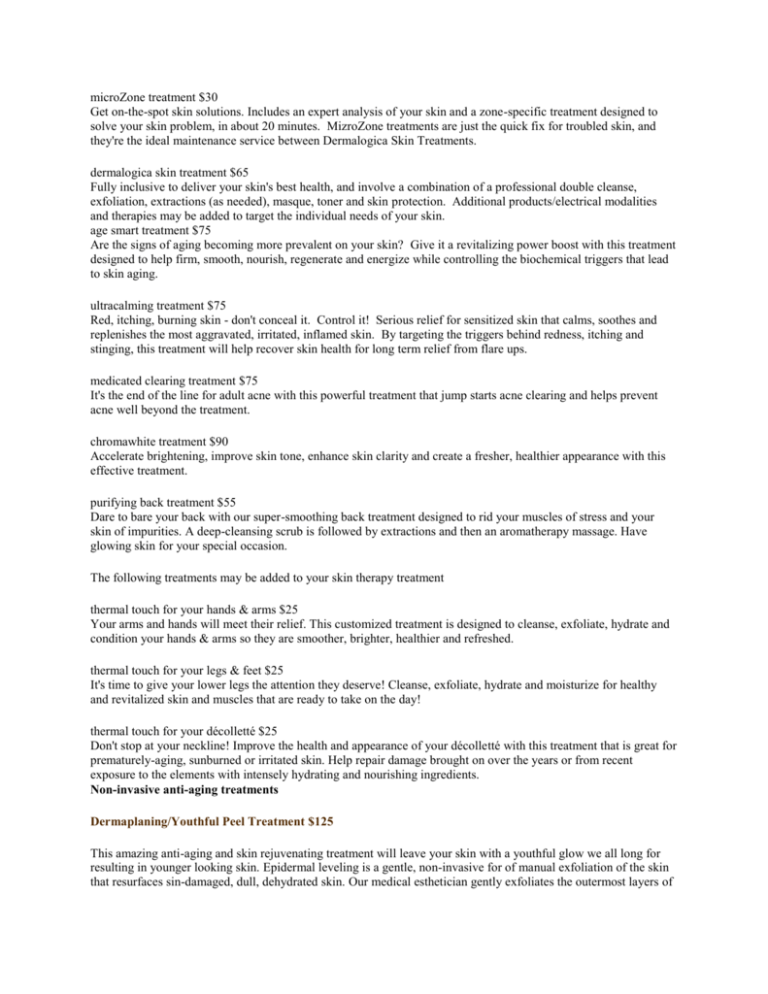 microZone treatment $30
Get on-the-spot skin solutions. Includes an expert analysis of your skin and a zone-specific treatment designed to
solve your skin problem, in about 20 minutes. MizroZone treatments are just the quick fix for troubled skin, and
they're the ideal maintenance service between Dermalogica Skin Treatments.
dermalogica skin treatment $65
Fully inclusive to deliver your skin's best health, and involve a combination of a professional double cleanse,
exfoliation, extractions (as needed), masque, toner and skin protection. Additional products/electrical modalities
and therapies may be added to target the individual needs of your skin.
age smart treatment $75
Are the signs of aging becoming more prevalent on your skin? Give it a revitalizing power boost with this treatment
designed to help firm, smooth, nourish, regenerate and energize while controlling the biochemical triggers that lead
to skin aging.
ultracalming treatment $75
Red, itching, burning skin - don't conceal it. Control it! Serious relief for sensitized skin that calms, soothes and
replenishes the most aggravated, irritated, inflamed skin. By targeting the triggers behind redness, itching and
stinging, this treatment will help recover skin health for long term relief from flare ups.
medicated clearing treatment $75
It's the end of the line for adult acne with this powerful treatment that jump starts acne clearing and helps prevent
acne well beyond the treatment.
chromawhite treatment $90
Accelerate brightening, improve skin tone, enhance skin clarity and create a fresher, healthier appearance with this
effective treatment.
purifying back treatment $55
Dare to bare your back with our super-smoothing back treatment designed to rid your muscles of stress and your
skin of impurities. A deep-cleansing scrub is followed by extractions and then an aromatherapy massage. Have
glowing skin for your special occasion.
The following treatments may be added to your skin therapy treatment
thermal touch for your hands & arms $25
Your arms and hands will meet their relief. This customized treatment is designed to cleanse, exfoliate, hydrate and
condition your hands & arms so they are smoother, brighter, healthier and refreshed.
thermal touch for your legs & feet $25
It's time to give your lower legs the attention they deserve! Cleanse, exfoliate, hydrate and moisturize for healthy
and revitalized skin and muscles that are ready to take on the day!
thermal touch for your décolletté $25
Don't stop at your neckline! Improve the health and appearance of your décolletté with this treatment that is great for
prematurely-aging, sunburned or irritated skin. Help repair damage brought on over the years or from recent
exposure to the elements with intensely hydrating and nourishing ingredients.
Non-invasive anti-aging treatments
Dermaplaning/Youthful Peel Treatment $125
This amazing anti-aging and skin rejuvenating treatment will leave your skin with a youthful glow we all long for
resulting in younger looking skin. Epidermal leveling is a gentle, non-invasive for of manual exfoliation of the skin
that resurfaces sin-damaged, dull, dehydrated skin. Our medical esthetician gently exfoliates the outermost layers of
the epidermis to remove dead skin cells, impurities and debris. This encourages the skin to regenerate new skin cells,
leaving the complexion smooth self and vibrant.
Regular Treatments have been know to:
Diminish fine lines
Temporarily remove facial hair (hair does not grow back thicker)
Smooth acne scarring
Generate new healthy skin growth
Improve skin texture and tone
Enhance penetration of skin care products
Help to unblock blackheads
Microdermabrasion $75
This advanced skin resurfacing technique dramatically transforms all skin types (including skin affected by sun,
acne or age) by restoring smooth texture & softness and minimizing imperfections. Series pricing available.