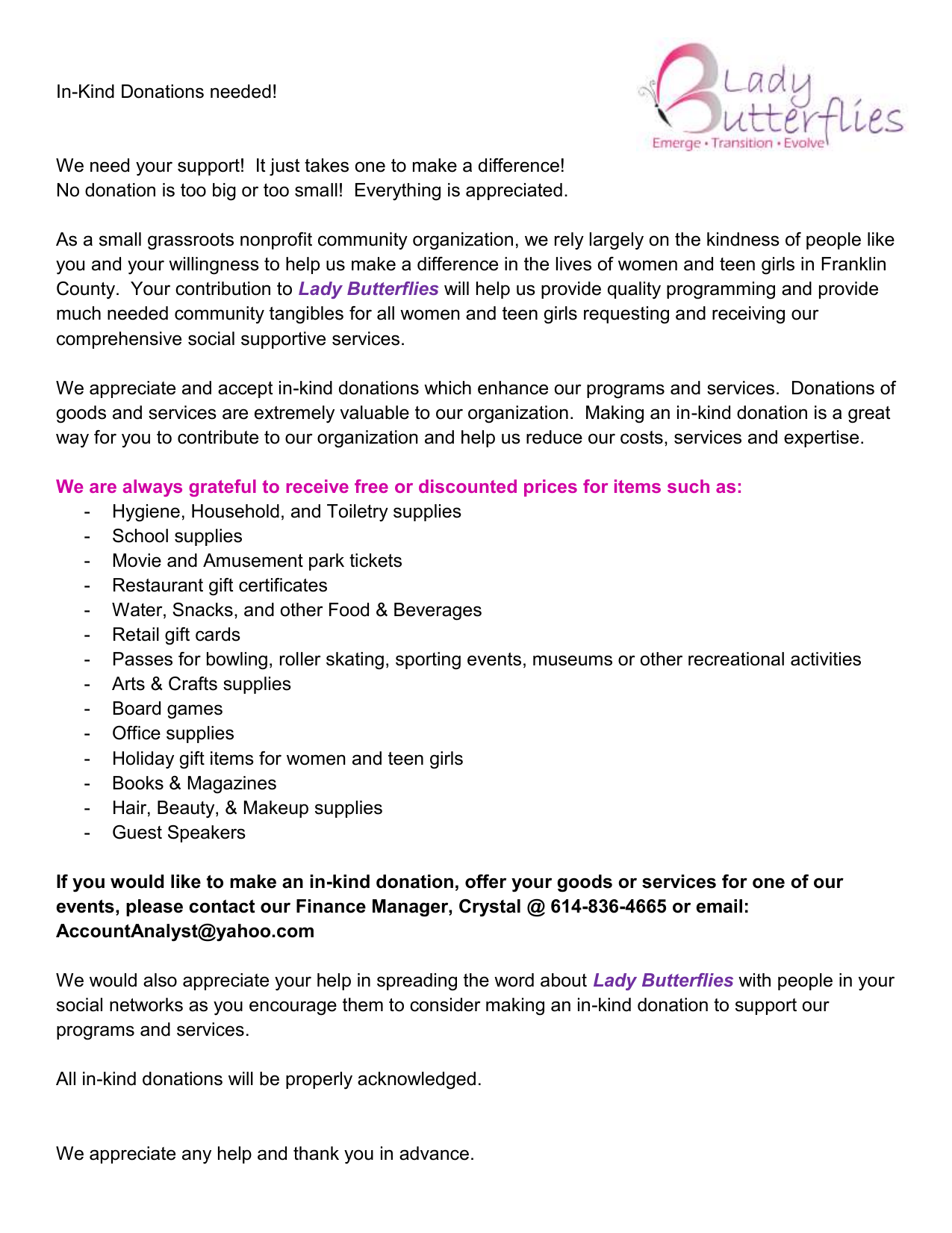 In-Kind Donations needed!
We need your support! It just takes one to make a difference!
No donation is too big or too small! Everything is appreciated.
As a small grassroots nonprofit community organization, we rely largely on the kindness of people like
you and your willingness to help us make a difference in the lives of women and teen girls in Franklin
County. Your contribution to Lady Butterflies will help us provide quality programming and provide
much needed community tangibles for all women and teen girls requesting and receiving our
comprehensive social supportive services.
We appreciate and accept in-kind donations which enhance our programs and services. Donations of
goods and services are extremely valuable to our organization. Making an in-kind donation is a great
way for you to contribute to our organization and help us reduce our costs, services and expertise.
We are always grateful to receive free or discounted prices for items such as:
- Hygiene, Household, and Toiletry supplies
- School supplies
- Movie and Amusement park tickets
- Restaurant gift certificates
- Water, Snacks, and other Food & Beverages
- Retail gift cards
- Passes for bowling, roller skating, sporting events, museums or other recreational activities
- Arts & Crafts supplies
- Board games
- Office supplies
- Holiday gift items for women and teen girls
- Books & Magazines
- Hair, Beauty, & Makeup supplies
- Guest Speakers
If you would like to make an in-kind donation, offer your goods or services for one of our
events, please contact our Finance Manager, Crystal @ 614-836-4665 or email:
[email protected]
We would also appreciate your help in spreading the word about Lady Butterflies with people in your
social networks as you encourage them to consider making an in-kind donation to support our
programs and services.
All in-kind donations will be properly acknowledged.
We appreciate any help and thank you in advance.