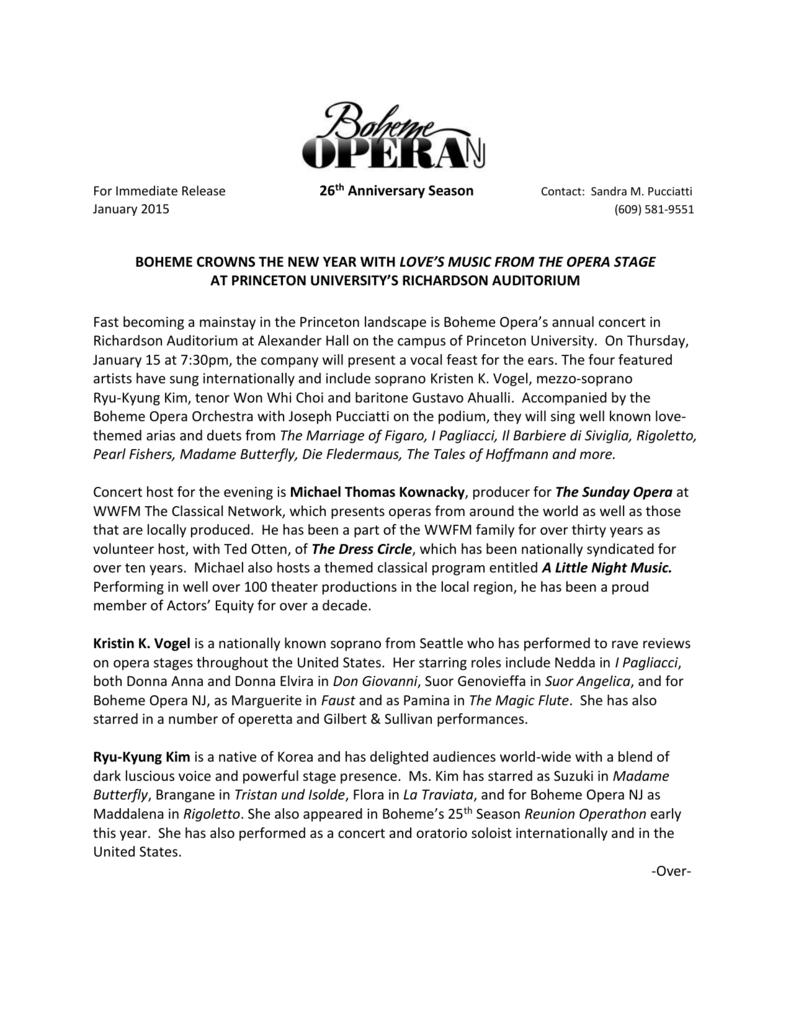 For Immediate Release
January 2015
26th Anniversary Season
Contact: Sandra M. Pucciatti
(609) 581-9551
BOHEME CROWNS THE NEW YEAR WITH LOVE'S MUSIC FROM THE OPERA STAGE
AT PRINCETON UNIVERSITY'S RICHARDSON AUDITORIUM
Fast becoming a mainstay in the Princeton landscape is Boheme Opera's annual concert in
Richardson Auditorium at Alexander Hall on the campus of Princeton University. On Thursday,
January 15 at 7:30pm, the company will present a vocal feast for the ears. The four featured
artists have sung internationally and include soprano Kristen K. Vogel, mezzo-soprano
Ryu-Kyung Kim, tenor Won Whi Choi and baritone Gustavo Ahualli. Accompanied by the
Boheme Opera Orchestra with Joseph Pucciatti on the podium, they will sing well known lovethemed arias and duets from The Marriage of Figaro, I Pagliacci, Il Barbiere di Siviglia, Rigoletto,
Pearl Fishers, Madame Butterfly, Die Fledermaus, The Tales of Hoffmann and more.
Concert host for the evening is Michael Thomas Kownacky, producer for The Sunday Opera at
WWFM The Classical Network, which presents operas from around the world as well as those
that are locally produced. He has been a part of the WWFM family for over thirty years as
volunteer host, with Ted Otten, of The Dress Circle, which has been nationally syndicated for
over ten years. Michael also hosts a themed classical program entitled A Little Night Music.
Performing in well over 100 theater productions in the local region, he has been a proud
member of Actors' Equity for over a decade.
Kristin K. Vogel is a nationally known soprano from Seattle who has performed to rave reviews
on opera stages throughout the United States. Her starring roles include Nedda in I Pagliacci,
both Donna Anna and Donna Elvira in Don Giovanni, Suor Genovieffa in Suor Angelica, and for
Boheme Opera NJ, as Marguerite in Faust and as Pamina in The Magic Flute. She has also
starred in a number of operetta and Gilbert & Sullivan performances.
Ryu-Kyung Kim is a native of Korea and has delighted audiences world-wide with a blend of
dark luscious voice and powerful stage presence. Ms. Kim has starred as Suzuki in Madame
Butterfly, Brangane in Tristan und Isolde, Flora in La Traviata, and for Boheme Opera NJ as
Maddalena in Rigoletto. She also appeared in Boheme's 25th Season Reunion Operathon early
this year. She has also performed as a concert and oratorio soloist internationally and in the
United States.
-Over-
Boheme Opera Love's Music Concert Press Release
Continued
Page 2
Won Whi Choi is also a native of Korea whose current season includes the roles of Rodolfo in
La Boheme, Edgardo in Lucia Di Lammermoor and the Duke of Mantua in Rigoletto. His past
leading roles include Hoffman in The Tales of Hoffman, Alfredo in La Traviata and Don Jose in
Carmen. He has also performed internationally as a concert and oratorio soloist.
Gustavo Ahualli is a native of Argentina who has delighted audiences throughout the world
with his rich, powerful voice. His leading roles include Escamillo in Carmen, Malatesta in Don
Pasquale, Enrico in Lucia Di Lammermoor, the title role in Don Giovanni, both the Count and
Figaro in The Marriage of Figaro, both Marcello and Schaunard in La Boheme, Figaro in
The Barber of Seville and many Verdi baritone roles.
Tickets for Love's Music from the Opera Stage at Richardson Auditorium are available online
24/7 throughout the holiday season at www.princeton.edu/utickets or through the homepage
link on www.bohemeopera.com. Starting January 5, tickets are available as well by phone
through Princeton University Ticketing at (609) 258-9220, M-F, 10am-6pm, or in person at Frist
Campus Center Box Office, 100 Level, directly across the hall from the Welcome Desk. The
Center is located on Washington Road, between Prospect Avenue and Ivy Lane.
For the first time in 12 years, on April 24 and 26, Boheme Opera will present Giacomo Puccini's
iconic La Boheme. This fully-staged new production by New York director Eric Gibson, to be
performed at TCNJ's Kendall Main Stage Theater, will feature an almost all-debut cast, the
Boheme Opera Orchestra and Chorus, a Children's Chorus assembled from Princeton's Stuart
Country Day School of the Sacred Heart, and more innovative digital sets by J. Matthew Root.
For details on the concert and main stage production, as well as a listing of BONJ's additional
outreach events, visit www.bohemeopera.com.
Major support for Boheme Opera NJ programs is made possible by a grant from the New Jersey
State Council on the Arts/Department of State, Roma Bank Community Foundation and
Boheme Opera Guild, Inc.