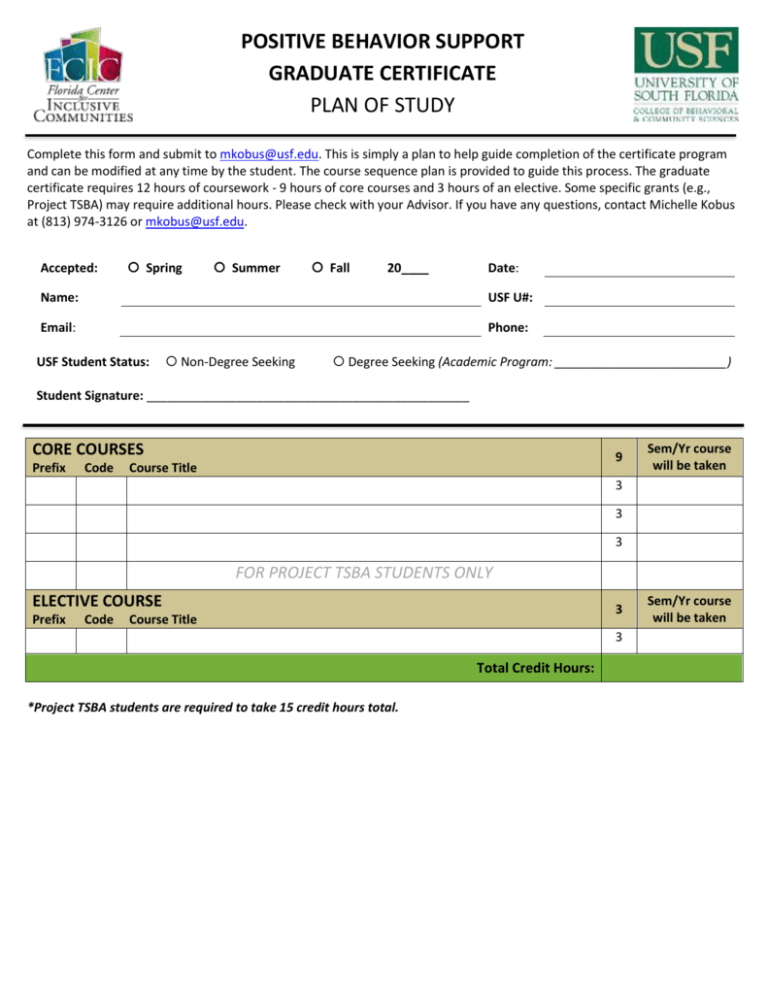 POSITIVE BEHAVIOR SUPPORT
GRADUATE CERTIFICATE
PLAN OF STUDY
Complete this form and submit to mkobus@usf.edu. This is simply a plan to help guide completion of the certificate program
and can be modified at any time by the student. The course sequence plan is provided to guide this process. The graduate
certificate requires 12 hours of coursework - 9 hours of core courses and 3 hours of an elective. Some specific grants (e.g.,
Project TSBA) may require additional hours. Please check with your Advisor. If you have any questions, contact Michelle Kobus
at (813) 974-3126 or mkobus@usf.edu.
Accepted:
 Spring
 Summer
 Fall
20____
Date:
Name:
USF U#:
Email:
Phone:
USF Student Status:
 Non-Degree Seeking
 Degree Seeking (Academic Program: _________________________)
Student Signature: _______________________________________________
CORE COURSES
Prefix
Code
9
Course Title
Sem/Yr course
will be taken
3
3
3
FOR PROJECT TSBA STUDENTS ONLY
ELECTIVE COURSE
Prefix
Code
3
Course Title
3
Total Credit Hours:
*Project TSBA students are required to take 15 credit hours total.
Sem/Yr course
will be taken
POSITIVE BEHAVIOR SUPPORT
GRADUATE CERTIFICATE
COURSE SEQUENCE & ELECTIVES
CORE COURSE SEQUENCE
SPRING MHS 6410: Intensive Individualized Positive Behavior Support
MHS 6605: Addressing Behavior Challenges in Young Children (Prerequisites: MHS 4202 or MHS 6410)
SUMMER AND/OR
MHS 6608: School-Wide Positive Behavior Support
MHS 6607: Behavior Consultation and Collaborative Systems Change (Prerequisites: MHS 6605 or MHS 6608)
FALL
EDG 6931: Observational Methods and Functional Assessment* (ABA students only)
PRE-APPROVED ELECTIVE COURSES (Course availability subject to change without notice)
EBD
EEX
EEX
EEX
EEX
MHS
MHS
MHS
MHS
MHS
MHS
MHS
MHS
PHC
PHC
PHC
PHC
SOW
SOW
6246
6025
6234
6248
6767
6068
6095
6097
6201
6508
6645
6900
6901
6240
6539
6543
6728
6126
6348
Educating Students with Autism
Trends and Issues in Special Education
Identifying & Assessing Intellectual Disabilities & ASD
Instructional Approach for Exceptional Populations
Assistive Technology for Students with Low Incidence
Community Based BH Interventions for Diverse Youth
Family-Centered Interdisciplinary Practices
Financing Mental Health Systems
ABA in Complex Community Environments* (ABA students only)
Wraparound Interventions and the System of Care
Mental Health Informatics
Behavior Analysis and Developmental Disabilities* (ABA students only)
Independent Study in Mental Health
Cultural Competency in Children's Mental Health
Foundations in Adolescent Behavioral Health
Foundations in Behavioral Health Systems
Translational Research Methods in Adolescent Behavioral Health
Health Illness & Disability
Clinical Practice Perspectives on Race and Culture
4th Core Course
3
3
3
3
3
3
3
3
3
3
3
3
1-4
3
3
3
3
3
3
3
*Project TSBA students will take EDG 6931 in lieu of MHS 6410 for a core course and are required to take both summer
courses (MHS 6605 and MHS 6608) as well as MHS 6607. MHS 6201 or MHS 6900 will count for the elective.
*Project ABA students will take the following core courses: EDG 6931 in lieu of MHS 6410, MHS 6608 and MHS 6607. MHS
6900: Behavior Analysis and DD will count for the elective requirement.