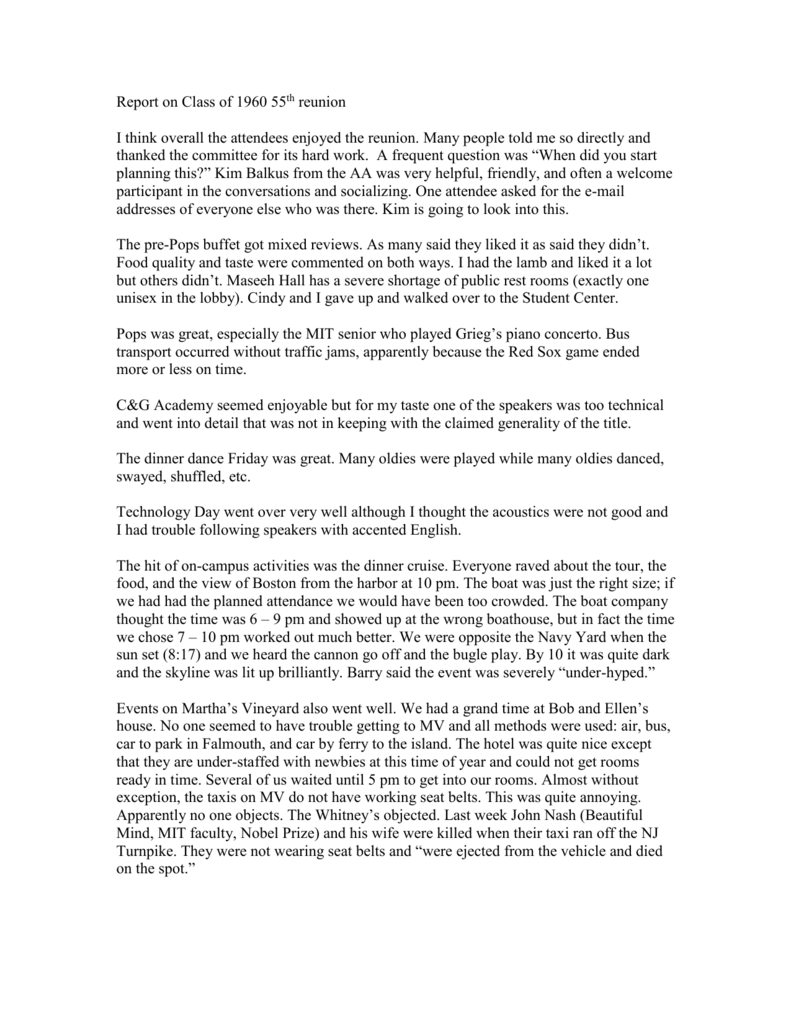 Report on Class of 1960 55th reunion
I think overall the attendees enjoyed the reunion. Many people told me so directly and
thanked the committee for its hard work. A frequent question was "When did you start
planning this?" Kim Balkus from the AA was very helpful, friendly, and often a welcome
participant in the conversations and socializing. One attendee asked for the e-mail
addresses of everyone else who was there. Kim is going to look into this.
The pre-Pops buffet got mixed reviews. As many said they liked it as said they didn't.
Food quality and taste were commented on both ways. I had the lamb and liked it a lot
but others didn't. Maseeh Hall has a severe shortage of public rest rooms (exactly one
unisex in the lobby). Cindy and I gave up and walked over to the Student Center.
Pops was great, especially the MIT senior who played Grieg's piano concerto. Bus
transport occurred without traffic jams, apparently because the Red Sox game ended
more or less on time.
C&G Academy seemed enjoyable but for my taste one of the speakers was too technical
and went into detail that was not in keeping with the claimed generality of the title.
The dinner dance Friday was great. Many oldies were played while many oldies danced,
swayed, shuffled, etc.
Technology Day went over very well although I thought the acoustics were not good and
I had trouble following speakers with accented English.
The hit of on-campus activities was the dinner cruise. Everyone raved about the tour, the
food, and the view of Boston from the harbor at 10 pm. The boat was just the right size; if
we had had the planned attendance we would have been too crowded. The boat company
thought the time was 6 – 9 pm and showed up at the wrong boathouse, but in fact the time
we chose 7 – 10 pm worked out much better. We were opposite the Navy Yard when the
sun set (8:17) and we heard the cannon go off and the bugle play. By 10 it was quite dark
and the skyline was lit up brilliantly. Barry said the event was severely "under-hyped."
Events on Martha's Vineyard also went well. We had a grand time at Bob and Ellen's
house. No one seemed to have trouble getting to MV and all methods were used: air, bus,
car to park in Falmouth, and car by ferry to the island. The hotel was quite nice except
that they are under-staffed with newbies at this time of year and could not get rooms
ready in time. Several of us waited until 5 pm to get into our rooms. Almost without
exception, the taxis on MV do not have working seat belts. This was quite annoying.
Apparently no one objects. The Whitney's objected. Last week John Nash (Beautiful
Mind, MIT faculty, Nobel Prize) and his wife were killed when their taxi ran off the NJ
Turnpike. They were not wearing seat belts and "were ejected from the vehicle and died
on the spot."
Our survey told us that people wanted to socialize, and our response, to have few
scheduled events except those that provided opportunities to meet and talk, was
obviously the correct one. Talking, shouting, hugging, kissing, laughing, and story-telling
were non-stop: about careers, war-stories, breaking no-women-in-the-room rules, solving
allegedly insoluble problems, getting fired, getting even, etc.
I was struck by the large percent of attendees, either husbands or wives, who were infirm
or even seriously infirm, a much bigger percent than 5 years ago. The causes could be
many (for example, more infirm classmates had the urge to attend because they feel they
may not last to the next one) but the implication is clear: this is how future reunions will
be, and we have to plan accordingly. Stairs, long ramps, entry into and departure from
buses which all have steep, narrow, winding stairs, stacked plastic milk crates to board
the cruise boat, all will present increasingly serious challenges. We should consider extra
time for comings and goings. Because the cruise boat was at the sailing pavilion instead
of the boat house, we had to cross both sides of Memorial Drive. Luckily there was an
MIT police officer nearby who stopped traffic for us. I should say, however, that no one
complained.