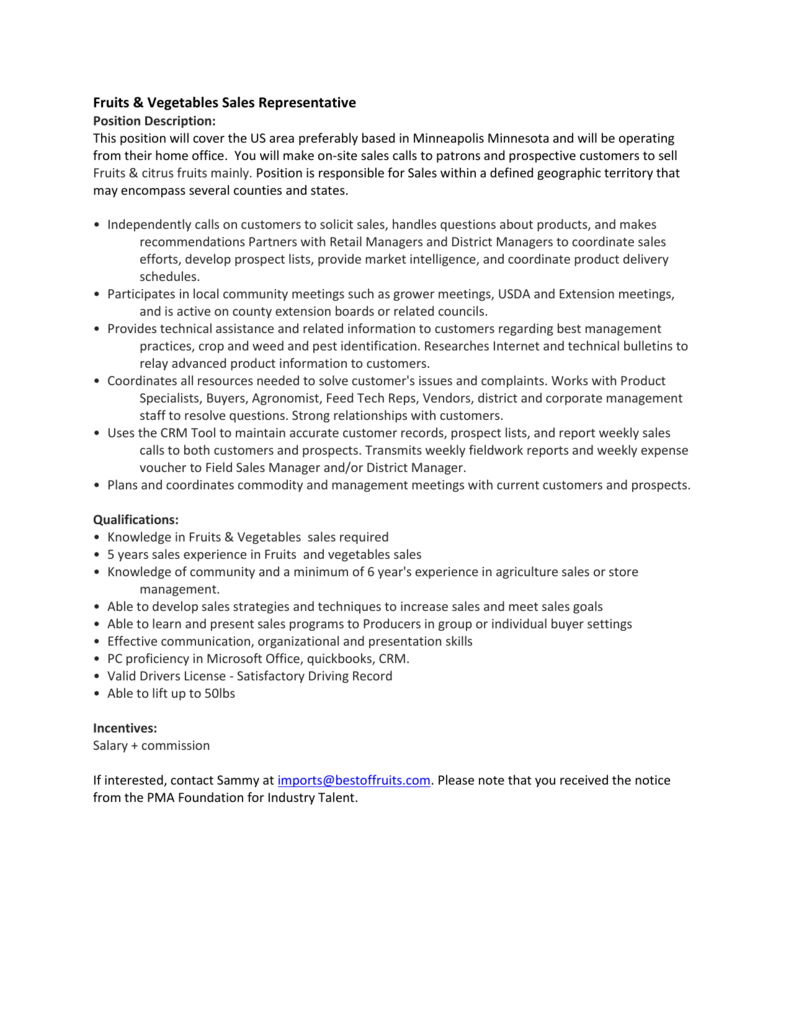 Fruits & Vegetables Sales Representative
Position Description:
This position will cover the US area preferably based in Minneapolis Minnesota and will be operating
from their home office. You will make on-site sales calls to patrons and prospective customers to sell
Fruits & citrus fruits mainly. Position is responsible for Sales within a defined geographic territory that
may encompass several counties and states.
• Independently calls on customers to solicit sales, handles questions about products, and makes
recommendations Partners with Retail Managers and District Managers to coordinate sales
efforts, develop prospect lists, provide market intelligence, and coordinate product delivery
schedules.
• Participates in local community meetings such as grower meetings, USDA and Extension meetings,
and is active on county extension boards or related councils.
• Provides technical assistance and related information to customers regarding best management
practices, crop and weed and pest identification. Researches Internet and technical bulletins to
relay advanced product information to customers.
• Coordinates all resources needed to solve customer's issues and complaints. Works with Product
Specialists, Buyers, Agronomist, Feed Tech Reps, Vendors, district and corporate management
staff to resolve questions. Strong relationships with customers.
• Uses the CRM Tool to maintain accurate customer records, prospect lists, and report weekly sales
calls to both customers and prospects. Transmits weekly fieldwork reports and weekly expense
voucher to Field Sales Manager and/or District Manager.
• Plans and coordinates commodity and management meetings with current customers and prospects.
Qualifications:
• Knowledge in Fruits & Vegetables sales required
• 5 years sales experience in Fruits and vegetables sales
• Knowledge of community and a minimum of 6 year's experience in agriculture sales or store
management.
• Able to develop sales strategies and techniques to increase sales and meet sales goals
• Able to learn and present sales programs to Producers in group or individual buyer settings
• Effective communication, organizational and presentation skills
• PC proficiency in Microsoft Office, quickbooks, CRM.
• Valid Drivers License - Satisfactory Driving Record
• Able to lift up to 50lbs
Incentives:
Salary + commission
If interested, contact Sammy at [email protected] Please note that you received the notice
from the PMA Foundation for Industry Talent.