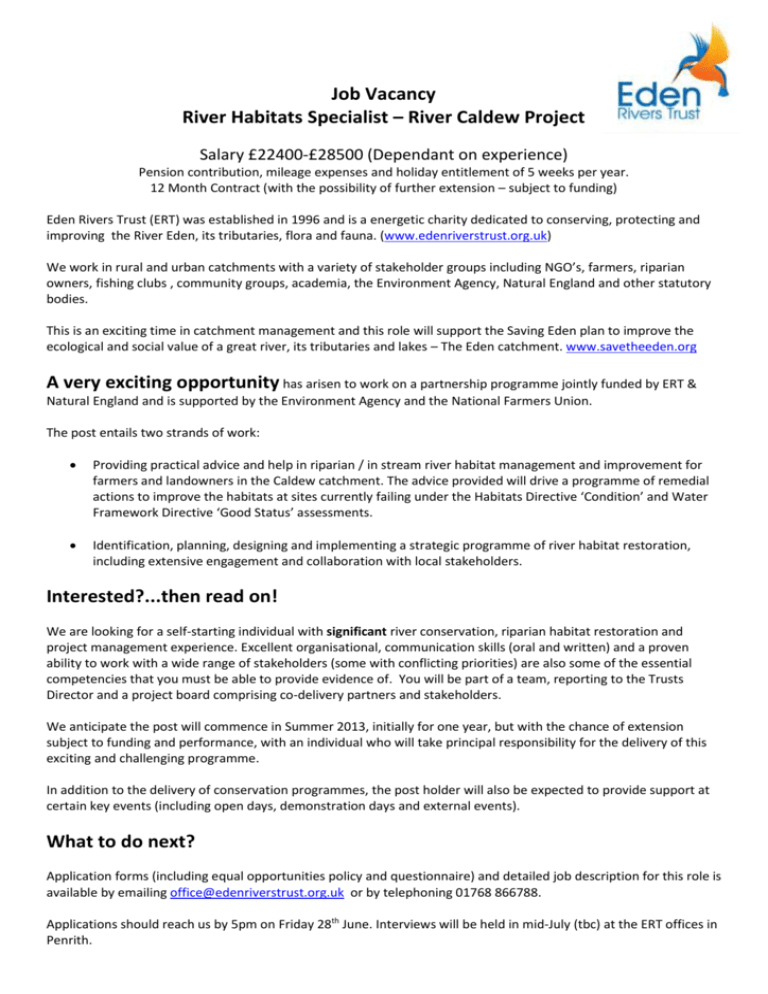 Job Vacancy
River Habitats Specialist – River Caldew Project
Salary £22400-£28500 (Dependant on experience)
Pension contribution, mileage expenses and holiday entitlement of 5 weeks per year.
12 Month Contract (with the possibility of further extension – subject to funding)
Eden Rivers Trust (ERT) was established in 1996 and is a energetic charity dedicated to conserving, protecting and
improving the River Eden, its tributaries, flora and fauna. (www.edenriverstrust.org.uk)
We work in rural and urban catchments with a variety of stakeholder groups including NGO's, farmers, riparian
owners, fishing clubs , community groups, academia, the Environment Agency, Natural England and other statutory
bodies.
This is an exciting time in catchment management and this role will support the Saving Eden plan to improve the
ecological and social value of a great river, its tributaries and lakes – The Eden catchment. www.savetheeden.org
A very exciting opportunity has arisen to work on a partnership programme jointly funded by ERT &
Natural England and is supported by the Environment Agency and the National Farmers Union.
The post entails two strands of work:

Providing practical advice and help in riparian / in stream river habitat management and improvement for
farmers and landowners in the Caldew catchment. The advice provided will drive a programme of remedial
actions to improve the habitats at sites currently failing under the Habitats Directive 'Condition' and Water
Framework Directive 'Good Status' assessments.

Identification, planning, designing and implementing a strategic programme of river habitat restoration,
including extensive engagement and collaboration with local stakeholders.
Interested?...then read on!
We are looking for a self-starting individual with significant river conservation, riparian habitat restoration and
project management experience. Excellent organisational, communication skills (oral and written) and a proven
ability to work with a wide range of stakeholders (some with conflicting priorities) are also some of the essential
competencies that you must be able to provide evidence of. You will be part of a team, reporting to the Trusts
Director and a project board comprising co-delivery partners and stakeholders.
We anticipate the post will commence in Summer 2013, initially for one year, but with the chance of extension
subject to funding and performance, with an individual who will take principal responsibility for the delivery of this
exciting and challenging programme.
In addition to the delivery of conservation programmes, the post holder will also be expected to provide support at
certain key events (including open days, demonstration days and external events).
What to do next?
Application forms (including equal opportunities policy and questionnaire) and detailed job description for this role is
available by emailing [email protected] or by telephoning 01768 866788.
Applications should reach us by 5pm on Friday 28th June. Interviews will be held in mid-July (tbc) at the ERT offices in
Penrith.