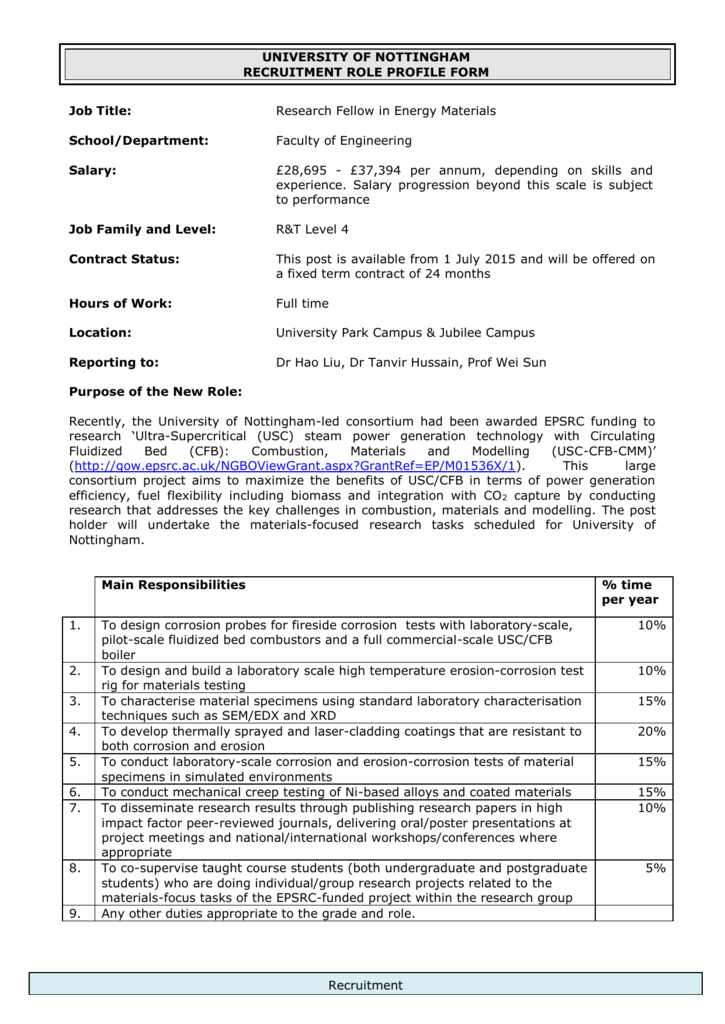 UNIVERSITY OF NOTTINGHAM
RECRUITMENT ROLE PROFILE FORM
Job Title:
Research Fellow in Energy Materials
School/Department:
Faculty of Engineering
Salary:
£28,695 - £37,394 per annum, depending on skills and
experience. Salary progression beyond this scale is subject
to performance
Job Family and Level:
R&T Level 4
Contract Status:
This post is available from 1 July 2015 and will be offered on
a fixed term contract of 24 months
Hours of Work:
Full time
Location:
University Park Campus & Jubilee Campus
Reporting to:
Dr Hao Liu, Dr Tanvir Hussain, Prof Wei Sun
Purpose of the New Role:
Recently, the University of Nottingham-led consortium had been awarded EPSRC funding to
research 'Ultra-Supercritical (USC) steam power generation technology with Circulating
Fluidized
Bed
(CFB):
Combustion,
Materials
and
Modelling
(USC-CFB-CMM)'
(http://gow.epsrc.ac.uk/NGBOViewGrant.aspx?GrantRef=EP/M01536X/1).
This
large
consortium project aims to maximize the benefits of USC/CFB in terms of power generation
efficiency, fuel flexibility including biomass and integration with CO 2 capture by conducting
research that addresses the key challenges in combustion, materials and modelling. The post
holder will undertake the materials-focused research tasks scheduled for University of
Nottingham.
Main Responsibilities
1.
2.
3.
4.
5.
6.
7.
8.
9.
% time
per year
To design corrosion probes for fireside corrosion tests with laboratory-scale,
pilot-scale fluidized bed combustors and a full commercial-scale USC/CFB
boiler
To design and build a laboratory scale high temperature erosion-corrosion test
rig for materials testing
To characterise material specimens using standard laboratory characterisation
techniques such as SEM/EDX and XRD
To develop thermally sprayed and laser-cladding coatings that are resistant to
both corrosion and erosion
To conduct laboratory-scale corrosion and erosion-corrosion tests of material
specimens in simulated environments
To conduct mechanical creep testing of Ni-based alloys and coated materials
To disseminate research results through publishing research papers in high
impact factor peer-reviewed journals, delivering oral/poster presentations at
project meetings and national/international workshops/conferences where
appropriate
To co-supervise taught course students (both undergraduate and postgraduate
students) who are doing individual/group research projects related to the
materials-focus tasks of the EPSRC-funded project within the research group
Any other duties appropriate to the grade and role.
Recruitment
10%
10%
15%
20%
15%
15%
10%
5%
Knowledge, Skills, Qualifications & Experience
Qualifications/
Education
Skills/Training
Essential
PhD or equivalent in areas relevant to
high temperature materials, surface
engineering,
materials
characterisation and/ or mechanical
testing.
Excellent
hands-on
skills
in
a
laboratory environment
Desirable
PhD or equivalent in areas
relevant to power plant materials
Good
understanding
of
surface
engineering,
high
temperature
materials and/ or mechanical testing
Skills
in
designing
high
temperature
corrosion
and/or
erosion-corrosion test rigs
Skills in designing material testing
probes
Good understanding of materials and
coatings
required
for
ultrasupercritical power plants
Experience
Experience in conducting material
characterisation using SEM/ EDX,
XRD, TGA etc.
Specific experience in testing
power plant materials in fireside
corrosion and erosion- corrosion.
Practical operational experience with
high temperature test facilities and
coating deposition techniques.
Experience in developing
thermally sprayed coatings and
laser cladded coatings for power
plant applications.
Relevant postdoctoral research
experience.
Experience in delivering presentations
at national/international consortium
meetings, workshops or conferences.
Personal
attributes
Experience in publishing research
results in peer-reviewed journals (a
minimum of three published/accepted
SCI-journal papers over the past
three years) .
Good organisation skills.
Experience in writing grant
proposals.
Self-motivating and ability to
work with minimum supervision.
Good interpersonal skills and team
working.
Ability to take initiatives and
make effective plans
Good written and verbal
communication skills.
Ability to deliver according to
deadlines.
Decision Making
i)




ii)


taken independently by the role holder
Day-to-day research tasks' management and organisation.
Decisions regarding experimental design, undertaking experiments and analysis of
results.
Safe operating practices within laboratories.
Preparing draft reports, papers and presentations.
taken in collaboration with others
Modification and maintenance of fireside corrosion erosion-corrosion and creep test
facilities.
Design and construction of the erosion-corrosion test rig.



Application of thermally sprayed and laser cladding coatings in collaboration with
specialist senior technicians.
Purchase of small consumable items for experimentation.
Writing and submission of papers to academic journals/conferences, progress
reports/presentations and grant applications.
iii)
referred to the appropriate line managers (Dr Hao Liu, Dr Tanvir Hussain, Prof Wei
Sun) by the role holder
 Decisions affecting the long-term focus and direction of the research.
 Interactions with industrial partners and other stakeholders than the academic partners
of the project.
 Purchase of larger items of consumables/equipment and repair/service of any
equipment.