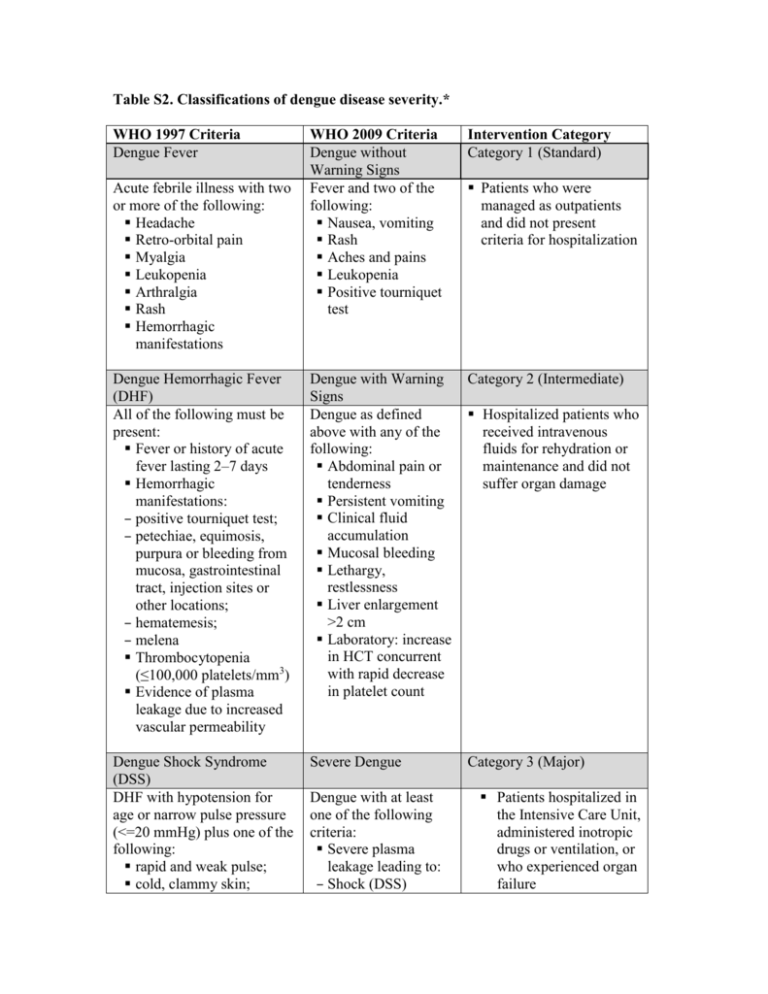 Table S2. Classifications of dengue disease severity.*
WHO 1997 Criteria
Dengue Fever
WHO 2009 Criteria
Dengue without
Warning Signs
Fever and two of the
following:
 Nausea, vomiting
 Rash
 Aches and pains
 Leukopenia
 Positive tourniquet
test
Intervention Category
Category 1 (Standard)
Dengue Hemorrhagic Fever
(DHF)
All of the following must be
present:
 Fever or history of acute
fever lasting 2–7 days
 Hemorrhagic
manifestations:
– positive tourniquet test;
– petechiae, equimosis,
purpura or bleeding from
mucosa, gastrointestinal
tract, injection sites or
other locations;
– hematemesis;
– melena
 Thrombocytopenia
(≤100,000 platelets/mm3)
 Evidence of plasma
leakage due to increased
vascular permeability
Dengue with Warning
Signs
Dengue as defined
above with any of the
following:
 Abdominal pain or
tenderness
 Persistent vomiting
 Clinical fluid
accumulation
 Mucosal bleeding
 Lethargy,
restlessness
 Liver enlargement
>2 cm
 Laboratory: increase
in HCT concurrent
with rapid decrease
in platelet count
Category 2 (Intermediate)
Dengue Shock Syndrome
(DSS)
DHF with hypotension for
age or narrow pulse pressure
(<=20 mmHg) plus one of the
following:
 rapid and weak pulse;
 cold, clammy skin;
Severe Dengue
Category 3 (Major)
Acute febrile illness with two
or more of the following:
 Headache
 Retro-orbital pain
 Myalgia
 Leukopenia
 Arthralgia
 Rash
 Hemorrhagic
manifestations
Dengue with at least
one of the following
criteria:
 Severe plasma
leakage leading to:
– Shock (DSS)
 Patients who were
managed as outpatients
and did not present
criteria for hospitalization
 Hospitalized patients who
received intravenous
fluids for rehydration or
maintenance and did not
suffer organ damage
 Patients hospitalized in
the Intensive Care Unit,
administered inotropic
drugs or ventilation, or
who experienced organ
failure
 restlessness;
 poor capillary refill (>2
sec)
– Fluid accumulation
with respiratory
distress
 Severe bleeding as
evaluated by
clinician
 Severe organ
involvement
– Liver: AST or
ALT≥1000 IU
– CNS: impaired
consciousness
– Failure of heart and
other organs
*In this study, severe and mild dengue were defined as follows: for the WHO 1997
classification, mild dengue was defined as DF and severe dengue was defined as DHF or
DSS. For the WHO 2009 classification, mild dengue was defined as dengue with or
without warning signs and severe dengue was defined verbatim. For the standardized
intervention categories, mild dengue was defined as intervention category (IC) 1/IC 2
care and severe dengue was defined as IC 3 care.