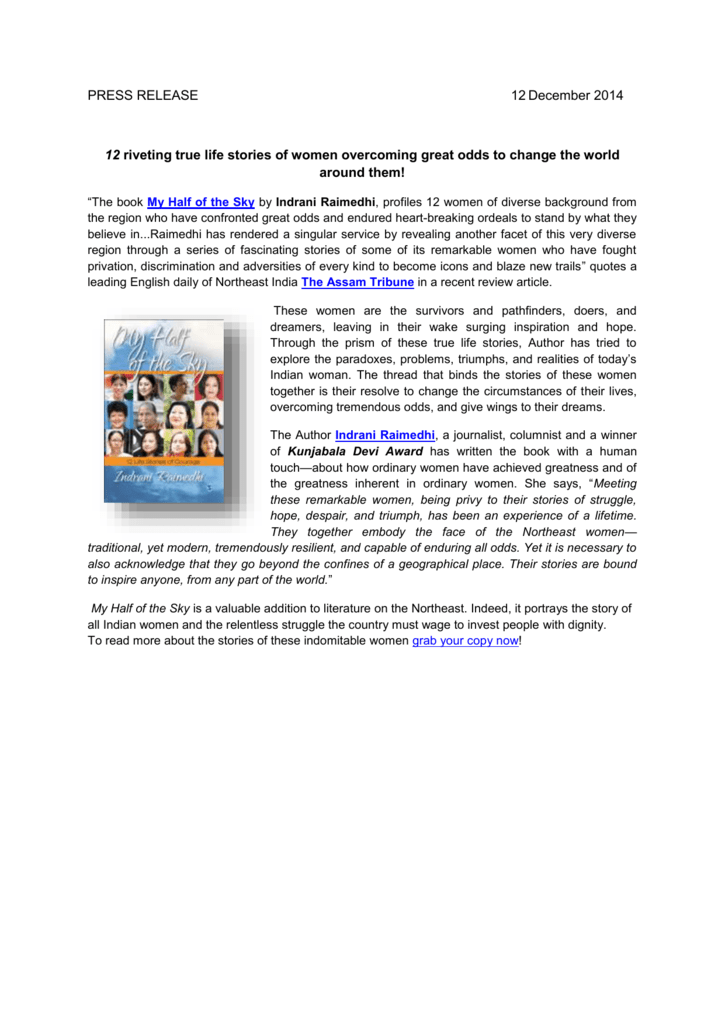 PRESS RELEASE
12 December 2014
12 riveting true life stories of women overcoming great odds to change the world
around them!
"The book My Half of the Sky by Indrani Raimedhi, profiles 12 women of diverse background from
the region who have confronted great odds and endured heart-breaking ordeals to stand by what they
believe in...Raimedhi has rendered a singular service by revealing another facet of this very diverse
region through a series of fascinating stories of some of its remarkable women who have fought
privation, discrimination and adversities of every kind to become icons and blaze new trails" quotes a
leading English daily of Northeast India The Assam Tribune in a recent review article.
These women are the survivors and pathfinders, doers, and
dreamers, leaving in their wake surging inspiration and hope.
Through the prism of these true life stories, Author has tried to
explore the paradoxes, problems, triumphs, and realities of today's
Indian woman. The thread that binds the stories of these women
together is their resolve to change the circumstances of their lives,
overcoming tremendous odds, and give wings to their dreams.
The Author Indrani Raimedhi, a journalist, columnist and a winner
of Kunjabala Devi Award has written the book with a human
touch—about how ordinary women have achieved greatness and of
the greatness inherent in ordinary women. She says, "Meeting
these remarkable women, being privy to their stories of struggle,
hope, despair, and triumph, has been an experience of a lifetime.
They together embody the face of the Northeast women—
traditional, yet modern, tremendously resilient, and capable of enduring all odds. Yet it is necessary to
also acknowledge that they go beyond the confines of a geographical place. Their stories are bound
to inspire anyone, from any part of the world."
My Half of the Sky is a valuable addition to literature on the Northeast. Indeed, it portrays the story of
all Indian women and the relentless struggle the country must wage to invest people with dignity.
To read more about the stories of these indomitable women grab your copy now!