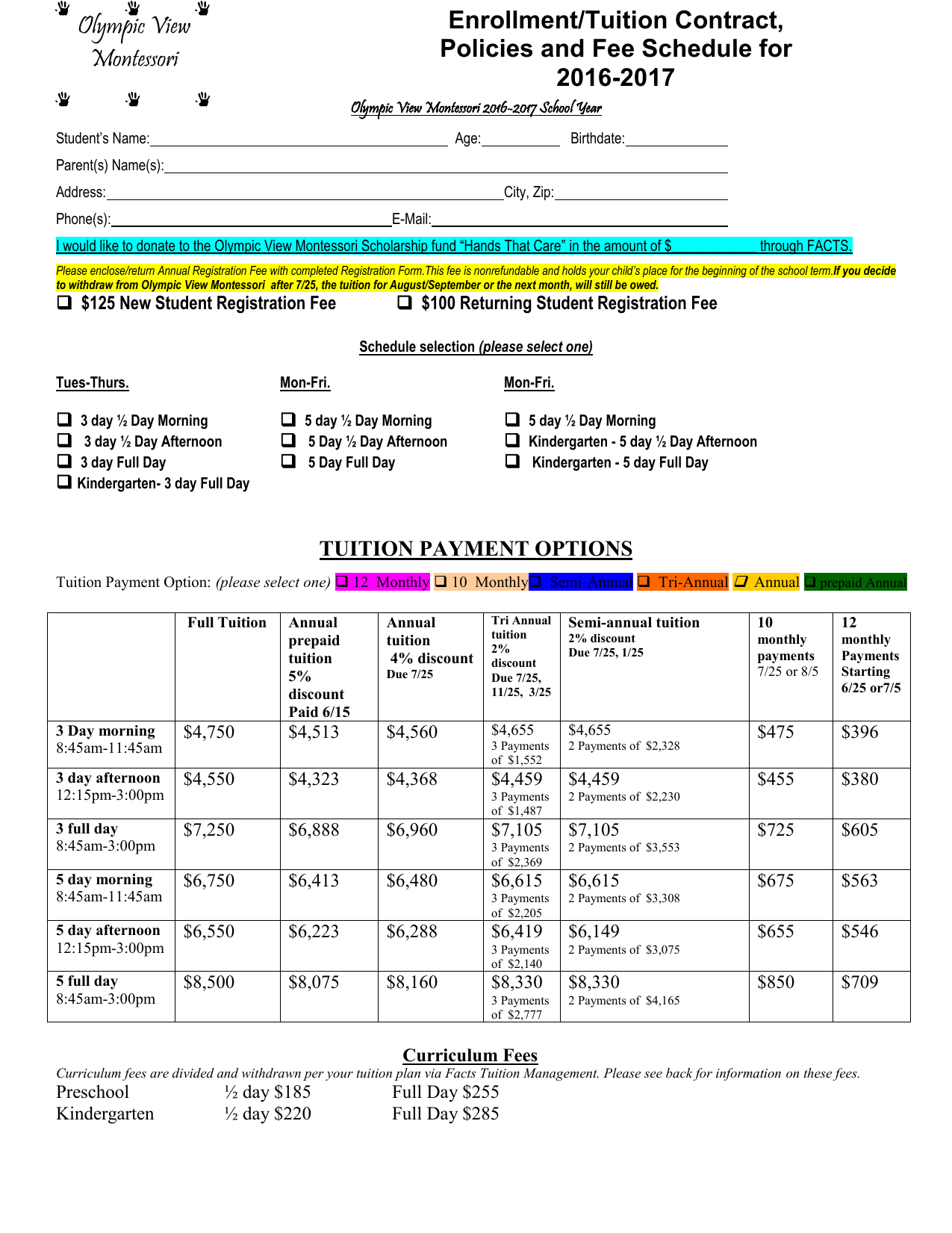 Enrollment/Tuition Contract,
Policies and Fee Schedule for
2016-2017
Olympic
View
Montessori
Olympic View Montessori 2016-2017 School Year
Student's Name:
Age:
Birthdate:
Parent(s) Name(s):
Address:
City, Zip:
Phone(s):
E-Mail:
I would like to donate to the Olympic View Montessori Scholarship fund "Hands That Care" in the amount of $____________ through FACTS.
Please enclose/return Annual Registration Fee with completed Registration Form.This fee is nonrefundable and holds your child's place for the beginning of the school term.If you decide
to withdraw from Olympic View Montessori after 7/25, the tuition for August/September or the next month, will still be owed.
 $125 New Student Registration Fee
 $100 Returning Student Registration Fee
Schedule selection (please select one)
Tues-Thurs.
Mon-Fri.
Mon-Fri.
 3 day ½ Day Morning
 3 day ½ Day Afternoon
 3 day Full Day
 Kindergarten- 3 day Full Day
 5 day ½ Day Morning
 5 Day ½ Day Afternoon
 5 Day Full Day
 5 day ½ Day Morning
 Kindergarten - 5 day ½ Day Afternoon
 Kindergarten - 5 day Full Day

TUITION PAYMENT OPTIONS
Tuition Payment Option: (please select one)  12 Monthly  10 Monthly Semi-Annual  Tri-Annual  Annual  prepaid Annual
Full Tuition
Annual
prepaid
tuition
5%
discount
Paid 6/15
Annual
tuition
4% discount
Due 7/25
Tri Annual
tuition
2%
discount
Due 7/25,
11/25, 3/25
Semi-annual tuition
10
12
2% discount
Due 7/25, 1/25
monthly
payments
7/25 or 8/5
monthly
Payments
Starting
6/25 or7/5
$475
$396
$455
$380
$725
$605
$675
$563
$655
$546
$850
$709
3 Day morning
8:45am-11:45am
$4,750
$4,513
$4,560
$4,655
$4,655
3 Payments
of $1,552
2 Payments of $2,328
3 day afternoon
12:15pm-3:00pm
$4,550
$4,323
$4,368
$4,459
$4,459
3 Payments
of $1,487
2 Payments of $2,230
3 full day
8:45am-3:00pm
$7,250
$7,105
$7,105
3 Payments
of $2,369
2 Payments of $3,553
5 day morning
8:45am-11:45am
$6,750
$6,615
$6,615
3 Payments
of $2,205
2 Payments of $3,308
5 day afternoon
12:15pm-3:00pm
$6,550
$6,419
$6,149
3 Payments
of $2,140
2 Payments of $3,075
5 full day
8:45am-3:00pm
$8,500
$8,330
$8,330
3 Payments
of $2,777
2 Payments of $4,165
$6,888
$6,413
$6,223
$8,075
$6,960
$6,480
$6,288
$8,160
Curriculum Fees
Curriculum fees are divided and withdrawn per your tuition plan via Facts Tuition Management. Please see back for information on these fees.
Preschool
Kindergarten
1. Tuition Policy
½ day $185
½ day $220
Full Day $255
Full Day $285
For your convenience you may choose payment plans of Pre Paid Annual 5% discount, Annual with a 4% discount, Semi-Annual or Tri-Annual
(two or three times a year with at 2% discount),10 or 12 Monthly. The tuition schedule is based on an annual program, and payment amounts
are unrelated to the number of class days in a given month, holidays, absenteeism, vacations, etc. This approach insures a well-run program
for your child. Additional paperwork for enrollment will be sent before school begins.

OVMS provides flexibility to parents by offering the schedule choices listed above for our students. The three day program is Tuesday through
Thursday; the five-day program runs Monday through Friday. For Kindergarten, you may choose five ½ days or three or five full days.

Although OVMS does provide some flexibility to parents by offering the schedule choices, staffing ratios stipulated by DSHS and occupancy
limits set by Snohomish County prevent us from accommodating individual schedules other than these choices. OVMS cannot accept any
contract changes in the Tuition Agreement after March 1st, of any given school year.

To complete the enrollment process, families must register on Facts Tuition Management within 10 business days of confirmation of
enrollment. Failure to complete this process will result in loss of your child's enrollment. Please see How to Make Payments
2. Sibling Discount
When two children from one family are simultaneously enrolled at OVMS, a 10% discount will be applied to the second child's tuition. This discount
will only apply while both children are simultaneously attending OVMS. If the children's tuitions differ, the 10% discount will be applied to the lower
tuition amount. The Registration, Re-enrollment and Curriculum Fees are not subject to the sibling discount.
3. Curriculum Fee
The Curriculum Fee covers the field trip fees, snack fees, earthquake kit fee and materials fee. The Curriculum Fee is a per-child fee and depends upon
the program you have selected. The Curriculum Fee is withdrawn via Facts Tuition Management based on the payment schedule you select for tuition.
4. Registration Fee
To complete enrollment at OVMS the registration form must be submitted with $125 for a new student and $100 for a returning student, (this fee
includes the application fee for returning students). These fees are non-refundable.
5. Waiting List
If we do not have space available, we will put your child's name on our waiting list. We will call you as openings become available.
6. How to Make Payments
Once you are enrolled, you must register with Facts Tuition Management within 10 business days of enrollment. The link to register is
https://online.factsmgt.com/signin/3D7KS and is also located on our website. If registration is not completed and finalized within 10 business days,
the child(s) space will be released. All application and enrollment fees are non-refundable. All Curriculum fees and tuition fees are paid through this site
and automatically deposited into the school account. You have two choices of payment dates, the 25th or the 5th of the month.
7. Program Changes
If you change your child's program during the school year, there will be a one time charge of $50 and we will issue a new tuition agreement reflecting
those changes. For Semi/Tri-annual and Annual Payment Plans, changes in tuition, due to changes in program, will be prorated based on monthly
amounts calculated by OVMS. After March 1st, no program reductions (e.g., from full to half-days) will be allowed.
8. Withdrawals
Withdrawal is defined as the last day your child attends OVMS. Should it be necessary to withdraw your child, at least one month prior written notice is
required. If you withdraw your child prior to March 1st, pay tuition on a monthly basis, and OVMS receives a one-month written notice, your withdrawal
will be complete. If you should withdrawal your child after March 1st, the remaining yearly tuition is due in full. Any tuition due as a result of
early withdrawal that is not paid will be referred to our collection agency.
9. Late Pick-up
Pick-up time ends at 11:45am for morning departures, 3:00pm for afternoon and full day departures. You have until 11:55am and 3:10pm to pick up your
child. If you pick up your child after these times, there is a $1 per minute fee for every minute late after pick up time. Please consult the Parent
Handbook for pick up procedures.
10. Additional Charges
The only additional charges that you may incur during the school year will be for late pick-up, $25 for late payments and $30 for NSF checks. All fees will be added to
your next tuition payment via Facts Tuition Management, unless you pay annually, in which case these fees will be due in the form of a check upon receiving receipt of
payment due.
I/We ___________________________________the parents/guardian of _______________, hereby state that I/We have read, understand and will abide by the fees and
regulations of Olympic View Montessori as outlined in the Tuition Contract.
Name (print) of parent(s)/guardian(s) _________________________ Date
_________________________ Date____________
Signature of parent(s)/guardian(s) ____________________________Date____________
___________________________ Date____________
.