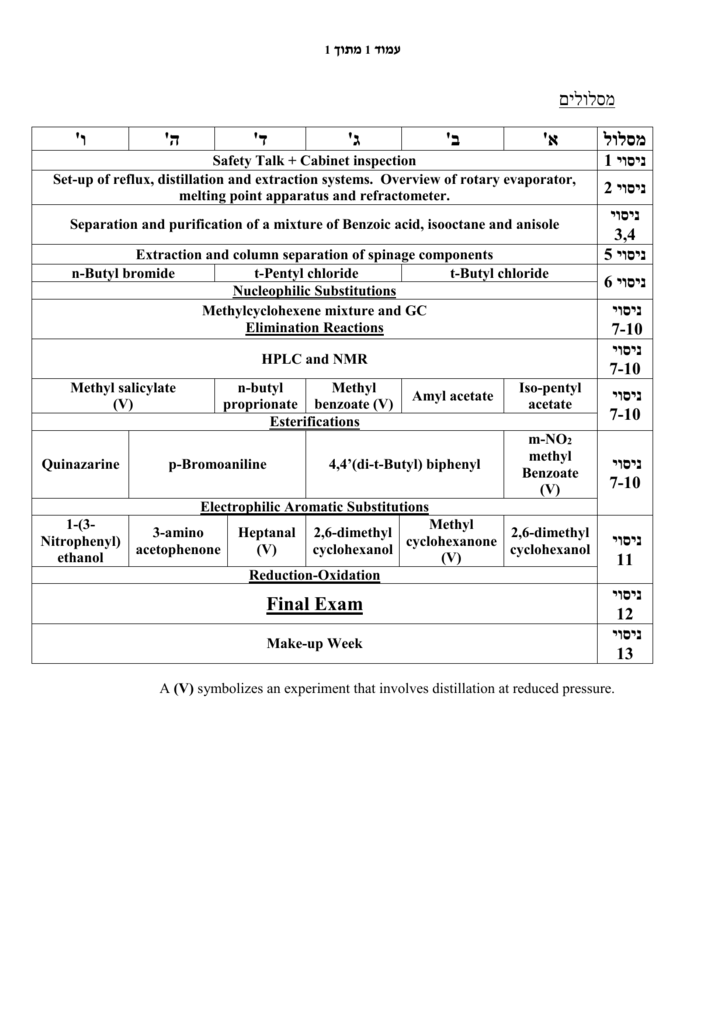 1 ‫ מתוך‬1 ‫עמוד‬
‫מסלולים‬
'‫ו‬
'‫ה‬
'‫ד‬
'‫ג‬
'‫ב‬
'‫א‬
Safety Talk + Cabinet inspection
Set-up of reflux, distillation and extraction systems. Overview of rotary evaporator,
melting point apparatus and refractometer.
Separation and purification of a mixture of Benzoic acid, isooctane and anisole
Extraction and column separation of spinage components
n-Butyl bromide
t-Pentyl chloride
t-Butyl chloride
Nucleophilic Substitutions
Methylcyclohexene mixture and GC
Elimination Reactions
HPLC and NMR
Methyl salicylate
(V)
Quinazarine
n-butyl
Methyl
proprionate benzoate (V)
Esterifications
p-Bromoaniline
Amyl acetate
4,4'(di-t-Butyl) biphenyl
‫מסלול‬
1 ‫ניסוי‬
2 ‫ניסוי‬
‫ניסוי‬
4,3
5 ‫ניסוי‬
6 ‫ניסוי‬
‫ניסוי‬
7-11
‫ניסוי‬
7-11
Iso-pentyl
acetate
‫ניסוי‬
7-11
m-NO2
methyl
Benzoate
(V)
‫ניסוי‬
7-11
Electrophilic Aromatic Substitutions
1-(3Nitrophenyl)
ethanol
3-amino
acetophenone
Methyl
2,6-dimethyl
2,6-dimethyl
cyclohexanone
cyclohexanol
cyclohexanol
(V)
Reduction-Oxidation
Heptanal
(V)
Final Exam
Make-up Week
‫ניסוי‬
11
‫ניסוי‬
12
‫ניסוי‬
14
A (V) symbolizes an experiment that involves distillation at reduced pressure.