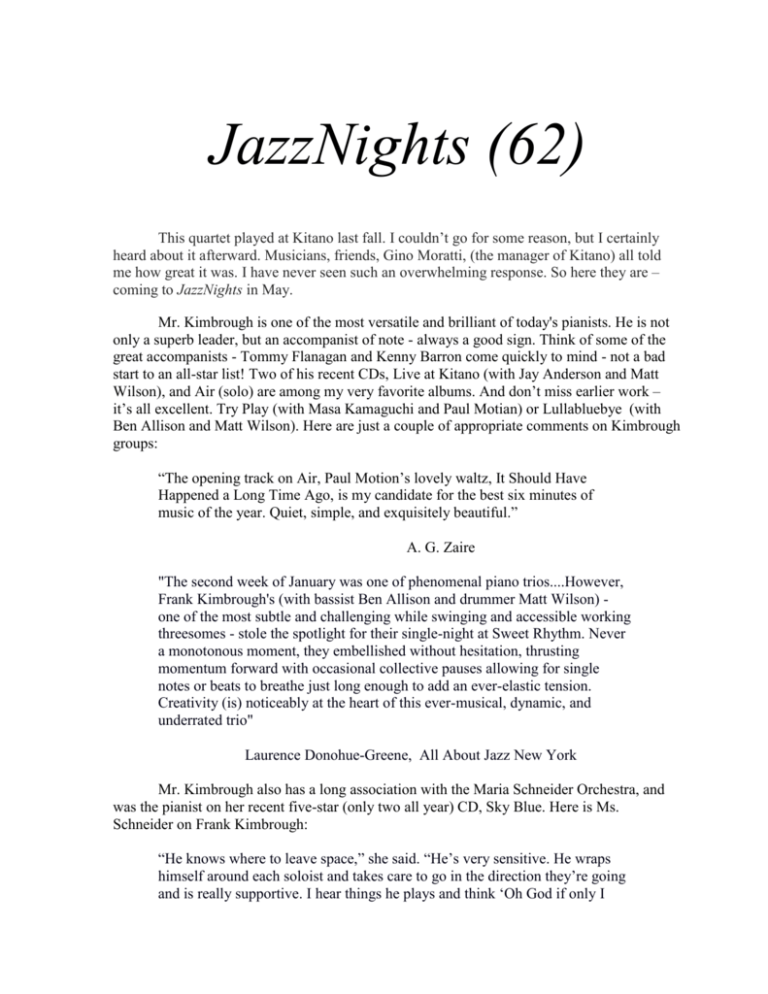 JazzNights (62)
This quartet played at Kitano last fall. I couldn't go for some reason, but I certainly
heard about it afterward. Musicians, friends, Gino Moratti, (the manager of Kitano) all told
me how great it was. I have never seen such an overwhelming response. So here they are –
coming to JazzNights in May.
Mr. Kimbrough is one of the most versatile and brilliant of today's pianists. He is not
only a superb leader, but an accompanist of note - always a good sign. Think of some of the
great accompanists - Tommy Flanagan and Kenny Barron come quickly to mind - not a bad
start to an all-star list! Two of his recent CDs, Live at Kitano (with Jay Anderson and Matt
Wilson), and Air (solo) are among my very favorite albums. And don't miss earlier work –
it's all excellent. Try Play (with Masa Kamaguchi and Paul Motian) or Lullabluebye (with
Ben Allison and Matt Wilson). Here are just a couple of appropriate comments on Kimbrough
groups:
"The opening track on Air, Paul Motion's lovely waltz, It Should Have
Happened a Long Time Ago, is my candidate for the best six minutes of
music of the year. Quiet, simple, and exquisitely beautiful."
A. G. Zaire
"The second week of January was one of phenomenal piano trios....However,
Frank Kimbrough's (with bassist Ben Allison and drummer Matt Wilson) one of the most subtle and challenging while swinging and accessible working
threesomes - stole the spotlight for their single-night at Sweet Rhythm. Never
a monotonous moment, they embellished without hesitation, thrusting
momentum forward with occasional collective pauses allowing for single
notes or beats to breathe just long enough to add an ever-elastic tension.
Creativity (is) noticeably at the heart of this ever-musical, dynamic, and
underrated trio"
Laurence Donohue-Greene, All About Jazz New York
Mr. Kimbrough also has a long association with the Maria Schneider Orchestra, and
was the pianist on her recent five-star (only two all year) CD, Sky Blue. Here is Ms.
Schneider on Frank Kimbrough:
"He knows where to leave space," she said. "He's very sensitive. He wraps
himself around each soloist and takes care to go in the direction they're going
and is really supportive. I hear things he plays and think 'Oh God if only I
could write that.' Sometimes he'll finish an introduction and I'll think 'I don't
even want to hear my music after that. It's over. Lets just end with that.'"
One of my most memorable times hearing Mr. Kimbrough live was his May, 2006
duet evening with his long-time teacher-associate-hero Paul Bley at Merkin Concert Hall. The
review in the New York Times the next day was luminous and the performance made Time
Out's list of the best performances of the year. I couldn't agree more; it was spectacular, onthe-edge music. As I've said here (too?) many times, one of the big attractions of this
wonderful music is its without-a-net, in-the-moment dangerous aspect. Here's one more
quote, this time from Kimbrough himself, on that subject:
"Music should be a living, breathing thing. Maybe you put yourself into a
situation sometimes where you might be terrified. You might be one millimeter
from failure. That's alright because in those situations you're very present."
Steve Wilson, unfairly labeled the "quintessential sideman," has emerged as one the
leading alto saxophonists of our time and as a master of the difficult soprano saxophone. His
rightful ascendance was marked by a week-long 50th birthday fest at the Jazz Standard that
featured a long-lived quartet with Bruce Barth, Adam Cruz, and Ed Howard plus a lineup of
stellar guests and friends. I only made it to a couple of the events, but I vividly recall the
quality of the music – often tunes Wilson wrote for friends – James Williams and Billy Childs
for example - and that the room was filled with his fellow musicians – A fitting tribute .
Here's Bruce Barth on Mr. Wilson:
"Even then, Steve's voice was identifiable, earthy and funky but also extremely
sophisticated in terms of harmony and rhythm. We also shared a sensibility—a love of
blues and swing but an equal commitment to staying wide open and in the moment."
Quote from Larry Blumenthal's column in the Wall Street
Journal, 2/7/2011
Drummer Lewis Nash's roots are deep, and his education impeccable. He started at the
age of 10 and by his early twenties was working with Sonny Stitt, Art Pepper, and Lee Konitz.
In 1981, he began a four-year stint with Betty Carter, and there is no better education in jazz
than Betty Carter University. In 1999, he became the drummer in the best of the Tommy
Flanagan trios (Peter Washington was the bassist). This marvelous group was surely one of
the best jazz trios of our times. The origins of today's jazz drumming go far back to one of the
greatest drummers ever, the late Max Roach. The last living of the giants who created modern
jazz, Mr. Roach never lost sight of the need to keep the group balanced and propelled, but he
surely was not content with that role. It was he, along with Kenny Clarke, who began the
transformation of the drums from a timekeeping device into a melodic instrument. Lewis
Nash, like Roach is impeccable in his timekeeping, but at the same time always doing
something that arrests your attention. It's exciting work, demanding of the listener, not to
mention the artist, but well worth the effort! Jazz drumming these days seems sometimes
obsessed with what one might call "the permanent solo" style, surely an extension of what Mr.
Roach began, but at times maybe just a tad over the top. Lewis Nash gets it exactly right, I
think: always creative, always tasteful, always just the best at what he does. In a landscape
chock-a-block with wonderful young drummers, Mr. Nash stands out as a model of "how to
do it right."
Jay Anderson has appeared on over 300 recordings (20 Grammy nominations, several
winners) and has played with an astonishing range of musicians – Paul Bley to Woody
Herman to Maria Schneider to Van Cliburn.
"Jay Anderson is bedrock, unfailingly solid and dependable, with amazing ability as a
soloist and a capacity for rhythmic interplay. He isn't just a functional bass player. He
is always part of the ensemble while driving it forward."
Ted Panken
His first gig in New York was with ur- boppers Red Rodney and Ira Sullivan, so he touches
the roots of modern music. He's comfortable going from Joe Sample to Paul Bley – about as
great a stylistic span as one can imagine.
If you hurry, you can hear three of these gentlemen (no Wilson) at The Kitano April 18th, and
the whole quartet will go into the recording studio May 27th. But you can do even better and
catch them right here, at the barn in Hopewell. The joint will be jumpin' as Fats would say.