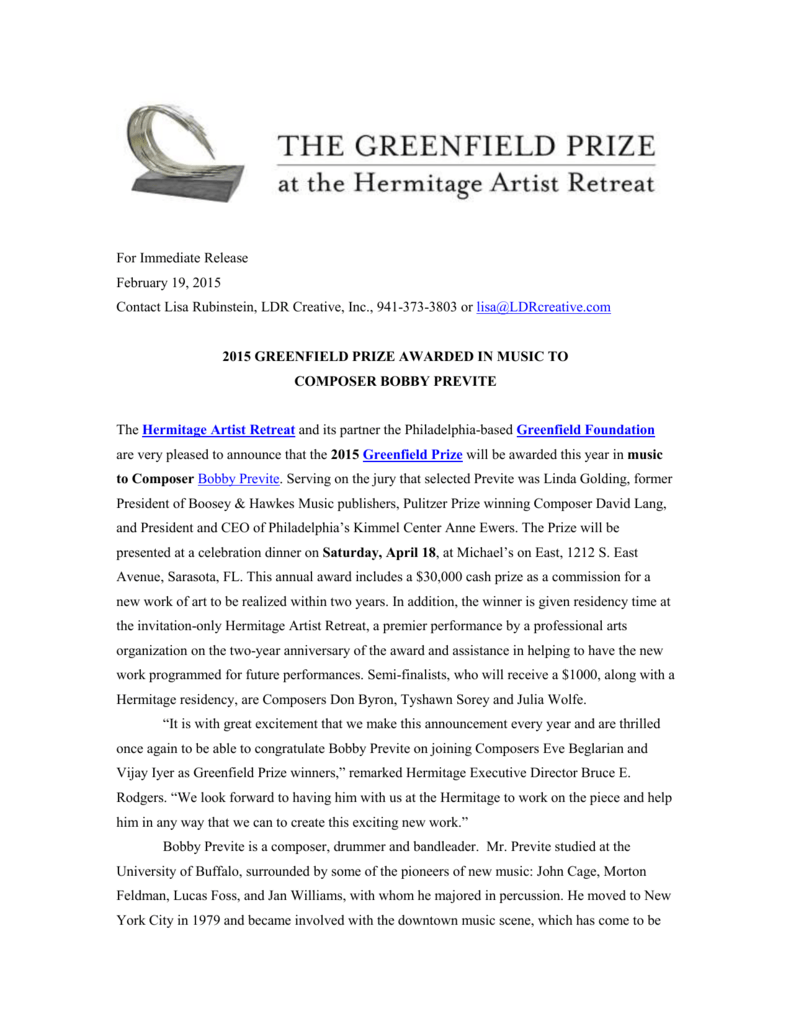 For Immediate Release
February 19, 2015
Contact Lisa Rubinstein, LDR Creative, Inc., 941-373-3803 or [email protected]
2015 GREENFIELD PRIZE AWARDED IN MUSIC TO
COMPOSER BOBBY PREVITE
The Hermitage Artist Retreat and its partner the Philadelphia-based Greenfield Foundation
are very pleased to announce that the 2015 Greenfield Prize will be awarded this year in music
to Composer Bobby Previte. Serving on the jury that selected Previte was Linda Golding, former
President of Boosey & Hawkes Music publishers, Pulitzer Prize winning Composer David Lang,
and President and CEO of Philadelphia's Kimmel Center Anne Ewers. The Prize will be
presented at a celebration dinner on Saturday, April 18, at Michael's on East, 1212 S. East
Avenue, Sarasota, FL. This annual award includes a $30,000 cash prize as a commission for a
new work of art to be realized within two years. In addition, the winner is given residency time at
the invitation-only Hermitage Artist Retreat, a premier performance by a professional arts
organization on the two-year anniversary of the award and assistance in helping to have the new
work programmed for future performances. Semi-finalists, who will receive a $1000, along with a
Hermitage residency, are Composers Don Byron, Tyshawn Sorey and Julia Wolfe.
"It is with great excitement that we make this announcement every year and are thrilled
once again to be able to congratulate Bobby Previte on joining Composers Eve Beglarian and
Vijay Iyer as Greenfield Prize winners," remarked Hermitage Executive Director Bruce E.
Rodgers. "We look forward to having him with us at the Hermitage to work on the piece and help
him in any way that we can to create this exciting new work."
Bobby Previte is a composer, drummer and bandleader. Mr. Previte studied at the
University of Buffalo, surrounded by some of the pioneers of new music: John Cage, Morton
Feldman, Lucas Foss, and Jan Williams, with whom he majored in percussion. He moved to New
York City in 1979 and became involved with the downtown music scene, which has come to be
known as contemporary-classical. A series of albums recorded in the late '80s established him as
one of the relatively few drummers who were also composers of significance. Leading a plethora
of diverse ensembles, he has performed at festivals and clubs worldwide, and has collaborated
with some of the leading lights in and beyond the world of music - from master composer John
Adams to rock icon Tom Waits to legendary filmmaker Robert Altman.
He has worked in theater, film and television, and has enjoyed residencies at The
Rockefeller Foundation Bellagio Center on Lake Como, Civitella Ranieri, Montalvo Arts Center,
and nine MacDowell Colony fellowships. In addition to the Greenfield Prize, Previte has received
awards and grants from the Guggenheim Fellowship, National Endowment for the Arts, New
York State Council on the Arts, New York Foundation for the Arts, The American Music Center,
Mid Atlantic Arts, New York State Music Fund, Lower Manhattan Cultural Council and The
Jerome Foundation.
"Winning a prize is always good," remarked Previte. "Winning a prize to create music for
great musicians is better. Winning a prize and writing that music on a beach will be...heaven!"
The Greenfield Prize is awarded in three rotating arts disciplines every spring. In addition
to music, the award is also given in drama and visual art. What makes this award stand out from
others is that it is a commission for future work of the artist's choosing and assistance in having
the work produced and experienced by the public. The mission of the commission is that the work
brings into the world a work of art that will have a significant impact on the broader or artistic
culture. A small group of semi-finalists, selected by a prestigious jury, is asked to submit a
proposal for their project based on this guideline. The winner receives the Prize at a weekend of
festivities that includes the first public exposure to the Greenfield Prize commission of the
previous two years, many free creative conversations with national arts leaders on subjects that
feature the weekend's arts disciplines and the award dinner for the new recipient.
For more information on the Greenfield Prize, the upcoming Prize weekend or the
Hermitage Artist retreat, visit the websites GreenfieldPrize.org or HermitageArtistRetreat.org.
About the Greenfield Prize: The Greenfield Prize at the Hermitage Artist Retreat is a
groundbreaking partnership between the Philadelphia-based Greenfield Foundation and the
Hermitage Artist Retreat. Pursuing the mission "to bring into the world works of art that will have a
significant impact on the broader or artistic culture," the prize seeks to identify individuals whose
past work and future prospects position them to achieve this lofty and ambitious goal. The prize is
awarded annually and includes a $30,000 commission for a new piece of work to be created
within a two-year time frame. A residency at the Hermitage Artist Retreat on Manasota Key in
Englewood, FL, ensures time and space in which to do the work. The Greenfield Prize rotates
each year among three artistic areas; drama, music, and theater. For more information visit the
website www.greenfieldprize.org.
About the Hermitage Artist Retreat: The Hermitage is a not-for-profit artist retreat located at
6660 Manasota Key Road in Englewood, FL. It invites accomplished painters, sculptors, writers,
playwrights, poets, composers and other artists from all over the world for residencies on its
beachfront historic campus. Artists are asked to contribute two services to the community during
their stay and as a result, Hermitage artists touch thousands of Gulf Coast community residents
with unique and inspiring programs each year. In addition, the Hermitage awards and administers
the prestigious Greenfield Prize, an annual $30,000 commission for a new work of art, rotating
among three disciplines: visual art, music and drama. The Hermitage also partners with the
Aspen Music Festival and School to award the annual Hermitage Prize to a composition student
during the Festival. For more information about The Hermitage Artist Retreat, call 941-475-2098
or visit the website at www.HermitageArtistRetreat.org.
About the Greenfield Foundation: The Greenfield Foundation is based in Philadelphia, PA, but
funds charitable initiatives across the country. Its president and most of its trustees are members
of the family of Louise and Bob Greenfield of Sarasota, Florida. Its net income, which exceeds
$500,000 a year, is devoted to improving quality of life through contributions to not-for-profit
institutions in the arts, education, health care and other services. The foundation originates and
participates in innovative projects, which have a ripple effect beyond the immediate impact of the
expenditures.