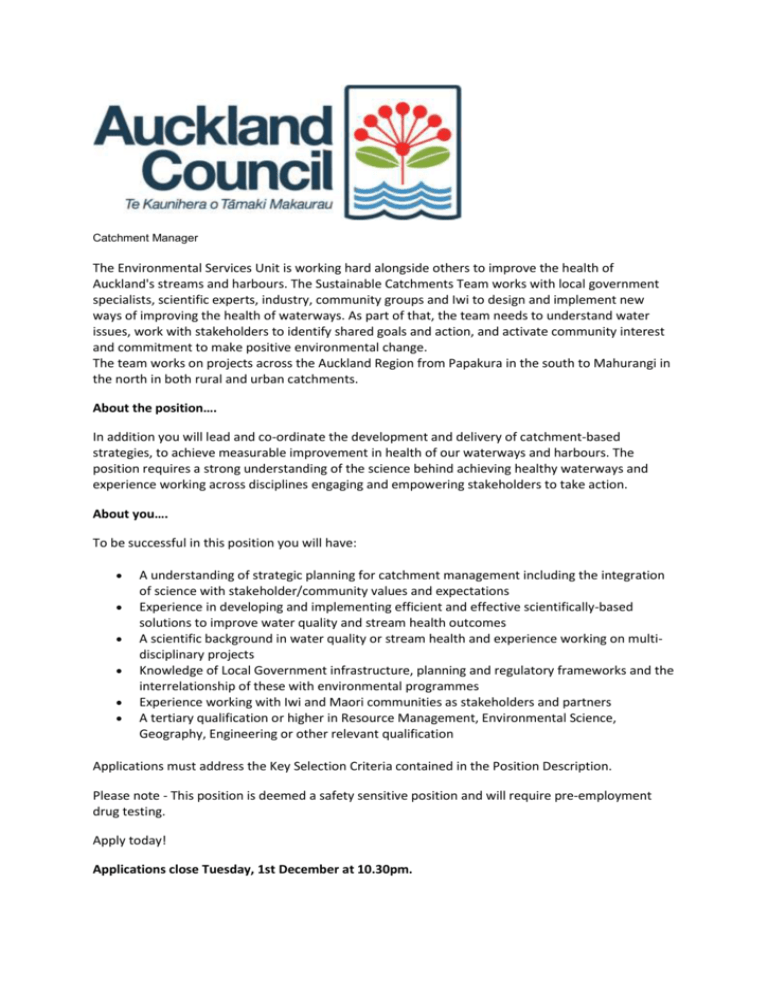 Catchment Manager
The Environmental Services Unit is working hard alongside others to improve the health of
Auckland's streams and harbours. The Sustainable Catchments Team works with local government
specialists, scientific experts, industry, community groups and Iwi to design and implement new
ways of improving the health of waterways. As part of that, the team needs to understand water
issues, work with stakeholders to identify shared goals and action, and activate community interest
and commitment to make positive environmental change.
The team works on projects across the Auckland Region from Papakura in the south to Mahurangi in
the north in both rural and urban catchments.
About the position….
In addition you will lead and co-ordinate the development and delivery of catchment-based
strategies, to achieve measurable improvement in health of our waterways and harbours. The
position requires a strong understanding of the science behind achieving healthy waterways and
experience working across disciplines engaging and empowering stakeholders to take action.
About you….
To be successful in this position you will have:






A understanding of strategic planning for catchment management including the integration
of science with stakeholder/community values and expectations
Experience in developing and implementing efficient and effective scientifically-based
solutions to improve water quality and stream health outcomes
A scientific background in water quality or stream health and experience working on multidisciplinary projects
Knowledge of Local Government infrastructure, planning and regulatory frameworks and the
interrelationship of these with environmental programmes
Experience working with Iwi and Maori communities as stakeholders and partners
A tertiary qualification or higher in Resource Management, Environmental Science,
Geography, Engineering or other relevant qualification
Applications must address the Key Selection Criteria contained in the Position Description.
Please note - This position is deemed a safety sensitive position and will require pre-employment
drug testing.
Apply today!
Applications close Tuesday, 1st December at 10.30pm.
To apply for this job, please go to our job site https://careers.aucklandcouncil.govt.nz and enter
the job code 75252FWS.