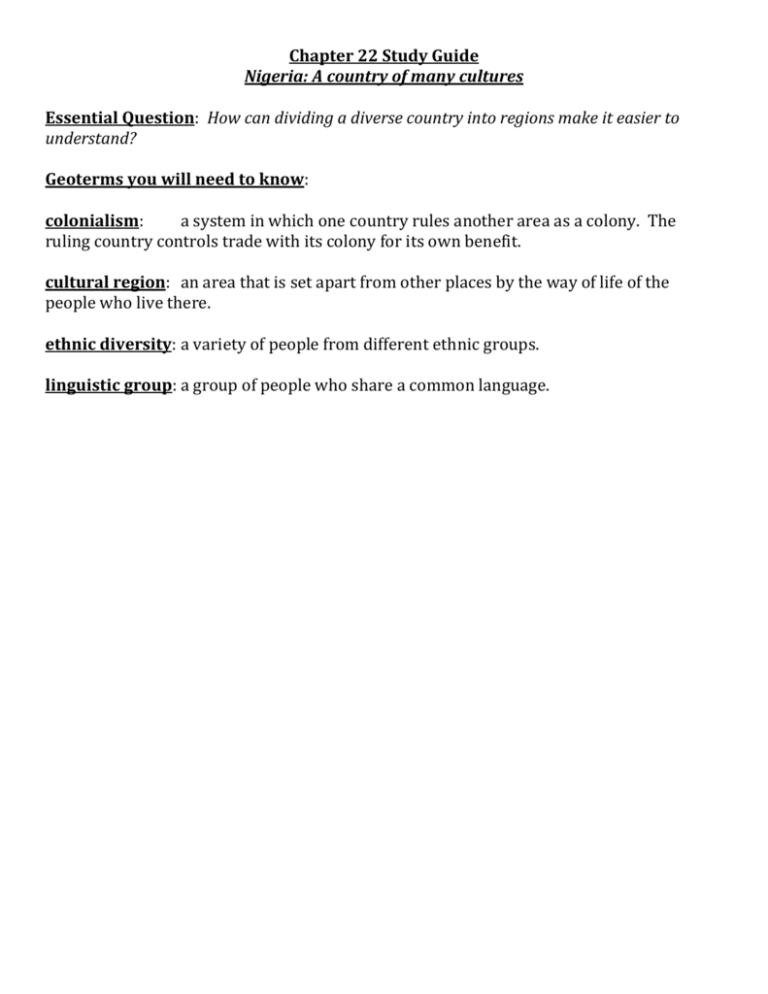 Chapter 22 Study Guide
Nigeria: A country of many cultures
Essential Question: How can dividing a diverse country into regions make it easier to
understand?
Geoterms you will need to know:
colonialism:
a system in which one country rules another area as a colony. The
ruling country controls trade with its colony for its own benefit.
cultural region: an area that is set apart from other places by the way of life of the
people who live there.
ethnic diversity: a variety of people from different ethnic groups.
linguistic group: a group of people who share a common language.
Nigeria is a country that is so diverse that it needs to be divided into three regions:
northern, western, and eastern. Each region is home to one of Nigeria's three
largest ethnic groups.
The Three Regions of Nigeria
Northern Nigeria
Physical environment:



During the six-month dry season, from October to March, little rain falls and lakes
and rivers dry up.
Lake Chad, one of Nigeria's most important water sources, is much smaller than
it once was.
High, flat plains are used for farming. The Jos Plateau rises above them and is
cooler and wetter. The harmattan blows from the north, bringing dust from the
Sahara.
Ethnic Groups:




The two largest ethnic groups are the Hausa and Fulani. The Hausa came to the
region 1,000 years ago. The Fulani arrived in the 1200's.
The Hausa tend to live in cities, the Fulani in the country.
A third of Nigerians speak Hausa.
The groups are both Muslim, but Christians live here too. Sometimes there is
conflict over shari'a or traditional Islamic laws.
Culture:



In the city, people have houses with flat roofs. In the country, they have round
houses of mud with roofs of reeds or palm leaves.
Men and women wear loose clothes, usually robes that cover the body. Muslim
women wear the hijab, a headscarf; other women wear a cloth headdress.
Tension drums are popular instruments that make sounds like the spoken
language.
Economy:



Many people are farmers and herders. The Hausa farmers grow crops like corn
and millet to feed their families and sell at markets.
Fulani herders sell milk and butter.
The Hausa have traditionally made cloth and leather goods. Today, some are
traders and merchants.
Western Nigeria
Physical Environment:




This region sits on the Gulf of Guinea. The Niger River forms its northern and
eastern borders.
The coast used to be tropical rainforest, but trees have been cleared for
farming.
Most of this region is a savanna with tall grasses and scattered trees.
Many people live in cities. Lagos and Ibadan are the largest.
Ethnic Groups:




The largest ethnic group is the Yoruba.
The ancient Yoruba developed many kingdoms ruled by kings.
Historically there were many dialects of Yoruba, but today they are becoming
more alike.
Many Yoruba are Christian, though some follow Islam or traditional beliefs.
Culture:




Many people live in cities-the well off in one-story houses or apartments, the
poor in shacks on the city outskirts.
Homes in the country are made of mud bricks with steep tin or iron roofs.
Yoruba are known for their colorful cloth and beadwork.
Yoruba art includes wood and ivory masks, bronze or clay statues, and drums.
Economy:


Many Yoruba live in cities and work in factories and offices. Some commute back
to the country to work on farms.
Yoruba women also work in street markets selling food, cloth, baskets, and other
tourist goods.
Eastern Nigeria
Physical Environment:




This region sits on the Gulf of Guinea. The Benue River forms the northern
edge; the Niger forms the western edge.
The region has more rainfall than the rest of Nigeria.
Rainforests used to cover the land. Today, swamps line the coasts.
The Niger Delta is rich in oil.
Ethnic Groups:





The Igbo are the largest ethnic group here.
The ancient Igbo lived in villages ruled by councils of elders.
The Igbo had special privileges during British Colonialism. After independence,
the Igbo fought to create their own country, but lost.
Most Igbo are Christian.
There are over 300 dialects of Igbo, but only 1% of Nigerians speak Igbo.
Culture:




In the cities, homes are built from mud bricks, with metal roofs, and often on
stilts in swampy areas.
Men and women wear colorful cloth wrapped around their bodies.
The Igbo make masks of wood or leather and decorate them with teeth, hair, fur,
and other materials.