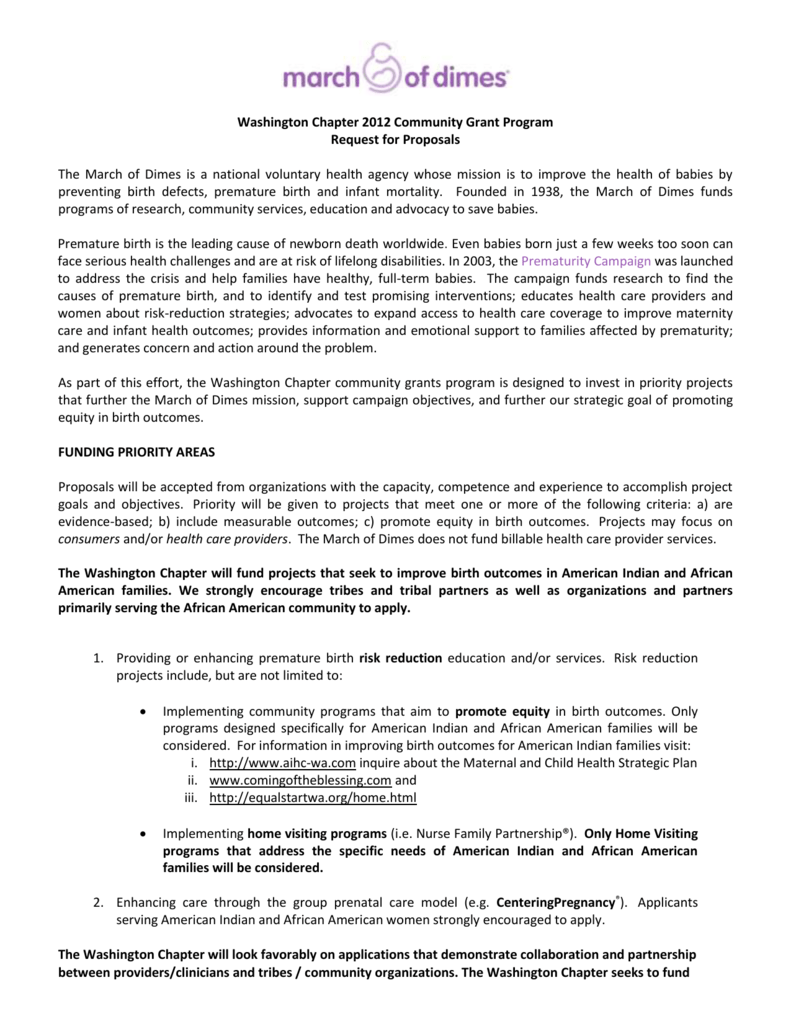 Washington Chapter 2012 Community Grant Program
Request for Proposals
The March of Dimes is a national voluntary health agency whose mission is to improve the health of babies by
preventing birth defects, premature birth and infant mortality. Founded in 1938, the March of Dimes funds
programs of research, community services, education and advocacy to save babies.
Premature birth is the leading cause of newborn death worldwide. Even babies born just a few weeks too soon can
face serious health challenges and are at risk of lifelong disabilities. In 2003, the Prematurity Campaign was launched
to address the crisis and help families have healthy, full-term babies. The campaign funds research to find the
causes of premature birth, and to identify and test promising interventions; educates health care providers and
women about risk-reduction strategies; advocates to expand access to health care coverage to improve maternity
care and infant health outcomes; provides information and emotional support to families affected by prematurity;
and generates concern and action around the problem.
As part of this effort, the Washington Chapter community grants program is designed to invest in priority projects
that further the March of Dimes mission, support campaign objectives, and further our strategic goal of promoting
equity in birth outcomes.
FUNDING PRIORITY AREAS
Proposals will be accepted from organizations with the capacity, competence and experience to accomplish project
goals and objectives. Priority will be given to projects that meet one or more of the following criteria: a) are
evidence-based; b) include measurable outcomes; c) promote equity in birth outcomes. Projects may focus on
consumers and/or health care providers. The March of Dimes does not fund billable health care provider services.
The Washington Chapter will fund projects that seek to improve birth outcomes in American Indian and African
American families. We strongly encourage tribes and tribal partners as well as organizations and partners
primarily serving the African American community to apply.
1. Providing or enhancing premature birth risk reduction education and/or services. Risk reduction
projects include, but are not limited to:

Implementing community programs that aim to promote equity in birth outcomes. Only
programs designed specifically for American Indian and African American families will be
considered. For information in improving birth outcomes for American Indian families visit:
i. http://www.aihc-wa.com inquire about the Maternal and Child Health Strategic Plan
ii. www.comingoftheblessing.com and
iii. http://equalstartwa.org/home.html

Implementing home visiting programs (i.e. Nurse Family Partnership®). Only Home Visiting
programs that address the specific needs of American Indian and African American
families will be considered.
2. Enhancing care through the group prenatal care model (e.g. CenteringPregnancy®). Applicants
serving American Indian and African American women strongly encouraged to apply.
The Washington Chapter will look favorably on applications that demonstrate collaboration and partnership
between providers/clinicians and tribes / community organizations. The Washington Chapter seeks to fund
projects that are sustainable, will result in a changed practice or in a new innovation that can be replicated to
produce improvements in birth outcomes, knowledge or health behavior.
FUNDING AVAILABLE
The applicant must provide services within the March of Dimes Washington Chapter geographic boundaries—
applications from Clark, Cowlitz, Wahkiakum and Skamania should be directed toward the Oregon Chapter. The
chapter community grants fund for 2012 is approximately $60,000. Chapter community grants are approved for one
year.
APPLICATION & REVIEW PROCESS
To apply, applicants should first obtain the full application guidelines and required forms. Please find these on our
website at: http://www.marchofdimes.com/washington/. Proposals must address at least one of the funding
priorities listed. An original grant proposal must be received in the chapter office by 4pm on June 29, 2012. Please
be advised that proposals are non-binding. Proposals will be reviewed by a multi-disciplinary volunteer State
Program Services Committee.
GRANT SCHEDULE
Proposals Due
Notification of Awards
Project Year
June 29, 2012
August 1, 2012
October 2012-September 2013
For more information and to download application guidelines, go to:
marchofdimes.com/Washington
or contact:
Gina Legaz, State Director of Programs and Public Affairs
March of Dimes Washington Chapter
1904 Third Ave Suite 230
Seattle, WA, 98101
Phone: 206-452-6638
Fax: 206-292-8190
[email protected]
In 2011, the March of Dimes Washington Chapter funded a variety of projects, including:



CenteringPregnancy at Columbia Health Center
Comenzando Bien at the Memorial Foundation
Quality Improvement Initiatives to reduce elective deliveries before 39 weeks at St. Joseph's Hospital, Providence
Sacred Heart, Tacoma General Hospital and Yakima Valley Memorial Hospital.
Please Note:
March of Dimes chapter community grants do not fund scientific research projects. For information about research
grants funded by the March of Dimes national office, please go to marchofdimes.com/research.